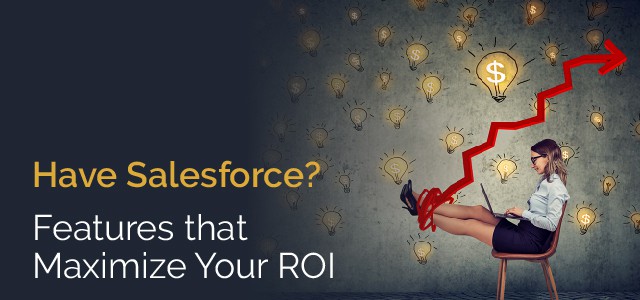 Have Salesforce? Features that Maximize Your ROI
Estimated reading time: 7 minutes
Salesforce® continues to go to market with new products and features year after year. Our question for you is: How well are you taking advantage of them?
Regularly deploying new feature sets to the public is something that makes Salesforce unique. Several releases per year, new acquisitions right and left, it's endless.
With such evolution, those leveraging Salesforce technology must also continue to find ways to stay ahead of the curve. For many customers, the idea of evolution within their Salesforce implementation requires an understanding of how the technology can be utilized to increase business ROI (Return on Investment). Thinking about ROI and how it impacts the bottom line, two aspects naturally come to mind: time and money.
To further break this down, we need to consider our customers (lead generation, customer experience and retention), as well as internal employees (engagement and productivity).
"The cost of both employee and customer churn due to poor user or customer experiences can be mitigated by optimizing your Salesforce implementation and taking advantage of all the great features that are out there."
Employee Productivity with Lightning Page Performance
As an administrator or end user, have you ever worked in a Salesforce org where lightning pages are inconsistent nor optimized? You may find yourself looking at your watch or picking up your cell phone to respond to that brief text message while you wait for slow load times. Constantly scrolling up and down the page while components load in search of a particular component or related list can not only be taxing on end users, but lead to bad habits. Lightning App Builder is a powerful tool, though, if not implemented correctly, can cost your end users time and cost your company dollars.
To address this, Salesforce offers Lightning Page Performance: a feature natively built into Lightning App Builder that does all the analysis for you. This feature tells you how well your pages are rendering for desktop/mobile and provides tips on areas that can reduce load times to enhance user experience. All within a click of a button are best practices at your service. The Lightning Page Analysis tool provides information on which components on your pages are performing best and others that are contributing to sub par load times. Recommendations are displayed on how many fields you should have per layout as compared to the number of fields you currently have on page layouts for a particular object. Related lists containing records with multiple object relationships will slow page load times so Salesforce goes ahead and points out how to best organize your related lists for a particular page. By taking advantage of Lightning Page Performance and optimizing lightning component placement, end users will find that they can perform their duties much quicker and fight the urge of distractions as they open multiple pages and tabs to perform their daily tasks.
In App Guidance Drives Employee Engagement
Between onboarding new employees and user adoption for systematic enhancements, maintaining employee engagement requires processes that work to their benefit. Complex sales and support cycles can often be difficult for employees to remember all of the steps they need to take to get the job done. What if we told you that those laminated cheat sheets with sticky notes hanging all over the place can be retired? Well, it's true!
Salesforce offers an in app guidance feature that assists employees in their day to day workflows by giving them tips, reminders, step by step walk throughs, and more on how to best navigate the system. In app guidance can be configured to display prompt messaging in the dock/utility bar or a floating message that pops up on a page. Data is recorded for how employees are interacting with guidance messaging to measure effectiveness of your implementation. Settings for date range of prompt display, frequency, and which profiles/permissions a particular guidance prompt apply to can all be customized. This feature increases a company's ROI by providing resources to users before they realize they need them, resulting in reduction of the time it takes to perform work. With efficient workflows, supporting resources, and less questions on "How do I do XYZ?"; employee morale is heightened, job proficiency increased and productivity optimized.
Collecting Feedback with Salesforce Surveys
For a company to maximize their Salesforce ROI, they need to know where the opportunities for improvement are. Rather deficiencies exist in a lengthy onboarding/sales process, delayed response times, or product related challenges; to implement change starts with identifying the crux of the issue. What better way to understand customer experience around your products and services than to gather feedback directly from the customer themselves? With Salesforce Surveys™, one can implement a strategy for feedback collection at any point of the marketing, sales, or support cycle. Salesforce Surveys comes with a breadth of functionality including the ability to customize email templates for survey workflows (add rich text, images and branding) as well as automate sending of a survey. By collecting and analyzing survey results, businesses can identify ways to better serve prospects/customers leading to customer retention and predictability in C-Level forecasting.
Marketing with Social Studio
Salesforce's Social Studio™ is a feature companies use to interact with prospects and customers on platforms such as Facebook, Instagram, LinkedIn, Twitter, and more. Ultimately, this feature connects your Marketing, Sales, and Service teams with your customer. This customer experience trifecta enables employees to build both purposeful and personal relationships with customers by being able to communicate on their terms, on platforms used both in and outside of the workplace. With Social Studio, one can identify what customers and prospects are saying about the company/competitors, actively respond via social platforms, track prospects as leads, create cases for the customer service team and much more. Clarity into engagement drivers among marketing, sales and support activities enables teams to optimize both time and monetary investment in areas that gain the most traction as well as determine when it's time for a strategy review. Social Studio also provides data driven insights broken down by demographics, age groups, and more. Achieving a deeper picture into who your customers are and how they engage with your social strategy can result in enhanced lead generation and sales opportunities with the highest likelihood of closure.
360° View with Command Center
To take a step further from Social Studio, Salesforce offers an advanced feature named Command Center. Command Center visualizes statistics on how your customers engage with your brand by allocating all customer touchpoints and analyses under one pane of glass. To do this, Command Center centralizes real time data across Marketing Cloud™, Service Cloud™, Sales Cloud™, digital experiences, products, and competitors to drive brand health statistics across all points of interaction with customers. The ability to quickly decipher what influencers are saying, trending topics, and relative geographics further supports accuracy of marketing related efforts. Visibility into response/resolution time of customer issues and effectiveness of ad, email and journey performance allows companies accuracy in the ability to predict what will be most effective in retaining and enhancing customer portfolios.
Conclusion
Above are just a few, but powerful, features companies use to increase their Salesforce ROI. Businesses are seeking to save time and money by removing bottlenecks within their operations, but it's not always clear on what the bottlenecks are or how to resolve them. The cost of both employee and customer churn due to poor user or customer experiences can be mitigated by optimizing your Salesforce and taking advantage of all the great features that are out there. Streamlining marketing, sales and support processes, gathering contextual data directly from customers and maintaining a clear path of communication are all strategies that contribute to maximizing the bottom line.
If you have any questions on how you can take advantage of all that Salesforce has to offer, AdVic is here to help! Feel free to contact us here to start the conversation, or fill out the brief form below.
[gravityform id=5]
Related Articles
Tips for a Successful Salesforce Implementation
Outsourcing My Salesforce Implementation
Finding the Right Salesforce Implementation Partner
Planning Your Salesforce Implementation
Follow in a Reader