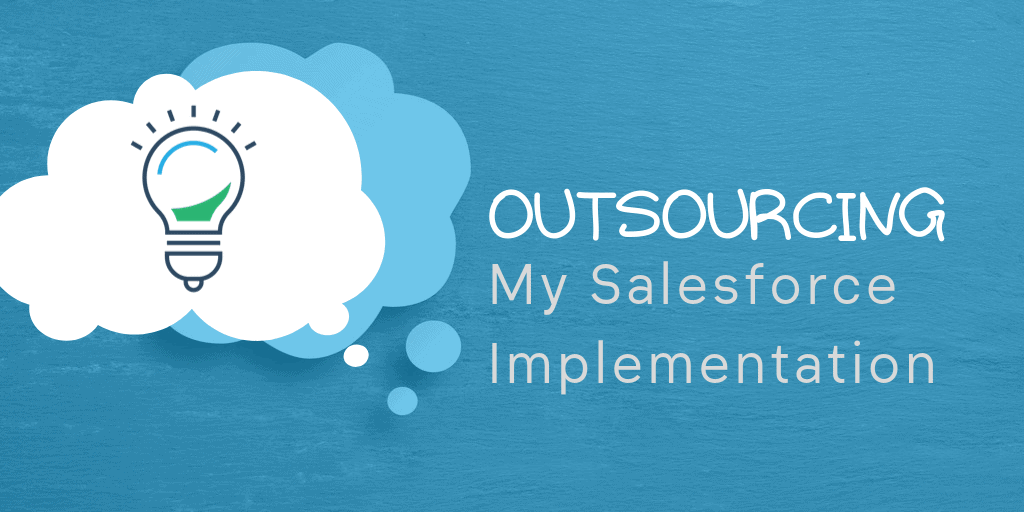 Outsourcing My Salesforce Implementation
Here's a question that might be keeping you up at night: Do I need to outsource my Salesforce® implementation?
And while there is no simple answer to that question, as a decision to outsource can be a strategic and tactical choice, the answer will most certainly be based on your own company's internal structure, talent, and needs.
Outsourcing Considerations
Perhaps you are looking to reduce and control your operating expenses, improve company focus, gain access to expertise, or free internal resources for other purposes. And it may also be that the experienced resources within your company are hard to find or are just not available.
If, in the end, you decide that outsourcing your Salesforce implementation makes sense, the next – and most important question is, what should you be looking for in a Salesforce implementation partner?
Finding the Right Salesforce Consultant
So, your company has made its decision. It is ready to outsource a new Salesforce implementation or new integration to a certified Salesforce partner. How do you begin your search so that you find the "right fit" partner?
Finding that experienced partner doesn't have to be the chore it may sound like if you set your sights on finding a Salesforce partner with qualifications in these four key areas:
Skill Set
Look for a certified team with expertise in custom development, integrations, system automation, data governance, reporting, and more – to implement any feature or functionality your company needs. You also want to feel confident that your team can be trained in best practice techniques by the partner so that you can become self-reliant with your Salesforce instance in the future.
Experience
While it may be true that members of your team have some Salesforce experience, and even have some Salesforce certifications to show, you want to find a partner with a wide range of industry and cloud computing experience and the intellectual toolbox to offer alternative perspectives proven to drive success metrics so you achieve more.
Accessibility
Find a partner – your consulting team – that is always available to support your needs, making it an awesome customer experience for you and one that also includes unique solutions. Remember, your project doesn't stop because somebody goes on vacation.
Communication
It is vital that you and your partner agree on a level of communication out-of-the-gate so that nothing slips between the cracks since the bulk of the work is often being conducted outside your office. Insist on weekly scheduled calls and reports along with demos to keep you abreast of each milestone. You must know exactly how your project is progressing – you don't want any surprises.
---
At Ad Victoriam Solutions, our team of experienced Salesforce consultants checks all the boxes outlined above… and more. Don't take our word for it. Let our clients tell the story of our success. And when you're ready to outsource your Salesforce implementation or new integration, we're ready to speak with you today.
Here are just a few of the things our clients have said about working with Ad Victoriam:
"We could not have implemented Salesforce® without the help of Ad Victoriam Solutions. They are extremely responsive, knowledgeable and easy to work with. We will be working with them exclusively as we tailor our system to best fit our business model. Ad Victoriam Solutions is truly a first-class organization."

Jeff D.
Environmental Services

---

"Being new to learning the Salesforce® software, Ad Victoriam Solutions is outstanding and goes above and beyond. Any question I have, they answer it and are more than happy to walk through the process. They are very responsive, professional and are always able to get what I need back in a timely manner. I can't say enough good things about them!"

Nikole Brucker
FactorTrust

Read more of our client reviews here.
Subscribe in a reader