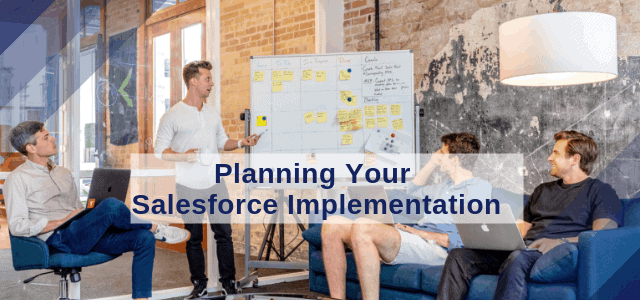 Planning Your Salesforce Implementation
As you begin planning your new Salesforce implementation, you may have concerns about making the project a success. If you are on the fence about adding a consulting partner to guide you, start by considering the following questions:
Does your company have an internal resource who will be your project champion? Will that person have the time and expertise to lead your Salesforce implementation?
Can your project champion (alongside your implementation team) develop the appropriate Salesforce features to solve your business needs?
Do you have data cleansing or migration needs that your team has the skill set to address?
If needed, is your team able to integrate your technologies (ERP or legacy system) with your Salesforce platform to create a 360-degree view of your data?
Does your implementation team have the knowledge and authority to make decisive and timely business decisions?
Do You Need a Salesforce Implementation Consultant?
If you decide that you don't need a Salesforce implementation consultant, check out these top tips from our team.
If, on the other hand, you come to the conclusion you absolutely do require an outside consultant, we can help.
Ad Victoriam is a Salesforce Platinum Partner, which certifies that our team has the experience, skills, and ability to deliver innovative solutions. We have the resources that can begin your project within weeks, not months. We become fully engaged in your business and the project, provide weekly status calls and assist you with user adoption.
Remember, rolling out an effective Salesforce platform takes time and careful planning. Working with an experienced Salesforce partner – such as Ad Victoriam Solutions – will help your company harness all of the power that Salesforce offers.
To learn how Ad Victoriam consultants can assure that your new Salesforce implementation will be a smooth success, connect with us here or share your information below.
[ninja_form id=6]
Subscribe in a reader