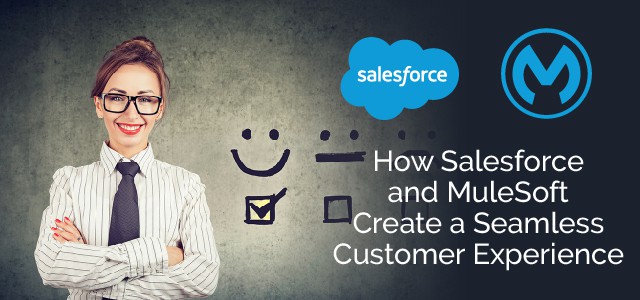 How Salesforce and MuleSoft Create a Seamless Customer Experience
Estimated reading time: 5 minutes
Developments in technology continue to progress and are furthering to improve human lives through convenience and recreation. In the 21st century, it is safe to say that "data is the new oil." With everything being digitized, data is the key for smooth functionality and happy customers. However, data management can become quite complex and acts as a double-edged sword, thus it is extremely crucial for organizations to have the right tools and services to manage their data.
Integration, a subject not widely understood, has become the present and the future of digital transformation. Here's how Salesforce® and MuleSoft® are transforming data and delivering a seamless customer experience.
MuleSoft as a Catalyst to Making Your Data Available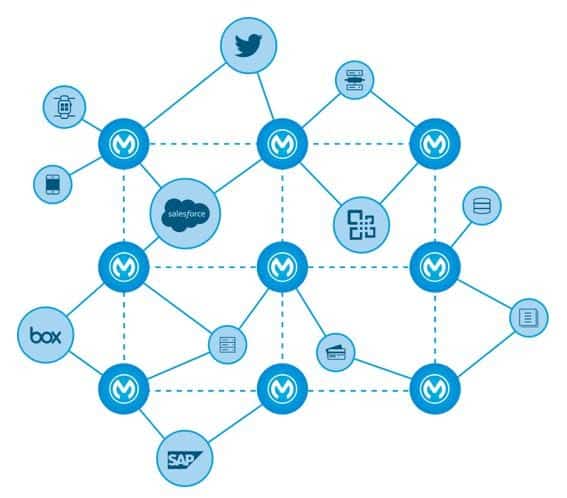 MuleSoft serves as a catalyst to communicate between applications and services via integration. It offers multiple components and a centralized platform to ensure connectivity and data simplification throughout the business. The enterprises are heterogeneous, as they are composed of many different systems with their own data structures and requirements. And while these systems are used as integrated solutions to drive business processes, they can create data-related complications due to disparate structures. Data processing, such as migration and synchronization, will be difficult to maintain when there are large amounts of data.
There is also the issue of managing the links between those systems and modifying them without disrupting the entire working ecosystem. MuleSoft, as a catalyst, provides a tool called Anypoint Platform, which provides accessibility to the essential components in providing integration solutions.
Here is an overview of some core components of MuleSoft as an integration tool:
CloudHub

: An enterprise-class cloud-based integration platform that allows organizations to utilize Anypoint Connectors to develop integration flows that connect applications and create new APIs, in addition to existing data sources. CloudHub makes it possible to connect with SaaS and on-premises applications and services at cloud speed.
Anypoint Connector

: A library of reusable extensions that allow MuleSoft to integrate with both legacy and SaaS systems to enable seamless data processes. With access to multiple APIs, businesses can build connectivity and deliver real-time data across the business ecosystem.
DataWeave

: This is powered by the data language and is designed to filter, extract, and transform one or more different types of data together to create another data format, such as XML and Java to JSON. DataWeave does support a wide range of file types, including flat and structured data, which provide a flexibility that can help the businesses cope with systems using different data formats per process.
Database Connectivity: The Database Connector can be downloaded from Anypoint Connectors to establish a connection with almost any relational database and perform SQL queries. This allows the organizations to access the data in the database without writing additional code to bypass the authentications.
Visualize Your Data in Real Time
Salesforce, one of the world's leading cloud-based CRM software, offers the best user-friendly interface along with a variety of tools that make it easy to visualize and analyze real-time customer information from multiple organizations. While some of Salesforce's tools are not suitable for all businesses, it does provide AppExchange to fit specific organizations, departments and roles. Additional visualization tools are located in AppExchange and integrated into Salesforce to meet business needs.
What are the Challenges in Understanding the Data and Why Salesforce?
Raw data are being captured on a daily basis to establish baselines, benchmarks, and goals for the organizations. However, most of these data have no value unless properly analyzed. It is also a challenge that the data is being captured and retained infinitely, leading to an enormous amount of data needing many resources to do the comprehension. The difficulty increases as there are multiple risks contributing to the process that can cause organization more harm than good. For example, there is the potential of confusion and diverse outcomes of the same data set due to different individuals' analyses. Salesforce is the key to handling all customer information within a few clicks. It offers effective tools for data visualization and analysis, in which it can help organizations make decisions and leverage business growth.
Instead of using the traditional reports and dashboards that are limited and require manual modifications, Salesforce can produce visualizations based on the criteria information, such as payments by month or sales by period. These visualizations are real-time, customizable and interactive for users. They are presented in a dashboard format that includes data tables, graphs and criteria-based measures.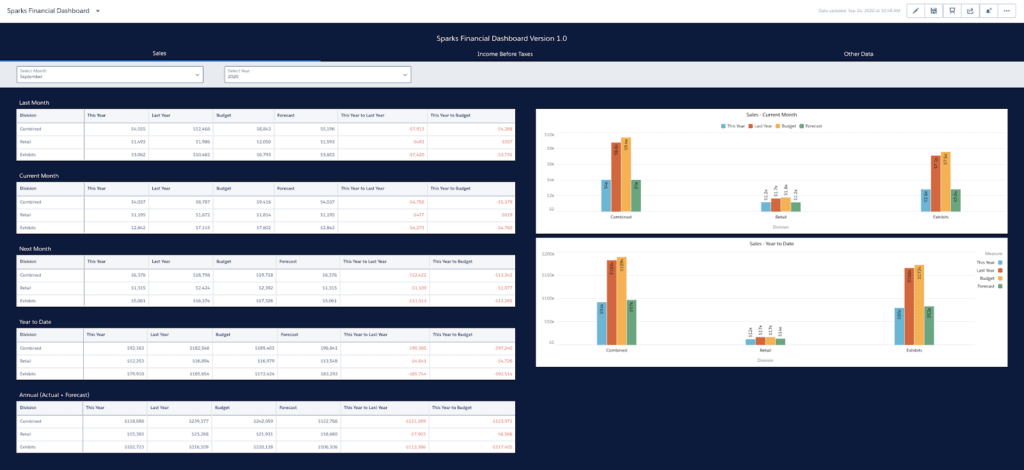 The bottom line is that Salesforce is able to view data in real-time and produces real results. It provides a better picture of the organization overall as the insights, causes, and trends are explicitly displayed. Salesforce and its visual data tools also save companies time and money while improving their efficiency.
At a glance, these are some of the popular tools for data visualization:
Business Partners Make Each Other Better
MuleSoft's partnership with Salesforce is revolutionary as it accelerates digital transformation and transcends the connected customer experience. MuleSoft is capable of creating APIs that can connect to any system, application, and data source. This makes it easier for Salesforce to retrieve real-time data across systems, either in the cloud or on-premises, and produce a unified customer view on a single platform. With MuleSoft as the data link, Salesforce can end data siloing in disparate systems and prioritize the ultimate customer experience value proposition – integrations. Essentially, MuleSoft and Salesforce are the best combination when dealing with complex integrations and helping organizations to build an integrated approach that is scalable and reliable.
As a Salesforce and MuleSoft Partner, AdVic is uniquely qualified to provide your business with a scalable architecture so it can grow. Fill out the brief form below, or click here to learn more about how the combination of Salesforce, MuleSoft and AdVic can empower your teams to lead your business to VICTORY.
[gravityform id=5]
Related Article
What Can MuleSoft Do for Your Salesforce Org?
Follow in a Reader