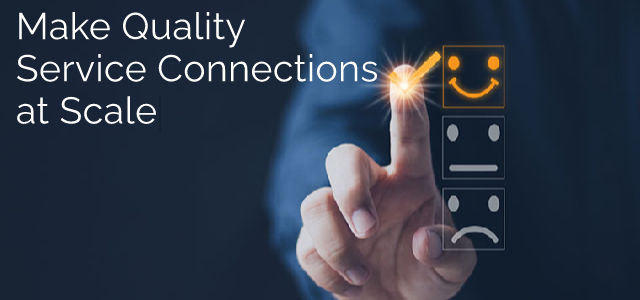 Make Quality Service Connections at Scale
Estimated reading time: 3 minutes
The world of customer service is changing. Customers seek a personal and emotional connection with brands and expect consistent and seamless connections across all channels. But given that customers have more touchpoints with brands than ever before, it can be difficult to make quality connections at scale. That's where the power of automation and artificial intelligence (AI) can help.
If you've been kicking the tires about a Salesforce Service Cloud solution for your business and you haven't pulled the trigger yet, perhaps you are not aware of its powerful AI capabilities…the ones that can make your service team reinvent customer experience.
Let's take a look at some of the ways AI-powered predictions, recommendations, and chatbots on digital channels – built right into the Service Cloud platform – will make your customers happier and your agents more productive.
Automate Common Service Interactions
Quickly help customers find answers to common questions and resolve routine requests at scale with chatbots. Enhance the experience by connecting your bot to business processes and initiating guided interactions. If your customers need more help, chatbots gather enough qualifying information for a seamless agent handoff.
Assist Agents and Employees
When you apply machine learning to all your CRM data, you'll save your agents time populating case details with predictions. Automatically apply those predictions and use existing rules to push cases to the right agents. In addition, you'll also be able to:
Show your agents the most helpful knowledge articles based on the context of the case and the way articles were used in the past.

Eliminate the time agents spend typing responses to the most common questions with reply recommendations.
Optimize Service With Actionable Insights
With actionable insights functionality, you'll be able to serve the right action and trigger the right process at the right time to your agents and customers with contextual recommendations. You can then personalize those recommendations even further by integrating business rules and AI-powered models. Further you can help your managers and agents make more informed decisions with analytics and gain visibility with prebuilt dashboards, and see case volumes, worker activity, chatbot performance, and more.
Get the Most Out of the AI Inside Service Cloud
Once you're all set up with your AI-Powered Service Cloud platform, here are several tasks you'll want to initiate to ensure you'll have the best bot experience for your team and your customers.
Identify the top 10 routine questions your service agents receive.

Develop a set of

knowledge articles

to train your AI-powered chatbot on how to answer noise questions (including how customers answer those questions).

Select the channel(s) – such as chat or messaging – to apply to your chatbot.

Assemble a team to develop a voice and tone for your bot that aligns with your brand.

Design a welcome greeting that identifies the bot and clarifies customers are not speaking to a person.

Explain what the bot can do to help your customer, and always include the option to transfer the customer to a human agent.
The 100% U.S.-based AdVic® Consulting Team – which works on your hours – helps businesses of any size and in any industry incorporate AI into their technologies to empower you with the critical insights you need. Why not book a meeting with us today?
Related Resources:
How to Improve Sales Forecasting in Salesforce with AI
Turning Sales Into Selling Machines, CRMs, AI and More
Why Forecasting Sales with AI is Important Across All Industries
Subscribe to the AdVic Salesforce Blog on Feedly: