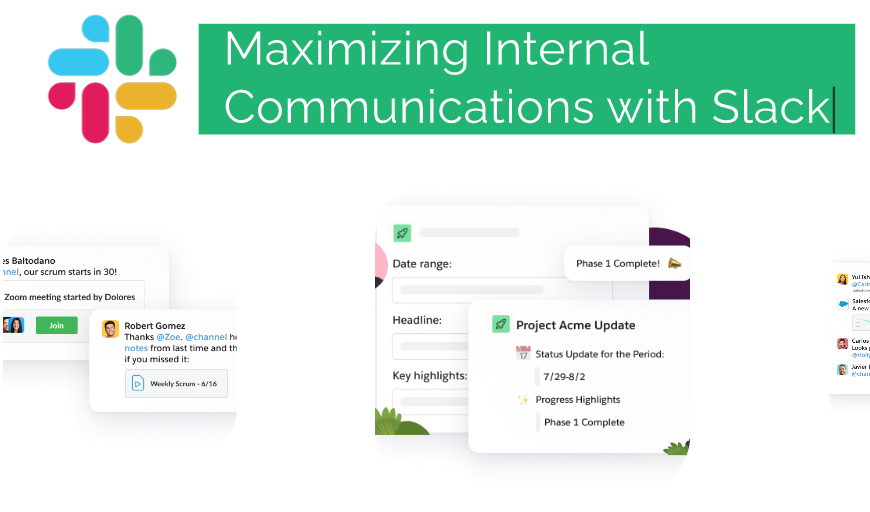 Maximizing Internal Communications with Slack
Estimated reading time: 3 minutes
Since launching in 2009 – and acquired by Salesforce in 2021 for $27.7 billion – Slack has been on the front lines of offering some of the best features in the world of team collaboration. So now, what started as an internal communication tool has evolved into a much-loved unified communications tool.
During a recent episode of AdVic's "Salesforce Simplified" podcast, we spoke with Slack Senior Solutions Engineer Aditi Chaturvedi about the great features inside Slack, which by the way stands for "Searchable Log of All Communication and Knowledge." Here's some of the highlights from our conversation.
How Do You Explain What Slack Is?
"To me, Slack is the engagement layer where work happens. It's where, as I said, your tools are interacting through integrations with the people that you work with, where you can automate processes using no-code workflows. It's also a place to have a more direct human line to your external partners."
How Has Slack Changed the Overall Work Environment?
"We understand we're in a bit of a different work environment now post 2020. Even though people are probably going to start coming back into the office a little bit more, I think this more flexible model where some people work remotely or at least are on distributed teams is here to stay. And I think what a lot of people found in 2020 is that email is not responsive or intelligent enough to meet that challenge. And we even find with some of our most mature customers, they talk about working at the speed of Slack, and just being less reliant in general on email to get work done just because everything is so much faster to get done in Slack."
Download AdVic's Free "Slack: Where Work Happens" Infographic (Instant, no-form download)

How Does Slack Bring Flexibility to the Workplace?
"One concept you'll hear us talk about a lot is the concept of asynchronous versus synchronous work. So, what can we do together in a synchronous manner, versus what kind of activities can we add more flexibility to and allow them to be asynchronous so that they work at the time that makes the most sense for that person?"
How Does Slack Protect an Organization's Data?
"Slack was built from the ground up to be the most secure way to communicate and collaborate not only within but across company boundaries. And protecting the security of our customers' data is a top priority for Slack. High level, our program is based on the concept of defense in depth, which is all about securing our organization and our customer's data at every layer. And that approach focuses on things like security governance, risk management, and compliance."
There is much more to our conversation with Slack's Aditi Chaturvedi. Listen to the full Ad Victoriam "Salesforce Simplified" podcast here, or anywhere you listen to podcasts.
And if you would like to explore a Slack solution for your business, AdVic's Slack Team is here to help. Set up a time to talk today!
Related Resources:
What You Need to Know About Slack
Subscribe to the AdVic Salesforce Blog on Feedly: