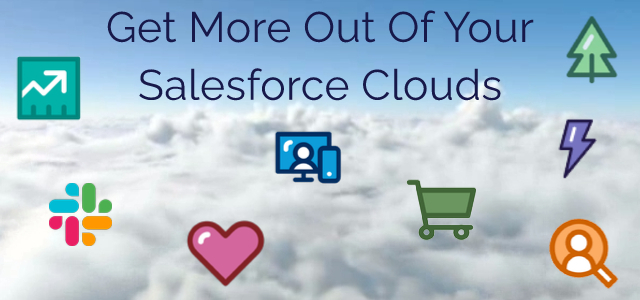 Get More Out Of Your Salesforce Clouds
Estimated reading time: 3 minutes
After their initial Salesforce® implementation, certain business practices become easier and productivity enhances. But with time, your business, industry, and even Salesforce features change and it may become necessary to modify or improve the functionality of your Salesforce platform to do more with less, and keep teams aligned and focused on the customer experience.
In this article, we will discuss how a company that has already implemented Salesforce can modify, improve functionality, or add features to keep their teams aligned, focused on customer experience, and growing revenue.
Review and Evaluate Current Processes
The first step in modifying or improving Salesforce functionality is to review and evaluate current processes. This involves assessing how the current processes are working and identifying areas that can be improved. By analyzing data and gathering feedback from employees, businesses can gain insights into the effectiveness of their current processes and identify areas where changes should be made.
Identify Areas for Improvement
After reviewing and evaluating current processes, businesses should identify areas for improvement and leverage the system you already have. This may involve identifying bottlenecks in the sales process, improving the customer experience, or automating repetitive tasks. By identifying areas for improvement, businesses can prioritize their efforts and focus on the changes that will have the most significant impact.
Modify or Add Custom Functionality
Once businesses have identified areas for improvement, they can modify or add custom functionality to Salesforce to address these areas, plus implement process improvements and efficiencies. This may involve creating custom fields, workflows, or page layouts to streamline processes or adding custom integrations to connect Salesforce with other systems. By customizing Salesforce to meet their unique needs, businesses can optimize their processes and improve the customer experience.
Train Employees
To ensure that modifications or new features are effectively implemented, businesses must train their employees on how to use them. This may involve providing training on new features or workflows or retraining employees on existing functionality. By investing in employee training, businesses can maximize their teams' productivity, ensure that their teams are aligned, and are focused on delivering exceptional customer experiences.
Monitor and Analyze Results
Finally, businesses must monitor and analyze the results of any modifications or new features added to Salesforce. This involves tracking performance metrics such as sales, customer satisfaction, and productivity to determine the effectiveness of the changes. By analyzing data and gathering feedback from employees and customers, businesses can continue to optimize their Salesforce functionality and keep their teams aligned, focused on the customer experience, and growing revenue.
Remember, modifying or improving Salesforce functionality is an ongoing process. By continuously optimizing Salesforce, businesses can streamline their processes, improve the customer experience, and grow revenue. And that's where AdVic's consultants excel. So, whether you need strategic roadmapping, a data solution, or integration to your current Salesforce platform, our 100% U.S.-based team – which works on your hours – specializes in developing and implementing a technical blueprint that will allow your organization to achieve your goals. Let's begin mapping out your next steps today!
Related Resources:
Get More Out Of Your Salesforce Clouds
Have Salesforce? Features That Maximize Your ROI
What to Know When Migrating Salesforce Data to a Legacy System
Subscribe to the AdVic Salesforce Blog on Feedly: