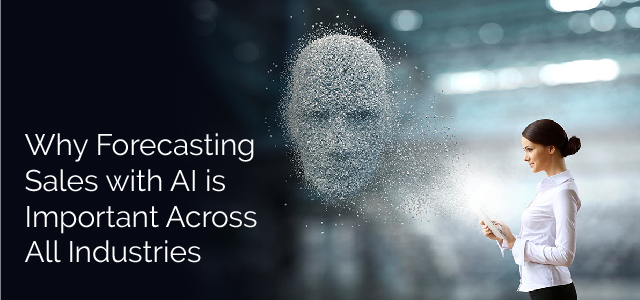 Why Forecasting Sales with AI is Important Across All Industries
Estimated reading time: 3 minutes
Many businesses across different industries struggle to accurately forecast sales. This may result in supply chain and inventory issues and poor decision-making on behalf of your company. Alternatively, incorporating AI (Artificial Intelligence) into sales forecasting allows businesses to better strategically plan their operations, from inventory to investor relations.
During a recent AdVic "Salesforce Simplified" podcast, SmartFox Technologies President and Founder, Phil Everhart, talked about a philosophy he subscribes to – Structure + Accountability + Accuracy = Results – which can be used to empower companies to project future outcomes based on objective data points using rules, milestones, past success, and management insight.
Structure + Accountability + Accuracy = Results
Says Everhart, "The data that your business generates is a rich source of intelligence that can be used to guide decision-making, market new products, and expand your business, thus producing expected results. However, for accuracy, data must be processed and entered correctly."
So, how can that be accomplished? Everhart says SmartFox Technologies incorporated this methodology into the model for their Business Forecast Management (BFM) System for Salesforce™:
Structure
A robust CRM system.

True processes and expectations.
Accountability
Authentic leadership that holds people accountable for upholding said structure.
Accuracy
With a solid structure that comes with accountability, businesses are able to produce good

Results

.
It makes sense for businesses of all sizes to adopt a model such as BFM's. CRMs equipped with AI predictive intelligence empower business leaders, sales reps, and their teams with critical insights across many industries, such as manufacturing, retail, and financial services.
How AI is Used to Helps Businesses Advance
Let's take a look at how AI can help businesses in the manufacturing, retail and financial services industries:
Manufacturing: Using sensors on machines, predictive analytics empowers manufacturers to monitor elements that may affect production and sales. It predicts downtimes, lowers gaps in production, and calculates potential downtime.
Retail: There are a wealth of uses of AI in the retail industry. Many of them are customer-facing and empower companies to connect, sell, and support their customers using technology. From chatbots, personalized product recommendations, all of these factors drive sales and improve the customer experience.
Financial Services: According to Money.com, "Mortgage rates are still historically low. Borrowers with good to excellent credit can still find competitive rates and monthly payments for either a home purchase or a mortgage refinance." Of course, banks do not lend to customers that are at high risk of defaulting. They use AI to calculate interest rates, terms, and limits with the following data: employment status, savings, debt-to-income ratios.
The AdVic Consulting Team helps businesses of any size and in any industry incorporate AI into their technologies to empower you with the critical insights you need. Why not book a meeting with us today? Pick your day and time below!
Related Resources:
How to Improve Sales Forecasting in Salesforce with AI
Follow in a Reader