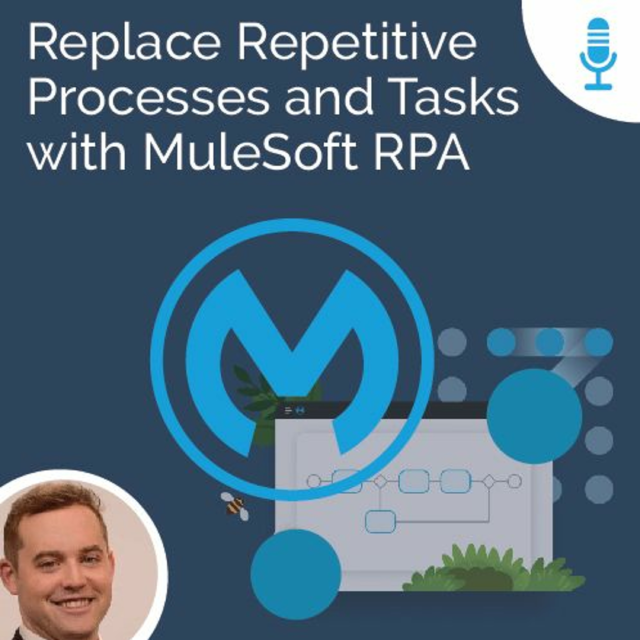 Replace Repetitive Processes and Tasks with MuleSoft RPA
Episode Notes/Resources:
On this episode of "Salesforce Simplified," we've invited MuleSoft Account Executive, Wes Disher, to talk about an exciting new offering at MuleSoft, Robotic Process Automation (RPA).
Robotic Process Automation (RPA) Info:
https://bit.ly/3T69A43
https://bit.ly/3Cijcmw
MuleSoft:
https://www.mulesoft.com/
AdVic/MuleSoft Partner:
https://bit.ly/2VZV9SZ
Transcription:
Speaker 1
This is Salesforce Simplified, the podcast from Ad Victoriam Solutions. Here's your host, Mike Boyle.
Mike Boyle:
Well, good day, everyone. On this episode of Salesforce Simplified, we have invited MuleSoft account executive Wes Disher to talk about an exciting new offering at MuleSoft called robotic process automation, or RPA, for short. Hello, Wes. Thank you for joining us today. How are you?
Wes Disher:
Thanks for having me, Mike. I'm looking forward to talking automation today with you.
Mike Boyle:
Tell us a little bit before we get into questions about things that you do there at MuleSoft.
Wes Disher:
Absolutely. Like you mentioned, I'm an account executive here in Atlanta for MuleSoft. I've been working here for about four-and-a-half years now. My whole role is centered around customer success and ensuring that our technologies align with our customers' business outcomes.
Mike Boyle:
Wonderful. You're right there in our backyard in Atlanta. Very cool. What exactly is robotic process automation? Tell us what it is and how it works.
Wes Disher:
Robotic process automation is a software technology that combines robotics and automation to perform repetitive tasks. RPA is a method for business process automation that uses an application or bot that replicates an employee's desktop actions by interacting with an interface in the same way that a human traditionally would.
Mike Boyle:
What are some of the common use cases for RPA?
Wes Disher:
Some of the common use cases for RPA, especially what we're seeing in our space, it's kind of two spectrums. It's a simplified version of, "What are those manual tasks that we can essentially eliminate to focus on more important responsibilities for our clients?" And so, a lot of what we're seeing is around manual data entry and manipulation. Think about manually entering data into Salesforce.
We're seeing employee or partner onboarding use cases. Reporting an aggregation is another big one. And then, a lot of the other ones, when we get a little bit more verticalized … You're going to start to see loans and claims and appeals processes for more of our services space and our financial services. There's a wide variety of use cases that you can leverage RPA for. It's just truly understanding, what's the right fit and how do we align those processes together?
Mike Boyle:
What are some of the benefits associated with RPA?
Wes Disher:
That's a great question. I think there's really four main benefits that we've identified here at MuleSoft. The first one is essentially reducing the overall cost and improving that customer and employee experience. And so, how can we automate the processes for the customer? Shorten their time manually entering a claims process or a loan process. And then, also, taking that task and not putting that on as the responsibility of those agents or those customer success reps and streamlining it.
It's really an efficiency and a cost perspective. But also, when we start to think about legacy applications. How do we simplify that data extraction and that data entry across multiple applications? That's really another exceptional benefit when we're talking about RPA. Because overall, what we're truly trying to do is drive customer and employee experiences to improve those processes by making them more accurate. Also, keeping it within compliance of the organization.
Mike Boyle:
Well, conversely, what challenges are associated with RPA?
Wes Disher:
Since we released our automation package, we are having a lot of conversations with not only existing RPA users, but companies that haven't yet embarked on their RPA journey. When we actually look at RPA as a standalone product, more often than not, you're going to find that it lacks intelligent capabilities.
RPA as a standalone technology can only perform tasks that it can copy from a script. And it lacks the ability to learn and improve that script it's performing. It's an ongoing evolution of how you're using RPA. One of those challenges, when it becomes stagnant and processes change, is not adopting with those.
And then, on the other hand, we're also looking at project complexity. When you think about transformative RPA projects, they tend to be very complex and require a time commitment to see the return on the investment. And so, as a result, some RPA projects fail before the value is even realized. It's extremely important to align what is the value that you're trying to extract out of the RPA processes, how is that going to impact your business, and make sure everybody's on the same page.