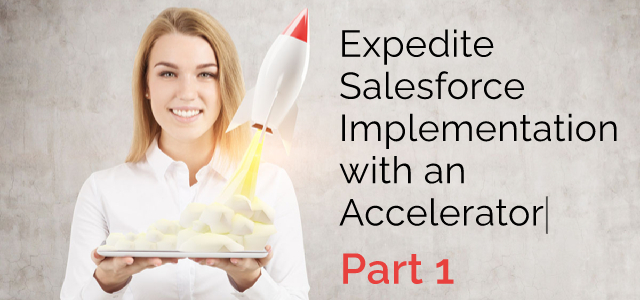 Expedite Salesforce Implementation with an Accelerator – Part 1
Estimated reading time: 4 minutes
For those who don't know, AdVic's extensive line of Accelerators are quick start tools that advance the implementation or enhancement of your Salesforce® platform to equip and empower your team, customers and your partners in just weeks, not months. 
With our uniquely crafted solutions, based on industry best practices and thousands of successfully completed projects, your company will be able to quickly leverage Salesforce functionality, lower deployment costs with accelerating platform benefits, and gain out-of-the-box resolution – which can be customized to your needs – to top industry use cases. 
In Part 1 of this AdVic® Salesforce Blog series, we're taking a look at a few of our various Accelerator offerings and how they can expedite the Salesforce solution you have been looking for. 
Sales Cloud Accelerator
Salesforce Sales Cloud™ is a customer relationship management (CRM) platform designed to support sales, marketing and customer support.
With AdVic's Sales Cloud Accelerator, your sales team can sell smarter and faster by centralizing your customer. information, capturing their interactions with your company, and automating many of the tasks salespeople do every day. 
In addition, you can:
Eliminate mistakes or repetitive tasks by Tracking and Reporting on sales activity.

Display comprehensive and predictable real time forecasting.

Enforce consistent pipeline data across every sales engagement.

Automate the triage of incoming leads based on your specific routing requirements such as territory, prioritization, and product.

Build reports and dashboards without help from IT.
Best of all, be up and running with the Sales Cloud Accelerator in as little as four weeks.
More Information About Sales Cloud Accelerator – No Form/Instant Download
Service Cloud Accelerator
Salesforce Service Cloud™ is a CRM platform for customer service and support that enables users to automate service processes, streamline workflows and find key articles, topics and experts to support customer service agents.
If you're like most companies, your service team's challenges have grown as your business has. The Service Cloud Accelerator will equip your team with the tool they need – from case routing to managing service level agreements – while providing you with the 360-degree data to manage towards your goals
How Else Service Cloud Accelerator Empowers Your Team:
Engage on a one-to-one level with every customer, everywhere.

Gain customer experiences that foster satisfaction and loyalty.

Quick Implementation – with weeks – for fast ROI.

Engage with easy-to-create reports and dashboard for performance and success management.

Seamlessly migrate your data from your current system into Salesforce

®

(Accelerator add-on).
More Information About Service Cloud Accelerator
And with AdVic's Service Cloud Accelerator, your company can create personalized customer experiences within weeks. The video below shows you more.
Service Cloud + Data Migration Accelerator
Eliminating technology limitations accelerates progress – especially when  it relates to servicing customers, everyone's number one priority. For some start-ups, Zendesk may be an initial option due to it being a quick fix, low-cost  help desk ticketing system approach. But as the need for smarter, faster and more personalized service delivery grows, organizations commonly  migrate from a "help desk" approach to a full-service relationship management system like Salesforce Service Cloud. Ad Victoriam's Service Cloud + Data Migration Accelerator will migrate your business from Zendesk to Service Cloud to improve customer service delivery and propel satisfaction within weeks. 
More Information About Service Cloud + Data Migration Accelerator
Experience Cloud Accelerator
Salesforce Experience Cloud™ (formerly Community Cloud) is an all- encompassing software system with an integrated set of technologies, digital marketing products, services and solutions that help companies digitize business operations, engage customers, and provide effective connection and collaboration with their partners. In addition, Experience Cloud integrates all Salesforce apps and capabilities under one roof, including sales, marketing, and customer care, as well as analytics, advertising, and content management.
Why Salesforce Experience Cloud?
Integration of data from any source.

Provide personalized experiences.

Personalized design for each type of device.

Boost interaction with your users.

Real-time tracking.

Optimize response management.

Analytics for decision-making. 
More Information About Experience Cloud Accelerator – No Form/Instant Download
In Part 2 of this AdVic Salesforce Blog series, we take a look at these AdVic Accelerators:
Salesforce Order Management Accelerator

B2B Commerce Accelerator

Marketing Cloud Accelerator

MuleSoft Ignite Accelerator
Why not start accelerating your progress today? Take advantage of AdVic's Accelerator tools that not only expedite your progress, but deliver the results you need cost-effectively. Schedule a meeting with us now!
Related Resources:
Expedite Salesforce Implementation with an Accelerator – Part 2
AdVic Accelerators: Products That Propel Your Salesforce Platform's Value
Subscribe to the AdVic Salesforce Blog on Feedly: