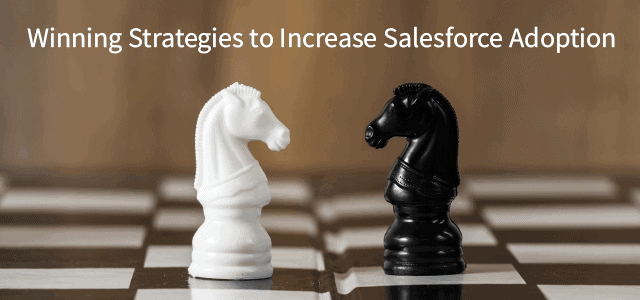 Winning Strategies to Increase Salesforce Adoption
Picture this… Tomorrow is your company's long-awaited go-live date for your brand new Salesforce® CRM. In it, you have built some exceptional apps and features for your team and you can't wait to roll them out. But then you ask yourself, "Will our team actually adopt using it, and have we as a company done enough to create strategies and excitement within our team to ensure a successful Salesforce adoption?"
End-User Adoption is About Quality of Work
End-user adoption of Salesforce is not just about people being engaged with the system; it's much more than that. It's about what end-users are doing when engaging with the system; the quality of work they are doing in the system.
For example, are all of the Opportunity dates and the Stages up-to-date? Are team members entering new contacts, and with an email address? Are they recording Activities in the system? Unless your team is doing those things, your Salesforce forecasts will not be accurate, your pipeline visibility will not be up-to-date, and you won't be increasing your database of people who you can send marketing communications to.
A rule many companies use when implementing a Salesforce solution is: "If it's not in Salesforce, it doesn't exist." This can be very effective, especially with C-Suite support. However, it can also be time-consuming for admins to oversee and stay on top of new feature requests. So, the question then becomes, "What can our company do to increase Salesforce adoption that won't involve policies forced upon my team?
Salesforce Adoption Strategies That Work
Team training is often the first thought when implementing a Salesforce solution. However, sometimes Salesforce user adoption issues run deeper, so training is only part of the solution. What also needs to be established is a comprehensive end-user adoption strategy, which should include incorporating these four strategies:
1) Create an Advantage to Using the System: You need to drive home the point about the advantages of using the system. Users must be convinced that using the system will make doing their job easier than not using it. For example, initiating robust dashboards out-of-the-gate gives users a series of reports and charts giving them much better visibility of sales performance in the pipeline. Let users see how a deal has moved from one stage to another.
2) Conversely, Create Examples of Disadvantages to Not Using the System: Once shown how not using your new Salesforce CRM could impact the company or the team member's ability to better generate/earn income, attitudes toward adoption often quickly change. And once team members grasp the "What's in it for Me?" (WIIFM) mentality, they're ready to buy into the solution.
3) Measure User Adoption: Like anything else, if you cannot measure it you cannot manage it effectively. You don't want to be measuring user adoption on hearsay or perception. You want to base it on hard numbers, such as a user's logins, the number of contacts created, percentage of fields populated, from and to Stage movement, conversion rates, and overdue opportunities.
4) Manage User Adoption: Be clear about what's expected for using the system. Coach/train users and take any remedial actions to clear any end-user roadblocks. Make using Salesforce an integral part of the way you work. Use it in team meetings, in one-on-one discussions, and encourage end-users to take advantage of tools such as Chatter, which can be activated in your new Salesforce CRM.
And one final point. As you follow your end-user adoption strategies, make adjustments to them based on how well users are adopting Salesforce best practices.
More Adoption Tips
Want even more ways to generate end-user adoption excitement, including six more tips on increasing your adoption goals? Take three minutes to read this.
If you need assistance with making and implementing a Salesforce user adoption strategy, contact Ad Victoriam Solutions today. Our problem solvers can help your company increase user adoption and solve the unique challenges that come with it. And remember, when you think AdVic, think: Salesforce. Simplified.
Subscribe in a reader