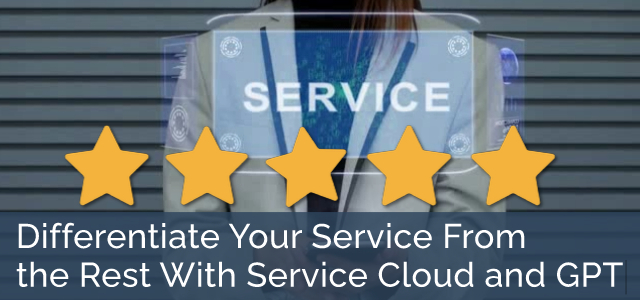 Differentiate Your Service From the Rest With Service Cloud and GPT
Estimated reading time: 6 minutes
No one questions that in today's face-paced world, customer service plays a pivotal role in differentiating successful organizations from the rest. But if your organization struggles with executing customer service, is there a viable solution? There is…
Meet Salesforce Service Cloud
The Salesforce Service Cloud™ platform empowers organizations to deliver unparalleled customer experience. With its comprehensive suite of tools and capabilities, including the innovative Field Service component, Salesforce Service Cloud offers organizations an integrated and efficient solution to streamline their customer service operations and drive success. In this Salesforce Blog, we will delve into the world of Salesforce Service Cloud, explore its Field Service capabilities, and highlight the numerous benefits that organizations can gain by implementing this solution.
Understanding Salesforce Service Cloud
Salesforce Service Cloud is a robust customer service platform designed to enhance customer support, streamline interactions, and build lasting relationships. It enables organizations to consolidate and manage customer inquiries, issues, and complaints from various channels, including email, phone, social media, and live chat, in a centralized location. By harnessing the power of artificial intelligence (AI) and automation, Service Cloud empowers customer service teams to provide personalized and timely assistance, ultimately fostering customer satisfaction and loyalty.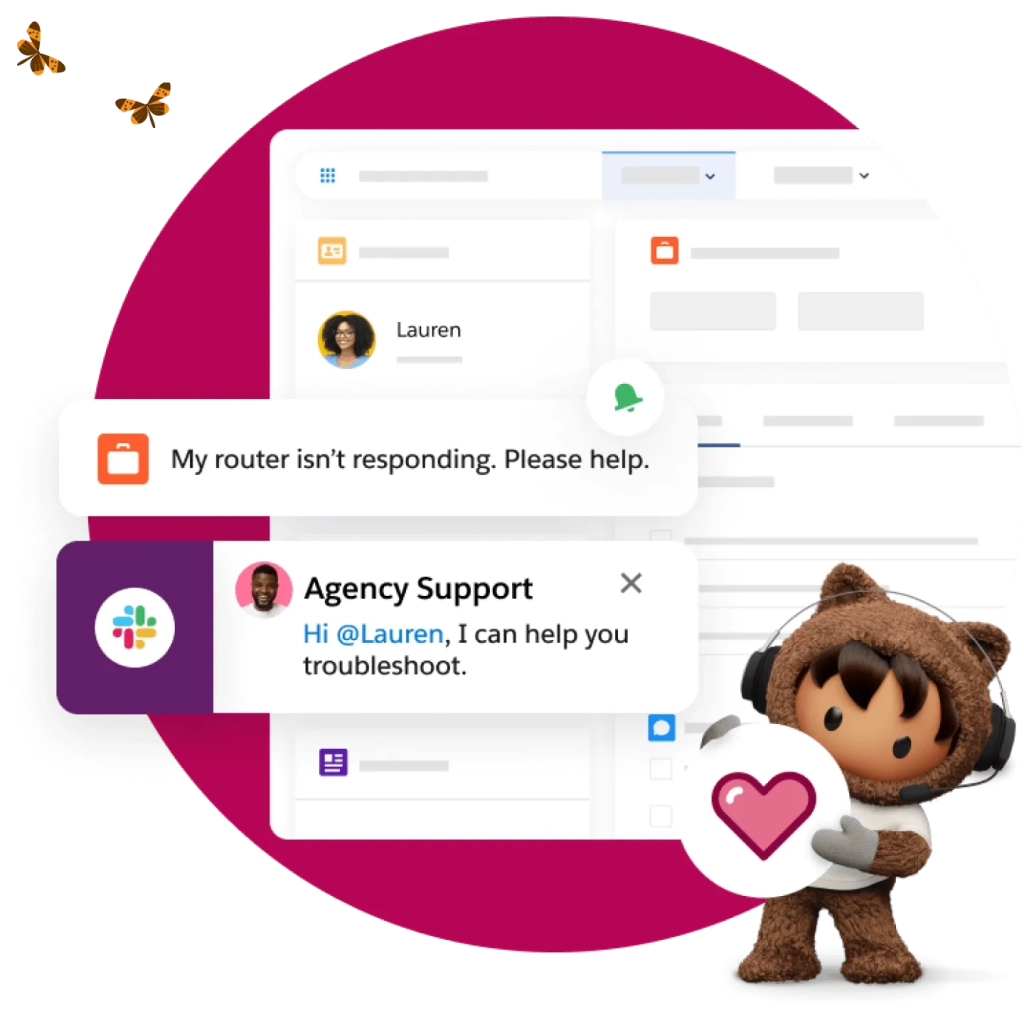 Exploring the Field Service Component
One of the standout features of Salesforce Service Cloud is its Field Service component. This addition takes customer service to a whole new level by seamlessly integrating on-site service and support. With Field Service, organizations can optimize their field operations, dispatch resources efficiently, and equip technicians with the tools they need to deliver exceptional on-site experiences.
Key features of the Field Service component include:
Work Order Management:

Salesforce Service Cloud enables organizations to create and manage work orders, assign tasks to field technicians, and track their progress in real-time. This streamlines the entire service process, leading to faster issue resolution.

Scheduling and Dispatch:

The smart scheduling capabilities of Field Service ensure that the right technician with the right skill set and equipment is dispatched to the appropriate location, optimizing resource utilization and minimizing delays.

Mobile Access: Technicians can access critical customer information, service history, and knowledge resources on their mobile devices, empowering them to make informed decisions on-site.
Inventory Management:

Field Service also allows organizations to manage their inventory efficiently, ensuring that technicians have the necessary parts and equipment to complete jobs on the first visit.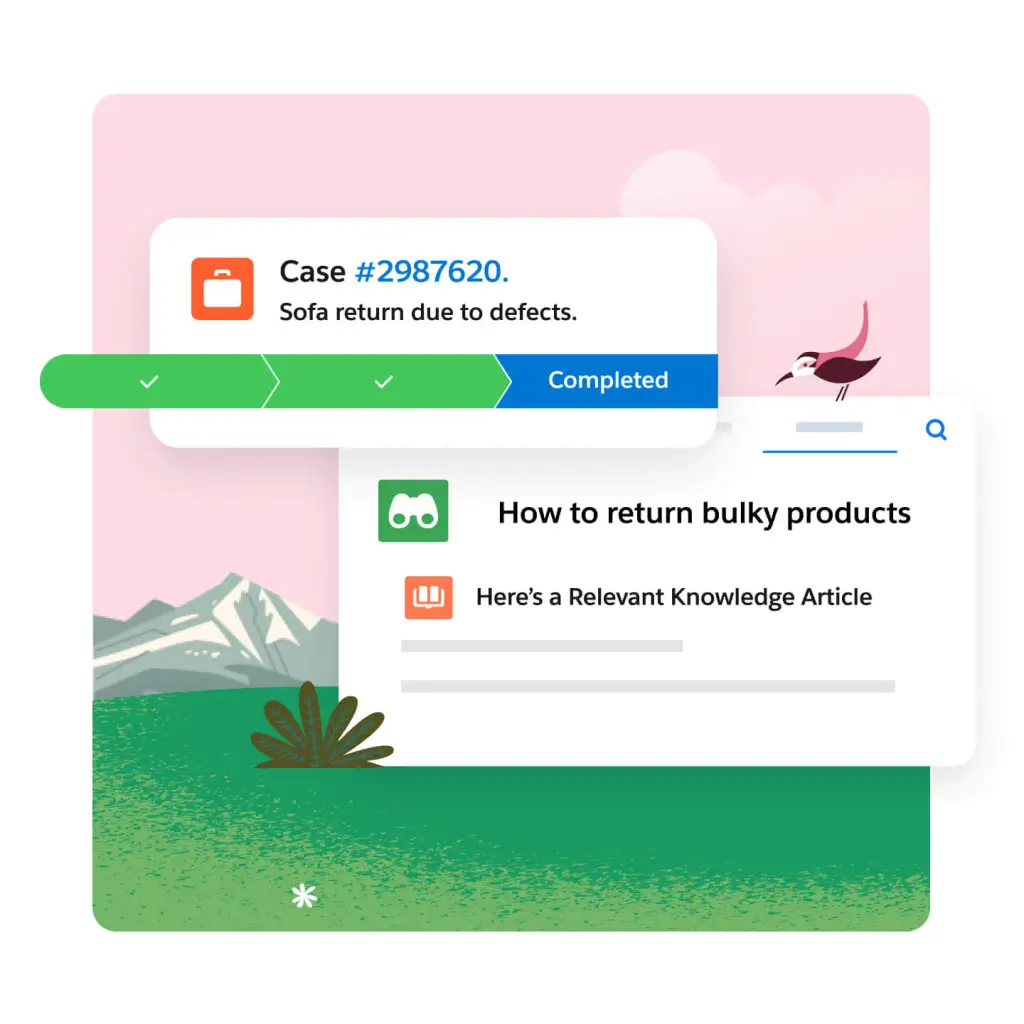 Benefits of Implementing Salesforce Service Cloud
Enhanced Customer Experience:

Salesforce Service Cloud enables organizations to provide personalized and efficient support, leading to increased customer satisfaction and loyalty.

Improved Efficiency:

The automation and AI-driven capabilities of Service Cloud reduce manual tasks, optimize workflows, and boost productivity, allowing teams to focus on value-added activities.

360-Degree View of Customers:

Service Cloud consolidates customer data from various sources, providing a holistic view of each customer. This empowers agents to deliver personalized and contextual support.

Seamless Collaboration:

The platform fosters collaboration between teams, enabling smooth communication and knowledge sharing, which results in quicker issue resolution.

Data-Driven Insights:

Service Cloud's reporting and analytics tools offer valuable insights into customer service performance, helping organizations identify trends and make data-driven decisions.
Say Hello to the AI-Accelerated Service GPT
As you would expect, Salesforce® is at the forefront of this generative AI revolution. And as part of the company's overall AI Cloud initiative, one of their GPT offerings is Service GPT™.
With Service GPT, your organization can deliver personalized customer service at scale. With one implementation, you will be empowered to bring all your support needs onto one platform with AI so you can accelerate service delivery, decrease costs, and increase efficiency.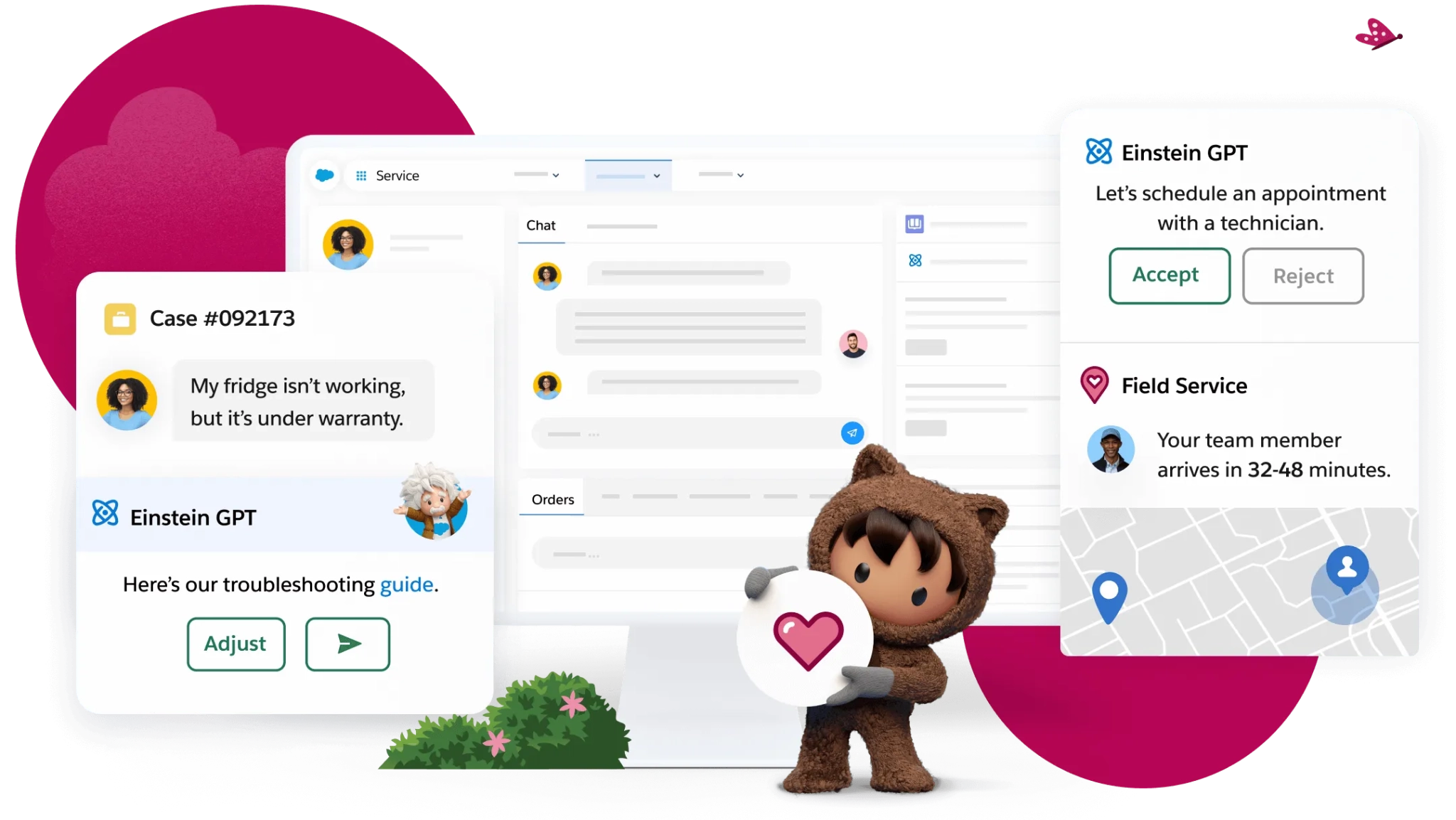 Business Benefits of Implementing Service GPT:
Customer Satisfaction Elevated with Personalized Communications:

Improve customer satisfaction and operational efficiency with

Einstein GPT

built into experiences.

Customer Experiences Enhanced with Routine Task Automation: Step up your customer experiences and save your team's time by automating routine tasks and end-to-end business processes.
Issue Resolution Expedited through Automation: Speed up issue resolution using AI-powered chatbots to handle common requests.
Use Case Examples for Service GPT:
A customer service team

can automate tasks, such as creating new cases, send follow-up emails, and provide answers to frequently asked questions. This frees up customer service agents to focus on more complex cases and to provide better customer service.

A technical support team

can generate technical documentation, such as troubleshooting guides and FAQs. This will help customers troubleshoot their own problems and to reduce the number of tickets that need to be handled through technical support.

A sales team

can generate personalized email and SMS messages, as well as create lead nurturing campaigns. This improves the effectiveness of sales campaigns and to increase lead conversion rates.

A field service team

can generate work orders, provide instructions to field technicians, and track the progress of repairs. This will improve the efficiency of field service operations and to keep customers satisfied.
Summary
With its powerful capabilities and integrated Field Service component, Salesforce Service Cloud and Service GPT equips organizations with the tools they need to revolutionize their customer service and field operations. By enhancing customer experiences, optimizing resource utilization, and fostering seamless collaboration, your business will gain a competitive edge and propel your successes in today's customer-centric world.
How AdVic Can Help
Salesforce's Service Cloud and Service GPT can benefit businesses of all shapes and sizes if correctly implemented into your organization, and AdVic's certified consultants will learn your business, and skillfully guide you through the entire implementation process, and even get you up and running within weeks, not months with our Service Cloud Accelerator. Let's get to work today!
*Images courtesy of Salesforce
Related Resources:
Exploring AI: Salesforce Service GPT
Top Field Service KPIs Impacted by Field Service Cloud
Service Cloud Accelerator Quickly Handles a Zendesk Migration
David Litton Explains AdVic's Service Cloud Accelerator
Subscribe to the AdVic Salesforce Blog on Feedly: