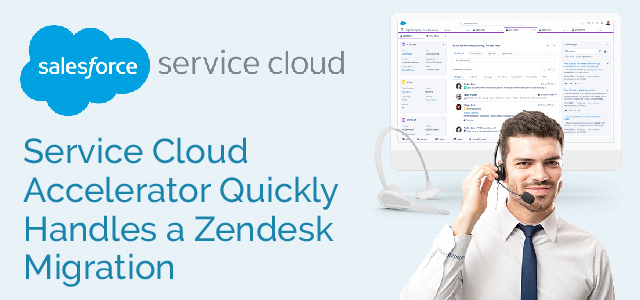 Service Cloud Accelerator Quickly Handles a Zendesk Migration
Estimated reading time: 3 minutes
Let's face it, Salesforce® is amazing, but it's also massive. Building out Service Cloud™ takes months… sometimes years to properly tune and that time can cost you in numerous ways, not the least of which is man hours and lost returns. You know you need Salesforce, but what if there was a way to speed up transition time – including a Zendesk migration – to get your customer support agents up and running with the features they need for success within weeks, not months?
Say Hello to AdVic's Service Cloud Accelerator
As your business expands and opportunities increase, you're most likely seeking solutions that enable your business to grow. A common barrier to growth is the utilization of technology that fails to scale with emerging needs. Eliminating technology limitations accelerates progress – especially when it relates to servicing customers, everyone's number one priority.
For some start-ups, an initial option is a quick fix, low-cost help desk ticketing system approach. But as the need for smarter, faster, and more personalized service delivery grows, organizations commonly migrate from a "help desk" approach to a full-service relationship management system like Salesforce Service Cloud. AdVic's Service Cloud Accelerator will improve your customer service delivery and propel satisfaction within weeks. And a Zendesk migration quickly transfers all of your historical data into your new Service Cloud platform.
How the Service Cloud Accelerator Empowers You
Engage on a One-to-One Level with Every Customer, Everywhere

Customer Experiences that Foster Satisfaction and Loyalty

Quick Implementation for Fast ROI

Empowering Teams with 360-Degree Data for Strategic Planning

Reports & Dashboard For Performance and Success Management
And with a Zendesk data and process migration, your historical data is cleaned, organized, and migrated into Service Cloud fields and objects based on business requirements before deployment, so full access to data is always available and is immediately usable.
Service Cloud in Motion
AdVic® has a long-time customer who is an industry leader in the wholesale asset finance and risk management field. They came to AdVic because they wanted to replace Zendesk with Service Cloud and implement Experience Cloud. They were struggling with reporting, usability, and internal/external communications. They needed a "single source of truth" tool, enabling them to manage sales, service, and their customers' experience in one platform.
Some highlights of our migration/implementation included:
Replaced Zendesk with Service Cloud, reconfigured Sales Cloud, implemented Experience Cloud, and then integrated all three clouds to create one connected platform.
Developed a customized claim routing process, which dramatically decreased service agent response times.

Integrating products with case objects allowed for visibility into customer data, which in-turn enabled them to provide higher quality, more personalized customer experiences.

Routed communications through the Experience portal, enabling case comments and conditional highlighting to foster collaboration.

Built custom Communication objects, permissions, and document cloning triggers to enhance document management functionality.
When you're ready to increase your customers' level of satisfaction through the delivery of smart, fast and personalized care, get in touch with AdVic's Service experts for a Service Cloud Accelerator solution – accomplished in weeks – not months!
Related Resources:
David Litton Explains Service Cloud Accelerator
Salesforce Service Cloud vs. Zendesk
Subscribe to the AdVic Salesforce Blog on Feedly: