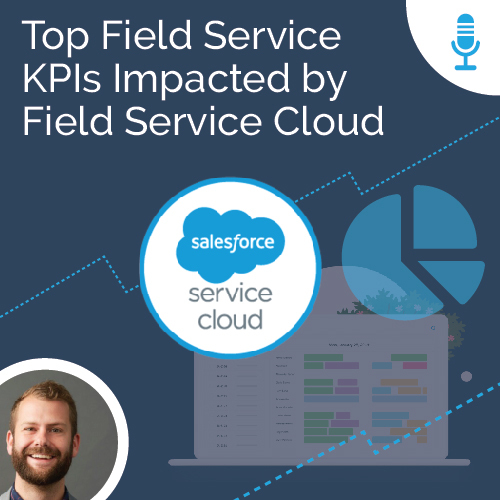 Top Field Service KPIs Impacted by Field Service Cloud
Episode Notes/Resources:
In this episode of Salesforce Simplified we're talking with Salesforce Senior Solutions Engineer George Higgins about Salesforce Field Service Automation.
Salesforce Service Cloud: 
Salesforce Service Cloud Customer Story: 
Salesforce Field Service Automation: 
Transcription
Speaker 1:
Thanks for stopping by. This is "Salesforce Simplified," the podcast from Ad Victoriam Solutions.
Mike Boyle:
If you are a fan of Salesforce Service Cloud™ and you are a fan of Field Service, you have come to the right place today. Hi everyone, I'm Mike Boyle from Ad Victoriam Solutions. This is the "Salesforce Simplified" podcast and today we are thrilled to have Salesforce's Senior Solutions Engineer, George Higgins, here with us today to talk about specifically, Salesforce Field Service automation. George, welcome to the "Salesforce Simplified" podcast. We are thrilled to have you with us today.
George Higgins:
Glad to be here, Mike, and glad to be here on the podcast. I've been a listener in the past and kind of pinching myself being on the show today.
Mike Boyle:
Well, I thank you for being here and just continue to spread the word for us. That's all I would ask of you. George, before we get into talking specifically about Field Service automation, why don't you tell us a little bit about your role there at Salesforce?
George Higgins:
I am a solution engineer in the CBS, the core business services space, dealing with a lot of companies in the mid-market area, so companies between 200 to 1,000 employees, supporting all types of different professional services, whether that's consulting services, waste management. All types of different professional services fall into that category. As a solution engineer and a technical resource, I work with a team of account executives, learning about our customers' businesses and figuring out how Salesforce® can help them solve some of their challenges. Field Service is definitely something that comes up a lot.
Mike Boyle:
Well, let's begin there, George. Let's talk a little bit about exactly what Salesforce Field Service is for those who may not know.
George Higgins:
Take a little step back. Field Service in general, that's a part of an organization that's going to deploy a worker to actually go in person and perform a service for your customer. Like I mentioned, that includes a lot of different use cases. There's transportation, repair services, telecom, waste management, and financial services. All types of different in-person services are being provided across all types of different industries and that's where Salesforce Field Service comes in. It's an automated system that can really help with all the different moving parts that go into actually going on site and helping a customer solve their issue. You think about all the different factors that go into that. We need to schedule an appointment with the customer. Often that's done with a service agent. Then somebody needs to actually dispatch a resource, and then that resource needs to show up to the appointment and actually help that customer. Field Service is built to kind of automate that process and optimize and give your customers that delighted experience they're expecting.
Mike Boyle:
Well, as part of a Salesforce Service Cloud solution, many companies integrate Salesforce Field Service into their Service Cloud. Talk about why companies would do that.
George Higgins:
I love that you mentioned integrate because a Salesforce Field Service is actually built entirely on platform, so there really isn't any integration required to connect this with your service or sales cloud instances, and the beauty of that is that 360 degree view you're getting of your customers in Service Cloud, you can extend that out to your field teams, ensuring they're giving that delighted next level customer experience that people are really coming to expect instead of it being a nice to have.
Mike Boyle:
Let's talk a little bit about how automation improves Field Service management.
George Higgins:
Automation is a huge piece of the Field Service solution. There's so many factors, like I mentioned, that go into executing out in the field. Does the tech have the right skill set? Can they actually help the customer? Are they physically close to the location? We obviously don't want to be sending techs all across town if we don't need to. Other factors such as, maybe a customer prefers a certain tech to come on site, and then also does that tech have all the materials with them to actually complete the work? Maybe a plumber doesn't have all the right equipment on his truck that given day. Definitely don't want him assigned to go complete a job that requires that missing equipment. All those factors really multiply together and make it hard to find, what is that perfectly optimized schedule?
Automation is key, and of course, there'll always be some need for a human element, but automation can really ease that burden on the dispatcher and help guide them towards scheduling that really helps your business, and ultimately, your customers in the most efficient way possible. I one time saw a stat when I was learning about Field Service in the beginning, and if you look at dispatching as a math problem, the need for automation and optimization becomes really clear. For example, let's look at one field tech and six different appointments in a day. That sounds pretty simple and straightforward, but if you actually do the math there, there's 720 different combinations for how we could go about completing those appointments with that one tech.
If you think about the human element in that, that would take a long time to figure out with all those different factors going in. What is the perfect combination that we should go with? What's the one out of that 720 different possibilities that we should pick? That's where the automation and optimization really comes in, and you can imagine as you scale and grow, that number of 720 grows exponentially. There's millions, billions of different options, so that automation and optimization piece really can bridge that gap and ensure that you are picking the right appointments for the right times and finding that right combination that's ultimately going to help your customers and your business complete that work.
Mike Boyle:
Speaking of numbers, I would assume there are many, many, many, many more use cases than the three I'm going to ask you to talk about for automation within Field Service. Let's talk about these three that I've isolated. The first one is automate scheduling and dispatching to deliver service faster. Tell us a little bit about how that would benefit a user.
George Higgins:
One new exciting solution that we have is called Appointment Assistant, and we're seeing a lot of our Field Service customers go with this solution, and part of what that offers is that fully automated process for a customer. That enables them to go online, select their own appointment, and then in the background, that Salesforce Field Service optimization engine is going to find that right tech with the right equipment and the right availability to actually fulfill that appointment. You do have the ability to fully automate that process instead of calling into a dispatcher and figuring out who the right resources are. You can let the optimization and the automation do all the work, which really empowers your customers with the ability to schedule whenever they want and do it in one phone call or one interaction on your website.