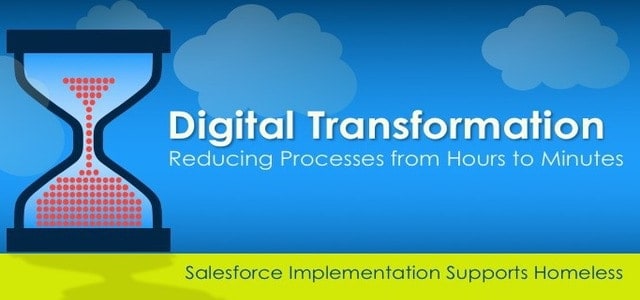 Salesforce Implementation Supports Homeless
A Salesforce user since 2010, The Interfaith Hospitality Network of Athens, Inc. (IHNA), an affiliate of Family Promise, is a non-profit organization with 1,000 volunteers. Their sole purpose is to provide immediate shelter and guidance to homeless families with children, due to misfortunes in their lives.
The problem IHNA was having was that they were not using Salesforce to its full potential. Their staff and volunteers just don't have a deep understanding and practical usage of the software. They needed help to work smarter to devote more time to better serve their ever-growing community initiatives.
And while a group of UGA students was helping IHNA with occasional Salesforce tweaks, they, too, realized they needed help. It was then that the UGA team reached out to Ad Victoriam Solutions (AdVic). As a proud member of the B Corp Community, AdVic jumped into action to offer pro bono assistance.
The Challenge
Specifically, IHNA needed help implementing various Salesforce Sales Cloud enhancements they were not using. Enhancements needed to include the use of dashboards showing how they were trending with their volunteer and donor initiatives. Being a non-profit with limited resources, they were looking for a solution to get away from hand-written thank you notes to donors. For one recent 300-person fund-raising event, volunteers spent 10 hours a week for two weeks crafting hand-written notes.
The AdVic Non-Profit Resolution
Here's how AdVic put in place an optimization strategy to solve IHNA's current and future issues:
Data Integrity
Improvements to fields/objects to help normalize/standardize data.
Thank You Letters
Used S-doc from App Exchange to automate the creation of two types of Thank You letters to donors.
Trained IHNA staff/volunteers on how to modify templates. Now they can modify and keep using the two free Salesforce templates and never have to pay for the app.
Each thank you letter now takes seconds versus the manual letter creation process of the past. And, volunteers with this task have the bandwidth to take on new volunteer tasks.
Volunteer Dashboard
Designed custom dashboards to highlight volunteer leaderboards focused on congregations and households.
Donations Dashboard
Created custom donation reports/dashboards to support mailings. Now all relevant data can be exported and sent to a printer for mailings.
Created leaderboards for congregations, households, and Board Member donations history.
Financial Reports/Board Reports
Created a system for generating quarterly financial reports for Board meetings.
Moved IHNA out of age-old spreadsheet usage and into Salesforce report.
Normalized reporting, historical and current, so IHNA would never have to manually create those reports again resulting in more time saved.
Constant Contact Sync
Provided extracts from Salesforce to support syncing with Constant Contact.
Researched and provided instruction and guidance on installing Salesforce for Cazoomi. Now Constant Contact data to flows into Salesforce.
No more manual synching of contact data.
Salesforce Implementation Postscript
Davin Welter, IHNA Executive Director, called out AdVic consultants for their work on this project. "We are very grateful to our project team, which held weekly meetings with us. They were organized, tracked the project with us the whole way, and were very responsive to us. If we had a question at a morning meeting, they would get back to us with the solution that afternoon."

The AdVic project team was specifically chosen because of their non-profit background. From the onset, they understood IHNA's challenges and the stressors of being a small organization with limited Salesforce knowledge. Welter added, "They communicated in a way we could understand and appreciate."
In addition to doing good for the world, Ad Victoriam Solutions Salesforce Consultants are a team of dedicated, innovative technology problem solvers. We are Salesforce cloud and data implementation consultants. We customize our approach to suit your processes for increased efficiency, accelerated productivity, and scalability. Contact us to learn how we can help your business flourish.
Subscribe in a reader