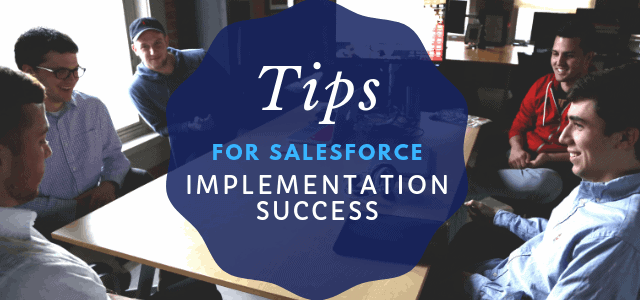 Tips for Salesforce Implementation Success
Thinking about implementing Salesforce or getting ready to kick off your project? Here are some of the top tips to keep in mind from our Ad Victoriam consultants. They have decades of experience implementing successful solutions to manufacturers, healthcare providers, retail chains, and more.
Subject Matter Experts

Start your project on the right foot. Gather your subject matter experts into one room for your Salesforce implementation discovery. They know the step by step process and specific actions needed to do their job better than your C-level and managers.
Full Transparency

Next, be sure to share all of your needs, issues, and concerns with your Salesforce implementation team. It's important to do this during the discovery phase and throughout the project. This ensures the platform addresses all of your needs. Sharing early and not waiting till the end will help get you what you need by projects end. No concern is too small or too big!
User Acceptance Testing (UTA)

Make sure that the people who use the system on a daily basis are the ones testing it. Use the team members who will "live" in the system. Do not use the manager to test.
Plan for Go Live

Now, it's time to go live, but it's first important to understand each person's part when preparing to go live with Salesforce. Establish a solid roll-out plan that includes status updates, testing, go-live dates and also a user adoption strategy so your org embraces the new system.
If after reviewing these tips you decide that you need guidance to make your Salesforce implementation a success, our Salesforce implementation consultants can help.
Ad Victoriam is recognized as a Salesforce Platinum partner. Our certified team has the experience, skills, and ability to deliver innovative solutions that meet your organization's precise needs. Rolling out an effective Salesforce org takes time and careful planning. Working with an experienced partner – such as Ad Victoriam Solutions – can help your company harness all of the power that Salesforce offers.
To learn how Ad Victoriam consultants can assure that your new Salesforce implementation will be a smooth success, connect with us quickly at www.AdVictoriamSolutions.com.
Subscribe in a reader