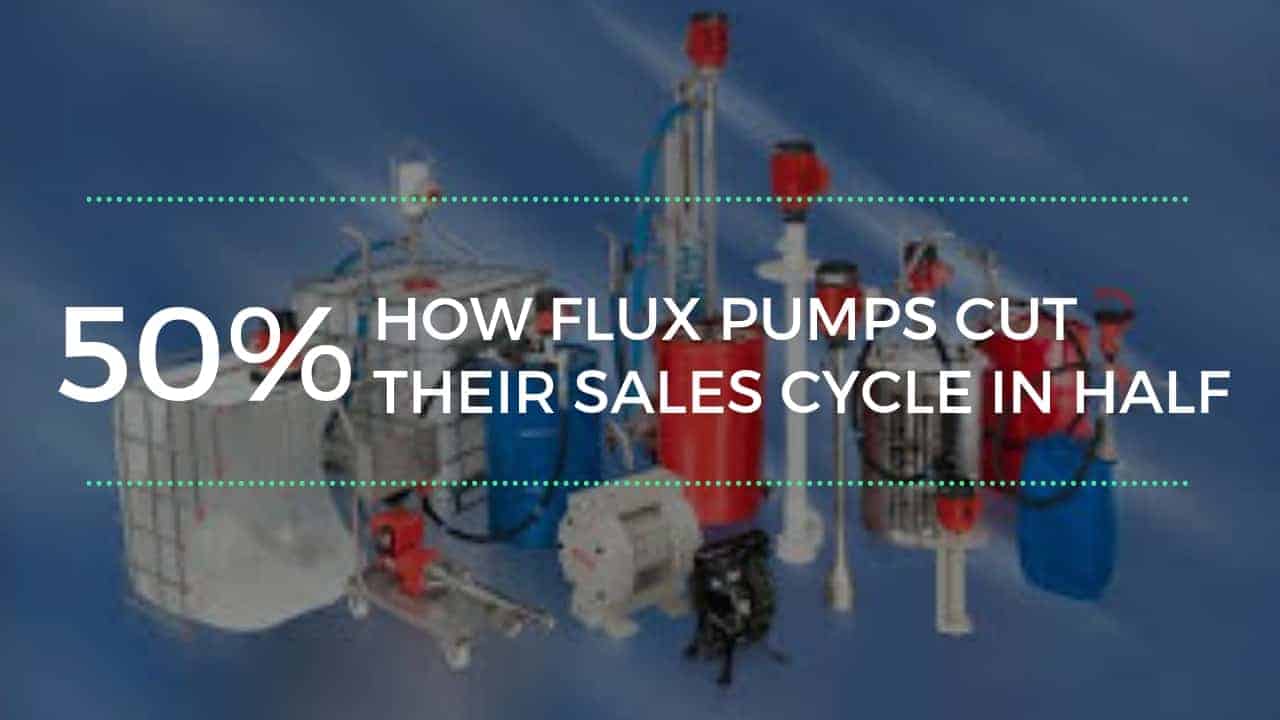 How FLUX Pumps Cut Their Sales Cycle in Half
The FLUX name has been synonymous with pump technology for more than 60 years. It was the invention of the first electric drum pump that sparked the creation of company. Since its inception, FLUX, headquartered in the beautiful black forest region of southern Germany, has grown to employ more than 150 highly skilled men and women worldwide, established seven wholly owned subsidiaries, and maintains sales partnerships in more than 70 countries.
One of those wholly owned subsidiaries, FLUX Pumps Corporation North America, anchored in Georgia, services the United States, Canada and Mexico, and began working with Ad Victoriam Solutions (AdVic) in early 2015 and remains a top customer today; they were actually Ad Victoriams' second customer!
Cutting the Sales Cycle in Half
The original project AdVic initiated for FLUX was to implement a much-needed Salesforce Sales Cloud solution. The company's nine team members in their North American division were responsible for servicing 3,000 distributors. They literally did not know who their customers were as their way of managing contacts consisted of scanning business cards filed away in a shoe box. They did have an accounting system, they could send an invoice, but that was it. No spreadsheets, nothing. They really were starting at zero, and worst of all, they had no real meaningful or efficient way of communicating with their customer base.
Commenting on the success of the initial AdVic solution for their company, FLUX North American President Pete Fujimoto remarked, "AdVic exceeded our expectations for sure. They got us set up to use the basic functionality to help us manage our sales process." He shared that in the past four plus years revenues for their division have skyrocketed 20% year over year, and even more in some territories. Fujimoto added, "The previous sales cycle of 30-40 days was cut in half, down to the teens, and conversions doubled! We could not have done this without AdVic and their Salesforce solution. AdVic helped us become loud in our space, gain much-needed attention, and showed us how to nurture leads that turned into sales."
Pardot Marketing Automation Enhancement
In addition to implementing a well-thought out and successful process automation structure for FLUX, AdVic has since helped this leader in the field of pump technology to implement Salesforce's Pardot Marketing Automation, which is driving even more new business. Now, using marketing automation, FLUX sales team members are sending an average of two emails a month to every one of their more than 3,000 customers, creating more sales opportunities. Before this functionality, each FLUX team member was only able to communicate with a handful of their 800 clients monthly.
Fujimoto stated, "Opportunities increased for us by 50% in the first year. We used to get 10 opportunities a month, now we're getting 20 or more." And he admits that they are still in their infancy with their AdVic/Salesforce solution. "There is more and more that we can do to grow."
Advice to Others when Choosing a Salesforce Partner from Fujimoto
"To this day we still meet weekly with Ad Victoriam to think and explore more solutions. We work together. This is not a project; this is a relationship. They are not a vendor; they are a true partner who took the time to know our business. That is why we have continually worked with them for more than 4 years. The Ad Victoriam team finds a way to work within our system and makes things happen; they know solutions based on their knowledge of our business and are positive, creative, and supportive in every way. We always feel valued."
Looking for a Salesforce partner that learns your business to provide a successful, long-term solution for your business? If so, please complete the form to find out more.
[gravityform id="16″ title="true" description="true"]