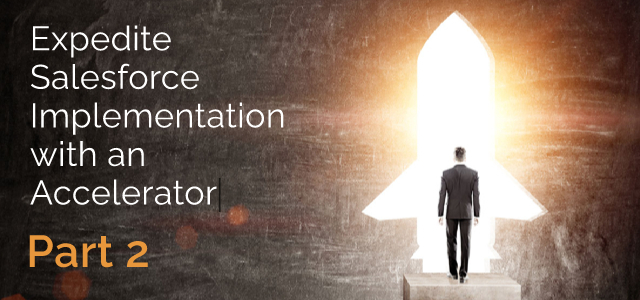 Expedite Salesforce Implementation with an Accelerator – Part 2
Estimated reading time: 3 minutes
For those who don't know, AdVic's extensive line of Accelerators are quick start tools that advance the implementation or enhancement of your Salesforce® platform to equip and empower your team, customers and your partners in just weeks, not months. 
With our uniquely crafted solutions, based on industry best practices and thousands of successfully completed projects, your company will be able to quickly leverage Salesforce functionality, lower deployment costs with accelerating platform benefits, and gain out-of-the-box resolution – which can be customized to your needs – to top industry use cases. 
In Part 2 of this AdVic® Salesforce Blog series (read Part 1), we're taking a look at a few of our various Accelerator offerings and how they can expedite the Salesforce solution you have been looking for. 
Salesforce Order Management Accelerator
Billions of people search and purchase products and services online. As a  result, sellers desiring future growth need to be equipped with robust technology  that enables them to scale. This is where Salesforce's Order Management™  (SOM) steps in. The SOM platform assists merchants in creating unique and pleasant shopping experiences for customers across all channels. Whether online, in-store, mobile, or social, SOM tracks, manages, and streamlines orders  so the right product is delivered expeditiously and the right service is  provided to the customer.
More Information About SOM – No Form/Instant Download
B2B Commerce Cloud Accelerator
Commerce Cloud displays your product catalog in a branded storefront and allows your customer base to place orders independently. Complex pricing models can be configured to match your current business rules and enable contractual agreement tracking for product entitlements and price points. Best of all, with Ad Victoriam's B2B Commerce Cloud Accelerator, an out-of-the-box package enables you to jump-start your B2B platform and start selling online in weeks.
More Information About Commerce Cloud Accelerator
Marketing Cloud Accelerator
Salesforce Marketing Cloud™ is the platform for delivering relevant, personalized journeys across channels and devices — enabling marketers to deliver the right message at the right time throughout all phases of the relationship. Marketing Cloud includes integrated solutions for customer journey management, email, mobile, social, web personalization, advertising, content creation and management, and data analysis.
Why Salesforce Marketing Cloud?
Unlock customer value with data-driven interactions that truly benefit your customer — and your business.

Personalize every moment with real-time data across channels and teams.

Automate engagement across email, web, mobile, and more.

Optimize performance and spend with AI-driven analytics.
More Information About Marketing Cloud Accelerator – No Form/Instant Download
MuleSoft Ignite Accelerator
AdVic's MuleSoft Ignite program connects your systems by laying the integration framework and enabling your integration to scale. Based on industry best practices, and many successfully completed integration projects, we've crafted Ignite to quickly advance your business and timeline to achieving a positive ROI.
MuleSoft Ignite Summary:
Boxed in and rapid implementation program.

Includes an integration between foundational systems.

Allows for fast delivery and ROI with utilization of MuleSoft templates where applicable.

Foundational deliverables for each offering, including: s

olution architecture, technical specifications, business requirements document, and data mappings
More Information About MuleSoft Ignite – No Form/Instant Download
If you missed Part 1 of this AdVic Salesforce Blog series, you'll learn about these additional AdVic Accelerators:
Sales Cloud Accelerator

Service Cloud Accelerator

Service Cloud Accelerator + Data Migration

Experience Cloud Accelerator
Why not start accelerating your progress today? Take advantage of AdVic's Accelerator tools that not only expedite your progress, but deliver the results you need cost-effectively. Schedule a meeting with us now!
Related Resources:
Expedite Salesforce Implementation with an Accelerator – Part 1
AdVic Accelerators: Products That Propel Your Salesforce Platform's Value
Subscribe to the AdVic Salesforce Blog on Feedly: