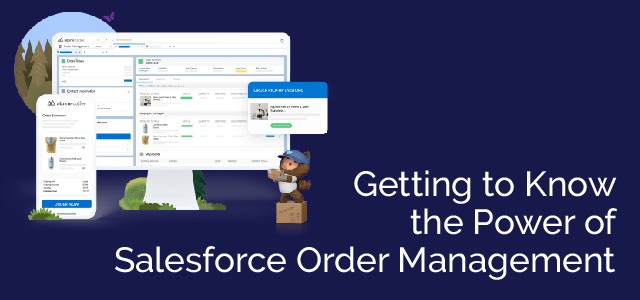 Getting to Know the Power of Salesforce Order Management
Estimated reading time: 4 minutes
In a nutshell, an Order Management System (OMS) – such as Salesforce Order Management™ (SOM) – is your central hub for handling all aspects of the order lifecycle, including order capture, fulfillment, shipping, payment processing, and service.
And while an OMS itself hasn't changed much throughout the years, what has changed are buyers' expectations around how fast their orders end up on their doorstep. With same-day shipping becoming the norm, customers expect an efficient (and friendly) ordering experience.
That's why order management now demands a multifaceted system, one where every step of the ordering, tracking, and fulfillment process is taken into consideration.
The Top Features of SOM
Fulfillment:

When Salesforce Order Management takes in an order from the webstore, it comes with automation to allocate, route, and create a fulfillment order for Inventory. This even allows for the capture of payment from the customer once an order is fulfilled. 

Order Tracking :

Have a full view of the status and condition of a customer's order from the moment they purchase something until it's delivered to their door. 

Order Adjustments:

Out-of-the-box, SOM comes with features that allow you to edit and adjust the order as it's circling through the process. These adjustments include canceling an order before it's allocated, discounting a certain product, or returning an order that has already completed. 
What Makes SOM Special?
The first thing that comes to mind about SOM being special is that it fills the booming need for clients to improve and adjust the way they manage orders. In current times, companies can't afford to fall behind in the eCommerce space and when orders are received they need a singular place where they can grasp a full overview of a customers orders and make changes on the fly to address the customers needs. SOM not only has out-of-the-box features to make this possible, but can also be customized to fit a wide range of business models.
How SOM Works with Commerce Cloud
Salesforce's Commerce Cloud works with SOM primarily to send all of the necessary information when an order is placed into SOM. So when a customer checks out on the storefront Commerce sends that information including Account, Products, Payment, and Shipping into SOM. Once this information makes its way into SOM you should have all the information and tools to ensure that the order is processed, paid for, and delivered to the customer.
Does Your Business Need an OMS?
Quite frankly, if you run a commerce business that involves processing orders and sending products to customers, then you'll need an OMS that allows you to streamline the process from purchase to delivery. While manual order management is an option, it's often tedious, time-consuming, and expensive. An order management system helps prevent delays and creates an overall more positive customer experience. 
AdVic's Expertise with SOM
Among several other SOM projects, AdVic® recently enabled a major online pet supply company with a full scale eCommerce platform, which included implementation of Salesforce's Commerce Cloud™, Service Cloud™, Marketing Cloud™, MuleSoft®, an ERP integration, and SOM.
The overall benefits from the SOM portion of the implementation included:
– Implementation and integration of SOM with Commerce Cloud enabled the team to build Split-Order Processing to manage fulfillment for two separate warehouses. 
– SOM dynamically reviews each warehouse's inventory based on SKU. If an order included SKU's in each warehouse, the order would split aligning with the appropriate warehouse, change order stage to "allocated" to trigger MuleSoft to process and send the order downstream through the ERP to the pick/pack system in preparation for shipping. 
– Sales data visibility in SOM aggregated from three systems. 
So, if you are looking for a way to elevate customer experiences, increase eCommerce conversion rates, reduce service calls, and build a foundation for future functionality and growth, find out how an SOM solution, implemented by AdVic, can help your business starting today. Reach us now here, or set up and time to talk below.
Related Resources:
Scale Quickly, Connect with Customers, Manage Multiple Brands with Salesforce Commerce
Subscribe to the AdVic Salesforce Blog on Feedly: