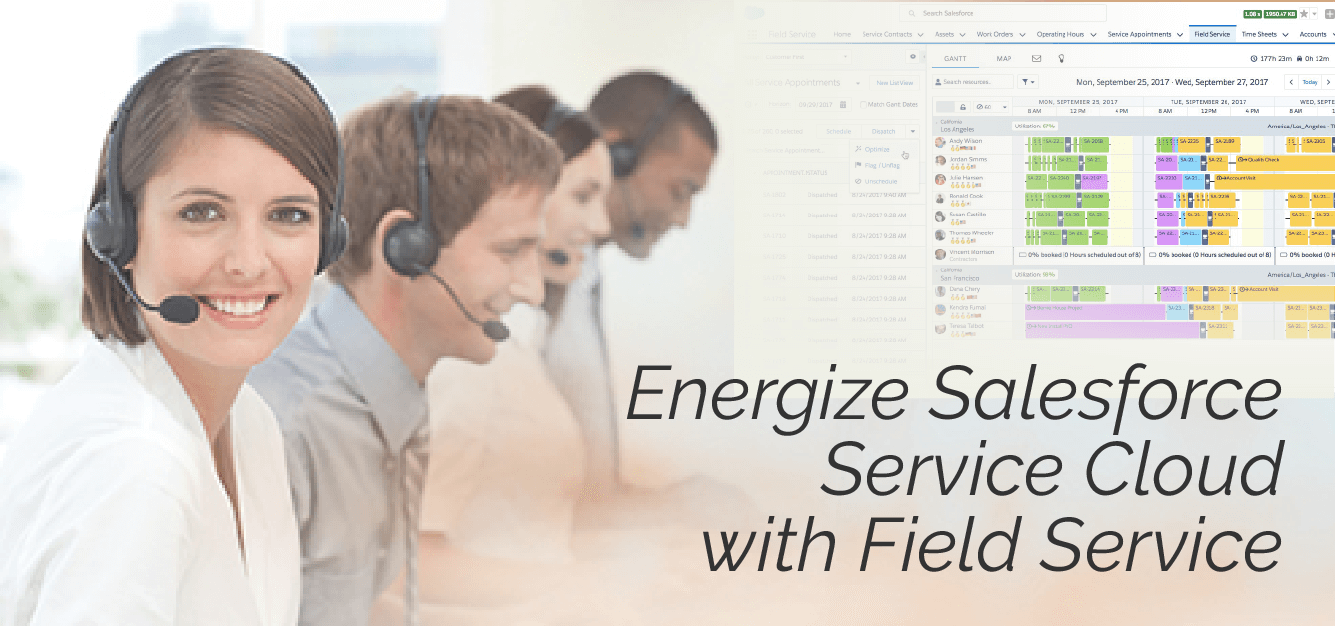 Energize Salesforce Service Cloud with Field Service
So, you've empowered your team to advance your customer service with the implementation of Salesforce Service Cloud™. From case routing to managing service level agreements to access to a knowledge base that automatically evolves to an overall 360-degree view of your customers, your Service team now efficiently engages on a one-to-one level with every customer, across multiple channels and on any device. Hooray!
For many businesses, it's at this point that they start to think about additional solutions to master their field service operations so they can further strengthen their service delivery, but how?
Meet Salesforce Field Service
When your goal is to increase productivity, on and offline, you want to use a flexible field service solution. Integrating Field Service into your Salesforce org equips your team with AI-powered scheduling, resource optimization, guided safety protocols, van inventory, knowledge articles, and more… and all in real-time. Specifically, Field Service helps you:
Reduce In-Person Visits by Providing Virtual Support: Scale your field service with remote assistance. Allow customers to instantly book phone and video appointments through a customer portal.
Prioritize Essential Projects and Intelligently Assign Jobs, from Anywhere: Leverage automation to prioritize essential jobs — and save employees time — by intelligently assigning the right workers to the right projects based on skills, location, and business rules. Increase efficiency by giving dispatchers full visibility into the mobile workforce and every job on a single screen.
Manage Jobs and Safety Protocols from Any Mobile Device: Help your team efficiently manage essential work, even when they're offline, with the Field Service mobile app. Keep your mobile workers up to date on the latest policies and procedures with step-by-step instructions and safety checklists. Customize the app to improve first-time fix rates by attaching relevant specs, knowledge articles, timesheets, and inventory before workers enter a job site.
Make Data-Driven Decisions Faster: Use Field Service Analytics to give your managers and dispatchers easy, real-time visibility into operational performance and KPIs, from any location. Drill into all your data from multiple systems and even track safety protocols, all in one app.
When you're ready to increase your customers' level of satisfaction through the delivery of smart, fast and personalized care, the Ad Victoriam consulting team will quickly and expertly deliver the Service solution you need. Let's start making your service solution a reality... Click here, or fill out the quick form below.

[gravityform id=5]

Related Articles

3 Ways to Unleash the Speed and Efficiency of Your Field Service Operation

Field Service Connects Your Workforce

Listen to the Podcast: An Inside Look at Salesforce Field Service
Subscribe in a Reader