SERVICE-DRIVEN SOLUTIONS
How Field Service Lightning Helps You
With the help of a certified Salesforce Field Service Lightning expert, your business can improve the speed and efficiency of your field service operation. Field Service Lightning connects your entire workforce, products, and customers on one platform to:
Deliver exceptional on-site service
Boost employee productivity in the field
Manage agents, dispatchers, and mobile workers
Provide real-time visibility into all operations
Optimize mobile workforce allocation
Keep customers updated at every step
End-to-End Field Service Management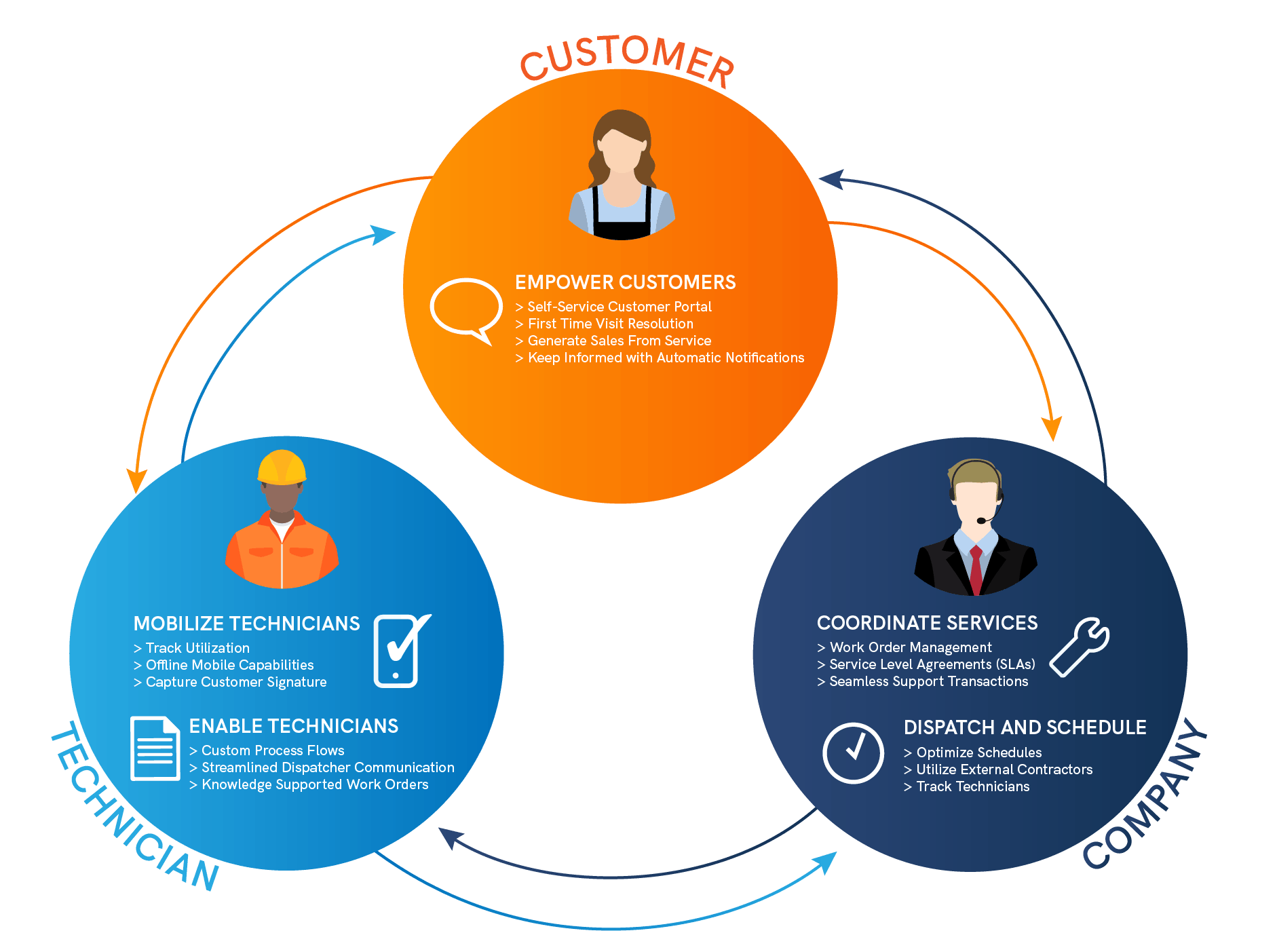 BENEFITS OF FIELD SERVICE LIGHTNING
Field Service Lightning experts help businesses get more out of their field service operations by creating optimized routes for their field techs, seamlessly integrating with Service Cloud, helping complete the customer 360-degree view and connects you to your customers.
Service Appointment Optimization
Utilize Salesforce's AI to assign the right resource based on time, skills and location based on established rules to increase productivity.
Remote Connection
Arm your mobile employees with a mobile app that delivers job schedules, analytics, visibility into van stock, and real-time collaboration while they're on the go, to improve first-visit resolution.
Effective Dispatcher Console
Give control access to dispatchers and allow them to see job status, make last-minute schedule changes, and track their territory on the map.
Work Order Management
Create work orders from any case, fast, to allow the dispatching team to quickly schedule jobs. And, dispatch field tech to an emergency in a manner of minutes.
FSL Transforms Your Business
Whether you're just learning about Field Service Lightning, or are ready to implement the solution, our team will be with you every step of the way. Ad Victoriam's Certified Field Service Lightning experts learn your business, then helps your company deliver the type of customer experience that taps into the preferences of your modern customer. 
We have years of experience increasing the effectiveness and productivity of office and field service reps enabling businesses to connect and service customers like never before. And when you do, you'll boost customer satisfaction, retention and profits.