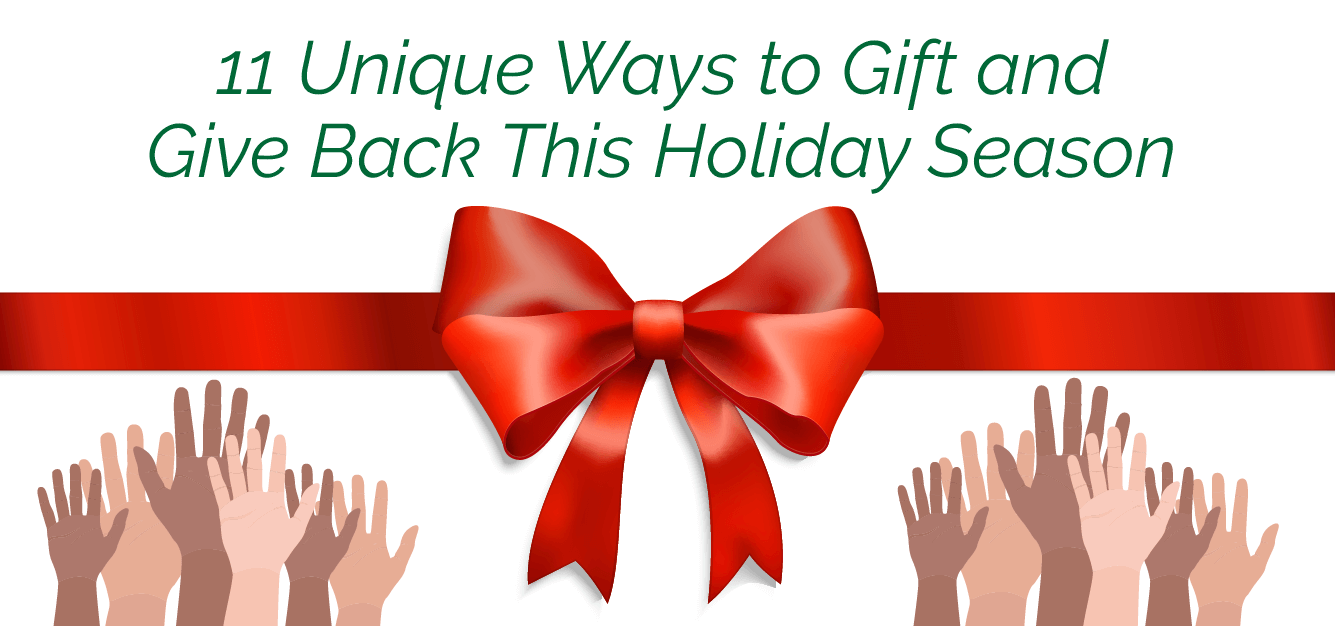 11 Unique Ways to Gift and Give Back This Holiday Season
As dreams of Thanksgiving feasts become a little more vivid, and the countdown until the holidays continues to tick on, by consumerist nature so do thoughts of the next holiday season and the difficulties of finding the perfect gift for those special to you. Luckily, we at Ad Victoriam (a Certified B Corporation) have you covered! Prepare to enter the wonderful world of local, ethical, and sustainable gift-giving with 11 unique ways to gift and give back this holiday season.

1. Gift Cards from Local Businesses: A MintLife study found that 21 percent of gift-givers prefer a gift card, and the beauty of them is the flexibility that they provide. You can support your favorite restaurants, shops, and anything you want to see again in 2021. 
2. Sustainable Boutique Hotel Stay Booked in Advance: 2020 is ending and a vaccine is on the way and we'll all soon be looking for an excuse to take a trip. With properties in Florida, Colorado, and New Jersey, we recommend fellow B Corp Legacy Vacation Resorts as a great option for that first trip. 
3. Locally Made Goods from Locally Owned Stores: It is always a good idea to support local businesses, but more than ever in a time when big-box retailers will dominate with high cost advertising. Focus locally: local bookstores, local makers, local everything! It means that much more when you take your business to "the small guy," and more often than not the extra care and attention will improve your buying experience.
4. Support Black Owned Businesses: The 2018 Annual Business Survey (ABS) found that black-owned businesses accounted for only 2.2 percent of all U.S. employer businesses. One great option to explore is Origyn, a community of BIPOC, woman-owned and LGBTQIAA+-owned brands who believe that anything their communities need, their communities can provide. If you need further inspiration, Forbes also has a wonderful list of 100 black-owned businesses to support. 
5. Find Something Uncommon: Another B Corp we love to support is Uncommon Goods. Their team scour the world for creative crafts and unique products from environmentally friendly sources. The online marketplace also partners with non-profit organizations, donating $1 of every consumer purchase to a partner of your choice. Provide gifts to your loved ones and support to those who need it with an uncommon good! 
6. Give the Gift of B Corp Drinks & Sweets
2020 has seen a surge in demand for companies seeking to certify as B Corps. One great option is Tony's Chocolonely, who can satisfy your sweet tooth and allow you to proudly bite into an ethically sourced chocolate knowing you have helped them further their vision of making 100% slave-free chocolate a reality.
For fans of Yerba Mate, the caffeine-rich infused drink of South American origin, Guayakí, is another wonderful B Corp to look to for gift-giving inspiration. Introduce someone to one of the fastest growing beverages in the world while helping Guayaki to continue their regenerative agriculture push to protect the Atlantic Rainforest. 
7. The Toms: Those who know a Tom that they consider to be a special someone, and equally for those that don't, may find the perfect gift with a B Corp namesake. The Toms (Tom's Shoes, Tom's of Maine and Tom Bihn) are three wonderful, conscientious organizations with sustainability in mind.
Probably the most well-known of the group, Toms, the footwear company, provides a great range of not only footwear, but also sunglasses and various accessories. What's more, for every $3 they earn, they donate $1, on top of their reputation as the original one for one company, providing a pair of shoes to a child in need for every pair purchased by a customer. 
For the anti-consumer on your list, everyone needs toothpaste, mouthwash, and deodorant. Tom's of Maine provides personal care products from naturally sourced and naturally derived ingredients, striving to implement and follow sustainable business practices. They donate 10 percent of product sales to nonprofits who work to support health, education, and nature. 
The final Tom, Tom Bihn, is a baggage manufacturer, selling a range of products from backpacks and laptop bags to travel accessories. They'll also help you feel better about shipping that present, as they have offset over 560 metric tons of CO2e emissions through their participation in the UPS Eco Responsible Packaging Program. .
8. Support that Destination You Love: What makes travel so special? Oftentimes it's shopping at those places you love in the destinations that you always end up in that allow you to discover the perfect gift when you're not even looking for it. Be that Wander North Georgia, the locally owned outfitter store in Clayton, GA, who have already donated almost $30,000 to nonprofits in 2020, French Broad Chocolates, the lounge and factory in Asheville, NC, who utilize a number of energy efficient architectural components, or AdVic favorite, Creature Comforts in Athens, GA, who donated over $400,000 to their Get Comfortable community fund in 2019.
9. Plant A Tree or Three: Sustainability and environmental impact does not need to be left to the organizations you shop with. The average carbon footprint in the U.S. is 16 tons, one of the highest rates in the world (global average is approximately four tons). You can calculate your carbon footprint with this tool and then work to offset it by planting trees. Carbonfund provides a wealth of information about the benefits of planting trees as well as actionable links to purchase your own or for others.
10. Support a Great Cause: For many of us, 2020 was a year of reflection on how we can be better allies for our BIPOC brethren. At AdVic, we've pursued new partnerships and found organizations doing JEDI work worth supporting. So consider making a donation to one of our favorites, which include HYPE (Hope for Youth through Providing Education), who provide 21st century skills and technical training to girls of color, HBCUforce, an organization that partners with HCBUs to implement programs that provide early access to cloud computing careers, and HCBUvc, working to diversify a venture capital ecosystem that sees one percent of funds go to minority business owners. 
11. Gift Those Credit Card Rewards: For those who have banked frequent flier miles and credit card rewards over the course of the past year and have so far not had need for them, the holiday season is the perfect time to use them for good! A growing practice of donating frequent flier miles and unused credit card rewards – supported by many credit card issuers, major airlines and hotel loyalty programs – allows customers to support multiple charities that use them to fly and house patients and their families to medical facilities, make wishes come true, and much more! 
As a B Corp, Ad Victoriam makes sustainability and community involvement a priority, and we aspire to extend those values to those around us. Our hope is that we've made the case for you to take this opportunity to also showcase those values with your friends and family. And, hey, we hope that we've successfully sparked some gift-giving ideas for you as we move closer to the holiday season.
Related Articles
Read More B Corporation Blogs 
Subscribe in a Reader