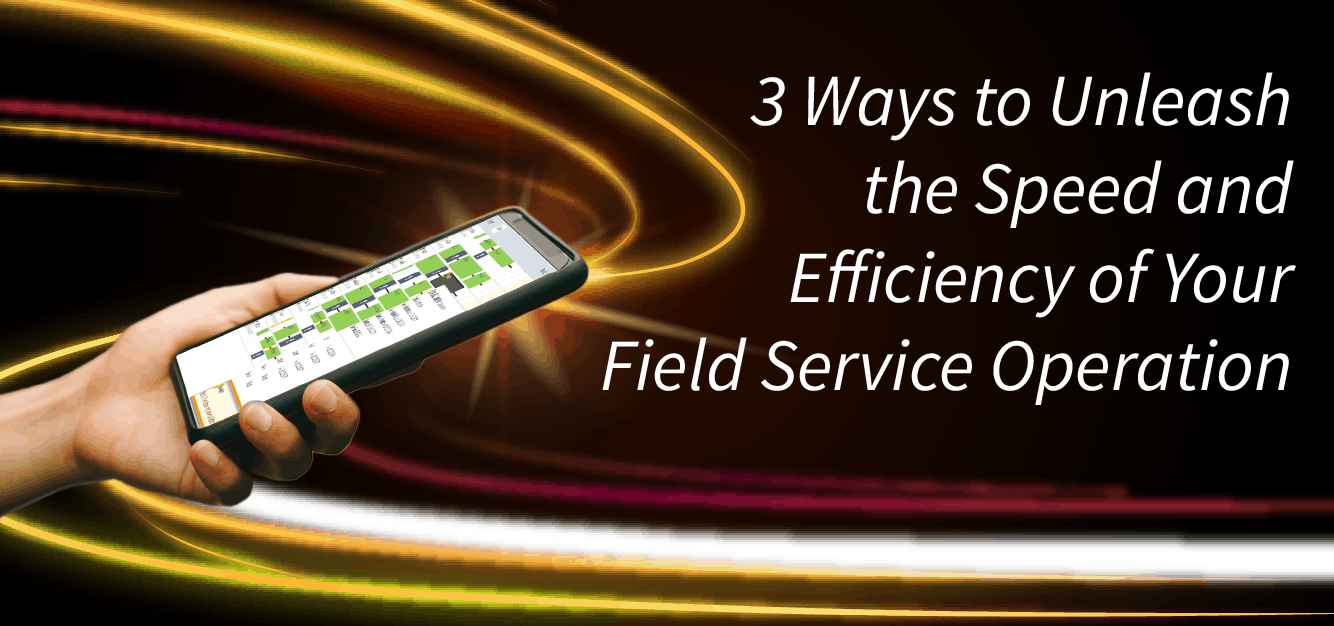 3 Ways to Unleash the Speed and Efficiency of Your Field Service Operation
Are you struggling with ways to better connect your field service operation? Searching for a way to enable them to deliver intelligent and productive on-site services with speed and efficiency using just one unified platform?
Here are just three of the reasons why a Salesforce® Field Service Lightning (FSL) solution could be the answer to your struggles.
1. Field Service Route Optimization
With Route Optimization, you can set up work rules that can be defined as a yes or no to prevent a rule violation. Utilizing service objectives allows you to weigh different goals based on the determined importance. Examples would be: Will this make the person work overtime or not? – or – Is this person in the same area or not? – or – Who is the fastest person that can get there? Do you want this job to be done ASAP or can it wait?
By using answers from the questions above, you can define a scheduling policy. This policy is applied to an optimization request. The optimization runs and looks at every possible way to route the different resources and their jobs. That can mean either switching the jobs around for that single field tech, or you can create another scenario for the day and optimize everything that is going on for that particular day.
2. Ease of Work Order Creation
By integrating FSL with Service Cloud, imagine an issue comes in such as a person calling to say, "My water heater is broken, I need help." That creates a case and logs it. From there, a support agent can – with just one or two clicks – create a work order. From that work order, the dispatcher can see that it's an emergency issue and assign a field tech quickly and get them en route to the customer. The system makes it easier for the customer to get support, quickly, creating a great customer experience.
Another benefit of work order creation is the ability to look at a customized Gantt chart (pictured, below). With this tool, dispatchers can see what's been assigned to specific field techs and can look on a map and see where those techs are as well as the jobs they are assigned.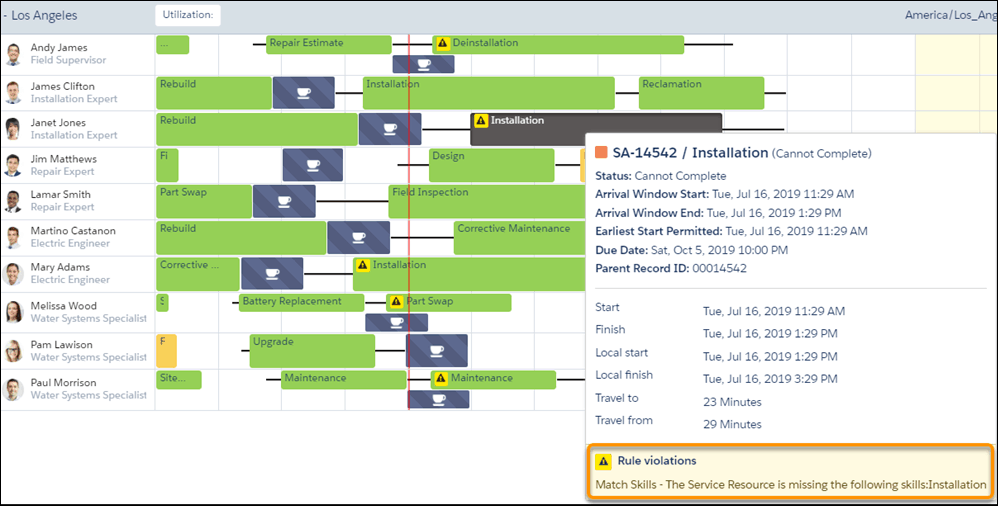 3. Utilizing the Mobile Device
Using a mobile device within Field Service Lightning, your field techs can stay in constant communication with the dispatcher. This allows the dispatcher to push updates or new jobs to the tech. They can also get more information on their jobs, and gather required signatures acknowledging that the work they performed was completed.
In addition, you can customize flows and processes that your field techs can walkthrough. You can also upload images if something needs to be documented.
The best part? Field techs don't have to worry about connectivity issues when using the mobile device! If they are working in places like a basement, there is an offline mode where they can still enter their information and save it, and then when connectivity returns – either WiFi or data – what they entered will be uploaded to Salesforce automatically.
Watch our "Optimize Your Field Team's Schedule" webinar below!
Bonus Benefits of Using Field Service Lightning
Having done numerous FSL implementations, Ad Victoriam customers – from the manager perspective – tell us that they really like being able to see how their workforce is being utilized. Salesforce can calculate the utilization based on a person. As an example, say one of your field techs is 80 percent utilized this week, so you decide that you need to optimize their route and assign that tech more work so he's closer to 100 percent utilization.
From a dispatcher perspective, they like being able to color code different jobs and see status update color changes on the Gantt chart and quickly react to any "red flags." Dispatchers tell AdVic consultants all the time that their ability to see everything in one view is the biggest plus of their using FSL.
Are you looking to take your company's field service performance to a new level? Talk with one of Ad Victoriam's certified Salesforce consultants now by clicking here.
Subscribe in a reader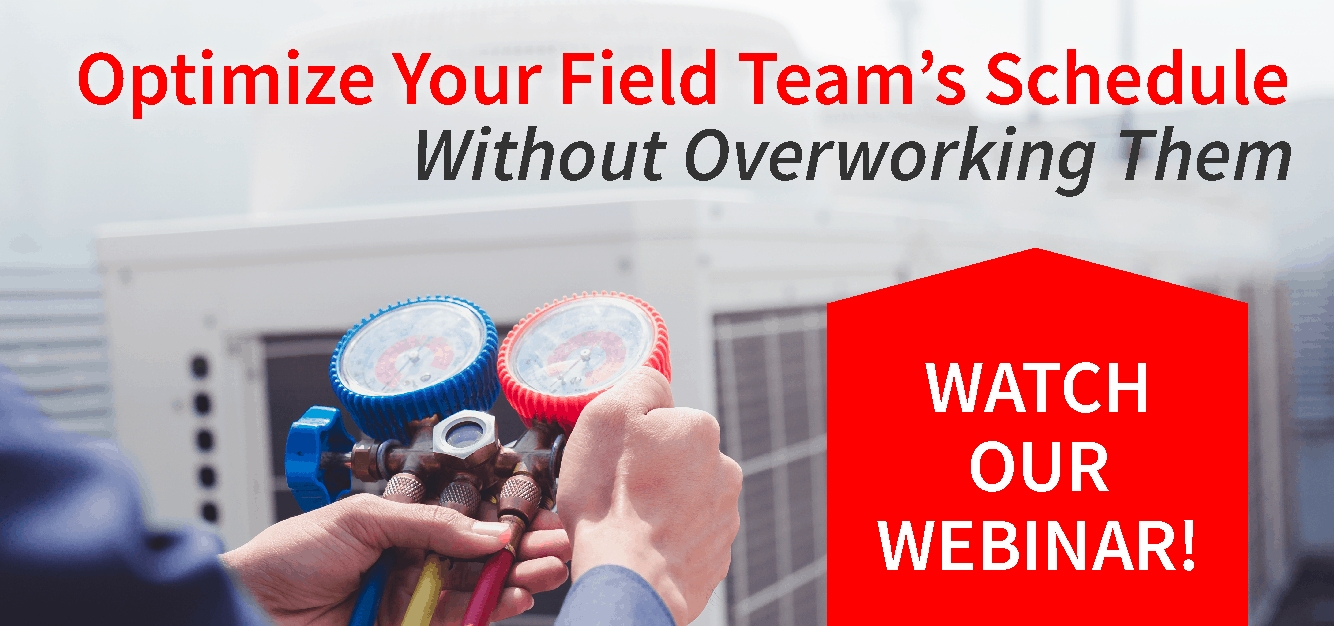 Watch the AdVic webinar – "Optimize Your Field Team's Schedule" – to learn how to create scheduling policies, work rules, and objectives to drive productivity that will result in minimized travel time, overtime and costs, and much more.