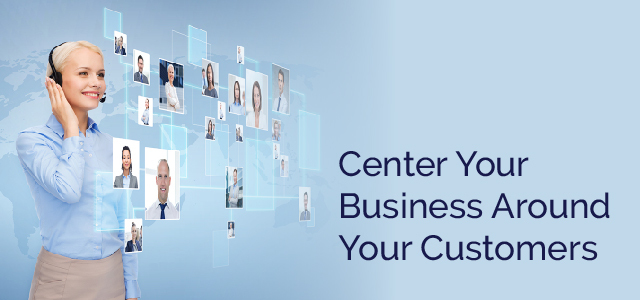 Centering Your Business Around Your Customers
Estimated reading time: 5 minutes
As businesses and cultures worldwide eagerly transition into a digital-first marketplace, seamless online customer experiences have become paramount for any company in the world to survive, and subsequently, thrive. With customers becoming the heart and soul of any organization, more companies are accelerating their shift to digital business by simultaneously reducing costs and improving online experiences for both their customers and employees.
What follows are responses Ad Victoriam Solutions President, Brian Mize, recently made to questions and topics about customer experience, posed by Salesforce.
Why is Salesforce the World's #1 CRM?
Brian Mize: "Salesforce CRM (Customer Relationship Management) is not just any CRM that houses client data. It's a premier platform that allows businesses to build customer-centric relationships by enabling them to connect and interact with customers in a way that caters to their individual needs, allowing for improved experiences and business growth. Salesforce helps companies stay connected to their customers, streamline processes, and improve profitability. Unlocking customer-centric growth by implementing Salesforce ultimately empowers companies to manage relationships through the customer lifecycle, spanning marketing, sales, and customer service.
"Salesforce has become the world's #1 CRM, partially due to the power of having a single source of truth for every customer's data. Salesforce refers to this valuable feature as "Customer 360" because it connects all of your customers across both online and offline data.
"But why does this matter? Because the collected data can be utilized for specific strategies within each individual cloud. For example, if part of an organization needs customer information for a specific purpose within marketing, sales, or service, the ultimate goal becomes successful because everyone on those teams has access to the most accurate, up-to-date data."
Enhancing the User Experience
Brian Mize: "The excitement for Salesforce comes from seeing the needle move. When a customer realizes that they have been investing their efforts in the wrong direction, when they see that they can build a stronger client presence and a deeper base through knowing what the customer needs almost before the customer needs it… that's where I get excited. It's the "Ah-ha!" moment of the 360-degree view!"
How Transformation Transpires
Brian Mize: "As an organization, we have been in the ecosystem since 2014, and have completed well over a thousand successful projects. Our reach is East to West, North to South. We have consultants in all time zones across our nation that will work according to the schedule our customers need in order to ensure a successful launch.
"In years past, one would need to pull the customer list from System A, the sales revenue from System B, the Leads from System C, and fulfillment from still another system—and would still be missing critical points through the process. With Salesforce, and with a full set of API available, the data can live on platform, and can be reported on to provide insight that simply hasn't been possible without significant IT lift in years past. This is truly a game changer!
"As all leaders of sustainable businesses will attest, it's equally as imperative to improve the experiences of employees as those of customers. Employees need new technologies to work from home, capable enough to help them collaborate digitally. Our goal is, as it has always been, to provide exceptional value through exceptional consultants on an amazing platform. We often take a best-of-breed approach and build Victory Packages that can shorten an already fast-time to market for our customer base.
"When your customers and employees are happy, everyone wins."
Accelerating the Shift to Digital Business
Brian Mize: "Digital transformation on the platform has made all the difference for our forward-looking customers, especially as we navigate the difficult waters of a pandemic.
"A fully remote workforce, with a fully remote customer base, is something that many wouldn't even have envisioned in years past. Through the digital transformation made possible on Salesforce, our customers are recognizing increased customer satisfaction, increased demand for products, and increased employee engagement. While we are multi-cloud, we do focus heavily on Retail, Manufacturing, and Healthcare. Across all of these, cloud enablement and digital transformation are critical to meet the growing needs of an increasingly adept workforce and client base.
"One of the benefits of Salesforce is the always-updated platform. This means a client can move as quickly as business will allow, without worry for the next "big thing" that will be released and potentially break or change their direction.
"Salesforce is able to upgrade, both in terms of technology and approach, to give their customers a resilient platform that can withstand the winds of global change while remaining in front of customers and changing the bottom line for good."
Take the First Step in Unlocking Customer-Centric Growth
More than ever, customers are the lifeline of a business, but growing these relationships in this evolving, digital-first world is challenging. That's why more companies are turning to AdVic® – a Top 25 Global Salesforce Partner – with the proven experience to deliver effective, creative technology solutions.
Interested in connecting your teams on a single platform to strengthen customer relationships? Click below to pick a date to chat with AdVic's Consulting Team and learn more about driving business speed, scale, relevance, and reliance all with the world's #1 CRM.
Related Resources:
Top Brands Do This to Create an Effective Customer Experience
B2B Customer Experiences By People, Built For People
​​How Salesforce and MuleSoft Create a Seamless Customer Experience
Manufacturer Transforms Customer and Team Member Experience with Salesforce
Subscribe to the AdVic Salesforce Blog on Feedly: