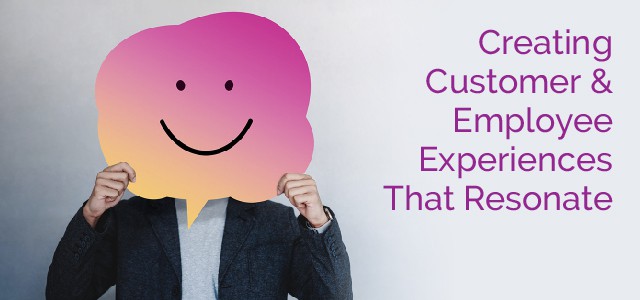 Creating Customer & Employee Experiences That Resonate
Estimated reading time: 4 minutes
Customer experience (CX) is not a new buzz phrase in the business world. The truth is, we're actually hearing more and more about CX these days. And whether good or bad, customers remember interactions with your brand that, in the long-term, shape your business.
A recent guest on the Ad Victoriam "Salesforce Simplified" podcast, customer and employees experience expert Megan Burns defined CX as, "How a person thinks and feels about their interactions with a company." She added, "Even if you think of your company as superior, if your customers have bad experiences, that is their perception."
Excelling in customer experience is the great way to increase revenue, and build customer loyalty, which makes it an important aspect of any business. And with that in mind, here are some more highlights and tips Megan offered during the podcast, not only about CX in a B2B world, but employee experiences (EX) as well.
B2B Experiences Should be Created for People
CX brings empathy and a human aspect to any B2B organization. "Yes, you are interacting with all levels – coordinators, directors, and VPs," Megan remarks, "but first and foremost, they are humans. Customers from all industries want personalized experiences." She adds, "The first step is human interaction: What messaging are you using? What is the sale process? Is there follow-up and nurturing? All of these interactions with customers shape perception."
And it's no secret that businesses that are intentional about building strategic customer experiences flourish and grow as they build customer loyalty.
"It's not that they expect things will never go wrong," Megan adds. "They know things will go wrong. It's really important to them how we communicate and how we keep them abreast of what's going on as they believe we'll fix the things."
Lastly, Megan offers, "Center around customer concerns, and strive to resolve them effectively and efficiently. Tending to customers does not require a large budget, instead it requires empath and consistency. Step back and think about things like communication, things like building trust."
Customer Experience + Employee Experience = Business Growth
It is often said that happy employees create positive, emotional experiences for customers. "An emotional experience is one that both employees and customers go through when they interact with your brand," Megan remarks. "Emotion impacts the way they shape these interactions. The more intense, the more likely the brain will remember. If it is good, the brain can look forward, but if bad, the brain will avoid it." She adds, "Emotions shape future behavior as well. In particular, how it feels, how we remember it, and how we retain it."
Looking for Ways to Align CX and EX?
Here's what Megan advises:
Get feedback from employees: "

When setting goals for customer experience, ensure they are attainable by employees. Employees are the source delivering the services. Their feedback should be considered."

Reinforce desired behaviors:

"Yes, personalizing experiences, reward points, and exceptional customer service are ways we reward consumers for shopping with us. For employees, rewards may look like a bonus, or internal gamification rewards, shout-outs, etc."
Busting the 'WOW' Myth
"As a business, it may be your intention to "WOW" each and every customer, or to receive a 100% satisfactory score," Megan states. "However, that is not possible or always necessary. Putting that kind of pressure on employees can be demotivating and can cause disruption to their day."
When strategically planning pleasant customer experiences, you need a goal. One that replaces WOW-ing everyone. To that end, Megan suggests, "The goal should be to be consistently good and strategically amazing. Take a company like Amazon for example, you may not be WOWed by their packaging, but you are WOWed by receiving a consistent two-day shipping experience."
If your business is struggling to find ways to offer great customer and employee experiences, maybe it's time to explore effective tools that can better focus your business on establishing not only higher customer loyalty and retention, but more enjoyable employee experiences. Why not reach out to the Ad Victoriam Consulting Team, who will dig deep to get to know the inner workings of your business and roadmap a solution for you? ​​
Follow in a Reader