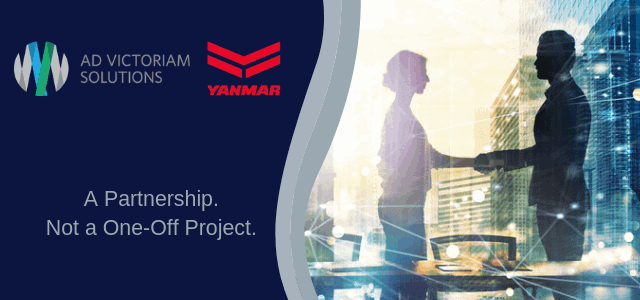 AdVic Partnership: Not Just a 'One-Off Project'
The YANMAR America and Ad Victoriam Solutions (AdVic) partnership dates back to May 2017 when YANMAR, a recognized leader in the design and manufacturing of diesel engines and diesel-powered equipment, was referred to AdVic directly by Salesforce.
"When choosing AdVic, we were very guarded against repeating our previous Salesforce failures," recalls YANMAR Business Systems Manager, Brian Williams. "We shared these past developments and adoption challenges with Salesforce, and asked that they provide us a partner with a strong skill-set, reputation, and experience in our industry."
The YANMAR Challenge
YANMAR was utilizing Microsoft products and two non-relational legacy technologies. Their goal was to synchronize, standardize and simplify their key operating procedures while improving product management.
"Our company had a major gap in the way that we cross-functionally shared customer information," YANMAR Business Process Improvement Manager, Delaney Langston recalls, "and this gap continued to grow over eight years as our customer base increased. We needed to find a better, more efficient way to manage customer information.
The AdVic Resolution
"Our kickoff project with AdVic was our Salesforce launch (you might say re-launch)," Williams remarks. "AdVic came in and had already self-researched background information about our company, which was a great first impression. To get ready for our Salesforce launch, AdVic came onsite and met with us to learn more about our business. Over the next several months, we engaged in detailed discovery sessions to cover our end to end business. Development and UAT (User Acceptance Testing) followed, which led up to our Salesforce user training and launch. This was a major kickoff project that reiterated who AdVic was, and had us dreaming and believing that bigger things were possible."
To attack YANMAR's challenge, the AdVic team initiated a full-scale plan that included:
Lightning UI Customization and Deployment
Designed custom Lightning components to simplify tasks and increase productivity. Improved management of the product life-cycle, inventory levels, and damaged goods.
Single Platform
Seamless integration of existing legacy systems with Salesforce Sales and Service Clouds to synchronize data and processes to provide a comprehensive view of business performance.
Sales Extension
Implemented Salesforce Mobile to accelerate sales fulfillment and improve customer satisfaction anywhere anytime.
Continuous Improvement
Custom designed case resolution process and a methodology for converting cases into sales opportunities. Created automated response time milestones to enable immediate management intervention for higher customer satisfaction.
Looking back, Williams says, "We had little CRM experience before working with Ad Victoriam. They had manufacturing experience so we knew they would understand our high-level needs and business model. After they performed their thorough fit/gap exercise, we moved forward with Salesforce as our solution. Their communication and project scheduling were prompt and flexible. It was a great experience."
It's a Partnership, Not a One-Off Project

"Do your homework," Langston advises. "Make sure you research implementation partners to understand what their skill sets are, who else they have worked with and that they are the right fit for your company's long-term goals and objectives, not just a one-off project."
She adds, "One of our organization's key objectives is to develop a single source customer platform. We recently kicked off our Salesforce Partner Community Project with AdVic, which will expose information regarding online ordering and status, dealer inventory, warranty, technical support, marketing funds and rebates upon its initial launch. As part of our discovery for this project, we have also discussed and brainstormed future phases of this Community to further enhance and expand the customer's experience."
"The current relationship is strong," Langston concludes. "AdVic has been a huge support with our Salesforce.com implementation not only on the day-to-day usage side but also with developing a plan to continue the growth of our Salesforce org to meet the needs of our company's internal and external stakeholders. AdVic is our partner both now and in the future, as we continue to roll out new features in our Salesforce org."
If you are looking for a Salesforce consultant who is not just interested in building your next project, but who wants to build your business for future success, contact Ad Victoriam.
Subscribe in a reader