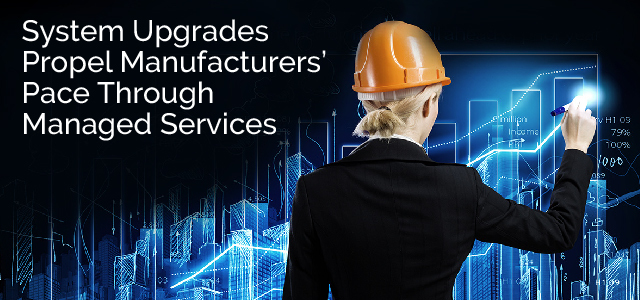 System Upgrades Propel Manufacturers' Pace Through Managed Services
Like many of AdVic's clients, this particular manufacturer has a smart and capable internal tech team that reached out to onboard a Managed Services support team because they were working at capacity, and they needed resources with expertise with Salesforce B2B Commerce™ and Salesforce CPQ™.
As part of their continued participation in our THRIVE Managed Services Program, AdVic® supported their growth throughout the years with strategic guidance, platform enhancements, and additional technology. Here's a closer look at some of those enhancements.
Salesforce Commerce
While the client had Salesforce Commerce for B2B, it was not being utilized because it had not been customized to match their business processes. In addition, their desire to sunset their homegrown pricing system, ODM, was growing, which resulted in the first project focusing on Commerce.
The AdVic team integrated the payment processing tool, Avalara, creating a guest checkout process, streamlined the site and developed an engaging user experience. AdVic was able to customize the platform, aligning it with their business processes, thus enabling them to sell online efficiently.
Salesforce CPQ
Pricing coordinators faced technological barriers that hindered their ability to provide accurate quotes quickly, without manual intervention. Pricing Coordinators and the sales teams were managing quotes through calls and emails.
Here's what AdVic Managed Services accomplished:
Built an automated quote management system with price listing, that reduced quote related work levels and increased accuracy.

Enabled bulk pricing and cost updates across price lists. A price increase can now be scheduled to eliminate the need to change pricing line by line to accommodate the almost daily pricing changes that are typical of their industry.

Created quoting process to be dependent on automated price update verifications.

Implemented approval process automation rules ensure gross margin requirements are met, based on updated cost to price margins. Alerts triggered when quotes fall below required margins.
Salesforce Service Cloud
Began work on Service Cloud™ to enhance incoming case workflows. Automated alerts triggered when cases are logged to inform agents of the cases that need attention. Future enhancements to expand functionality are planned.
Results
The enhancements of B2B Commerce and CPQ have made selling at the needed margin infinitely easier and faster. Without the need for manual intervention to create quotes based on daily cost and price updates, and to obtain management approvals, the team has more time to focus on selling more products.
What's Next
Our Managed Services relationship will continue to advance the client as we turn the attention to building-out executive level reports and dashboards to expose data and analytics needed to drive business decisions and growth.
"AdVic has excelled at adapting to our work style. They provide value in every meeting that is scheduled and make sure they are continuously re-prioritizing work to meet an ever-changing cycle of business requests. They are creative, well staffed and adaptive to everything we throw at them."
– Director of Digital Transformation Strategy
---
AdVic's THRIVE Managed Services for Salesforce® & MuleSoft® offers the expertise, support, and solutions to help your business continue to thrive. So, if you're in need of a cost-controlled flexible, yet a full-service solution to fit your exact needs in the short- or long-term, talk to Ad Victoriam's THRIVE Managed Services team today.
Related Resources:
Building and Maintaining Relationships Through Managed Services
Salesforce Managed Services Advantages That Control Costs
AdVic's Thrive Managed Services for Salesforce Program
Moving Your Business Forward with Salesforce Managed Services
AdVic Provides a Managed Services Solution
Subscribe to the AdVic Salesforce Blog on Feedly: