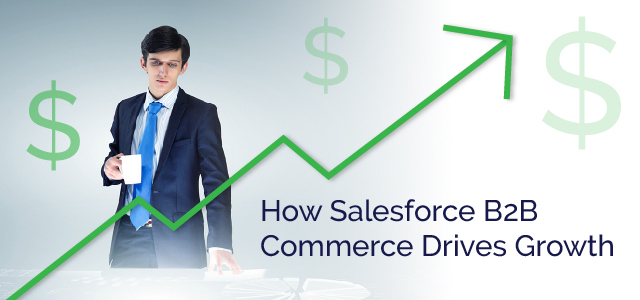 How Salesforce B2B Commerce Drives Growth
Estimated reading time: 3 minutes
Not familiar with Salesforce B2B Commerce™? Simply put, it's a commerce solution that digitizes sales teams, allowing them to better serve customers across all interactions. 
According to a commissioned study conducted by Forrester Consulting on behalf of Salesforce®, the latter's B2B Commerce has helped companies achieve sales growth and increases in efficiencies, but also shows how businesses using it can: 
Attain 278% return on investment (ROI) over three years.

Earn payback in 13 months.

Add 33% more revenue over three years.
11 Reasons to Consider a Salesforce B2B Commerce Solution
With a Salesforce B2B Commerce implementation, your teams can:
1. Scale Successfully: Launch custom and branded storefronts even faster with a connected ecosystem of implementation partners.
2. Innovate with Speed: Adapt to changing markets and customer needs by creating new business models on demand and making changes on the fly.
3. Connect with Ease: Seamlessly integrate your apps, data, and processes to get a 360-degree view of your customer.
4. Offer Simple Self-Service Online Buying: Give your customers the same easy, consumer-like shopping experiences they enjoy in their personal life — anytime, anywhere, on any device.
5. Lower Your Cost to Serve: Equip your customers with self-service tools and guided experiences, so you can reallocate both time and money to other growth opportunities.
6. Solve B2B Commerce Complexities: Simplify online buying with features specifically designed for B2B, including fast reorders, account hierarchies, contract pricing, custom catalogs, and more.
7. Empower Your Team to Sell More: Free up reps' precious time by offering digital ordering, so they can focus on finding new accounts and building lasting relationships.
8. Unify Your Customer Journey: Connect every buyer touchpoint with a single source of truth powered by the world's #1 CRM.
9. Tailor B2B Commerce: Make purchasing recommendations tailored to each customer in real time — no data scientist required.
10. Stay connected across every touchpoint: Make purchasing recommendations tailored to each customer in real time — no data scientist required… and maybe most important of all:
11. Keep customers coming back: Build customer loyalty faster and ensure repeat business with guided buying experiences that are fast, efficient, and personal.
Meet B2B Commerce Accelerator
Feel like you need to get into the eCommerce space – or upgrade your current platform ASAP? Did you know that AdVic's B2B Commerce Accelerator – an out-of-the-box package – enables you to jump-start the platform and start selling online in weeks  – not months? It's true! Watch the video below for more details. And if you would like a free demo, email Lynda Lewis. 
---
AdVic's dedicated B2B Commerce team is ready to apply their knowledge and passion to your challenges. Whether you are migrating from a legacy eCommerce solution or just starting to dip your toe into the B2B eCommerce world, our team has the skills and expertise needed to get your branded storefront up and running quickly so you can drive new revenue. Reach out and talk to us today!
Related Resources:
B2B Marketing Tips You Have Not Thought Of
Subscribe to the AdVic Salesforce Blog on Feedly: