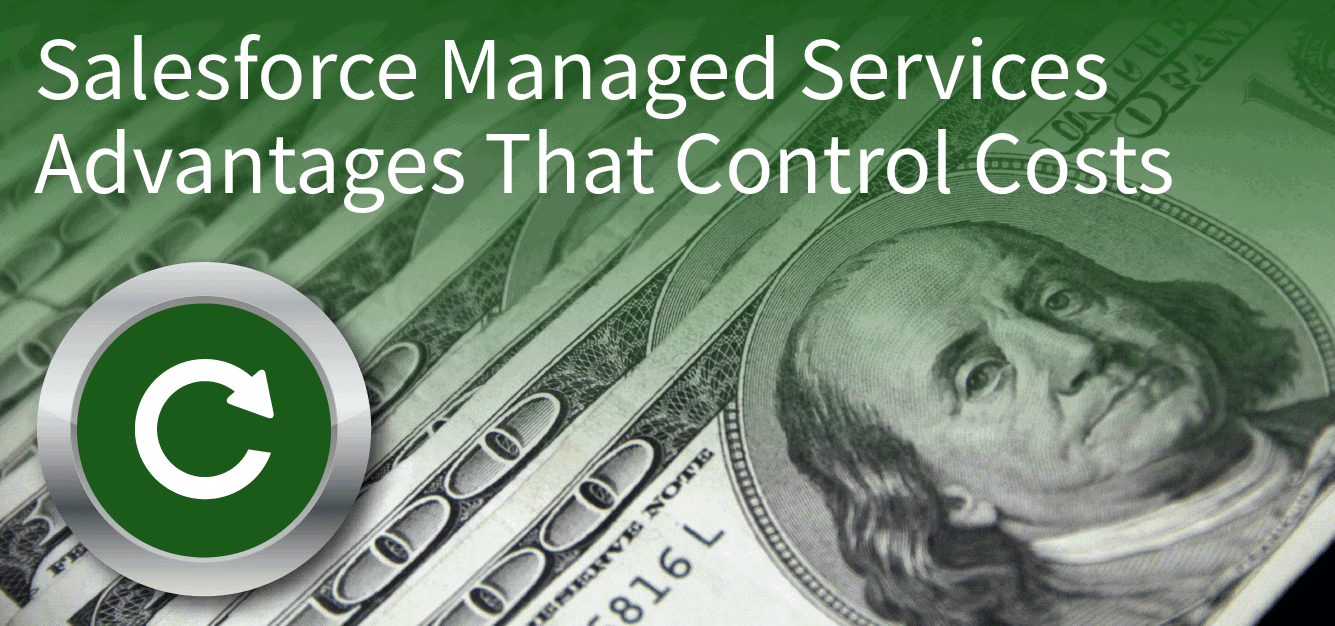 Salesforce Managed Services Advantages That Control Costs
As reliance on in-house developers, consultants, and IT continues to grow every year, the means to support them must evolve as well. That's why many large and small companies today are looking into a Managed Services Provider (MSP) plan so that their data and technology systems operate more effectively and control costs.
Unfortunately, as these systems grow and evolve, many businesses – especially small ones with limited funds – may not have the resources to effectively manage their ever-growing systems. And small teams can also quickly become overwhelmed with the amount of work necessary to keep everything up-to-date and running smoothly.
The business benefits of managed services, in combination with the money you can save, make it a smart solution for companies of any size. Let's take a look at six of those business benefits.
Benefits of a Managed Services Provider
1. Predictable Cost Control
Can using a Managed Services Provider control your business' costs? The answer is yes. It can also make your data and technology expenses more predictable. With an MSP, your costs can be neatly packaged into a set amount paid on an annual or monthly basis. An in-house data and technology team, on the other hand, comes with many more frequent and unexpected expenses that can quickly drain your budget.
2. Scalability
The price tag associated with maintaining an in-house data and technology team is a big one, and that's why you often see teams that are understaffed, overworked and unable to get everything done due to a lack of time and resources. That doesn't work on a daily basis, and it definitely doesn't fly when your company is trying to expand.
Then there's training to consider. Even one additional employee for your data and technology department costs thousands of dollars, and there is never a guarantee that they'll even stay with the company. An MSP absorbs the cost of training, and you'll never have to worry about your team experts jumping ship.
MSPs also help your business stay flexible when it comes to resources and can accommodate swift changes an in-house team might not be able to respond to efficiently.
3. Proven Experts
Hiring a data and technology team can be time-consuming, and you can't know for sure how good they are until they're faced with a serious issue. Some may pass the test with flying colors. Others may not be able to resolve the problem in a timely manner or at all, costing your company money you can't afford to waste.
Even when your data and technology team is competent and comfortable with your systems, you may find they are not well-equipped to operate or maintain new equipment and systems as you add them. Even the most well-trained employees don't have the knowledge and experience of an MSP's large team.
In addition, an MSP can provide specialized services to fill in any gaps in your team's expertise. It doesn't make sense to have an employee learn a whole new skill set for a one-time project. An MSP gives you access to a team of experts with precise skills you wouldn't normally have access to otherwise.
4. Narrowed Business Focus
What are the advantages of managed services for your data and technology team?
An MSP frees up your team for pursuits that are more crucial to your business. If your internal team is swamped with helping users fix basic issues or dealing with systems malfunctions, they don't have the time or focus to work on projects that push your business forward. Managed Services can help by redesigning workflows and automating certain tasks. This takes the pressure of daily processes off of your team so they can focus on innovation.
And don't forget that an MSP can also provide your team recommendations based on their experience with other businesses and the solutions they have designed.
5. Data Compliance
Your company's data is subject to a myriad of regulations designed to keep information secure. Chances are your team has the laborious task of sifting through the hundreds of current standards and regulations figuring which ones apply to your company. They also have to ensure every one of those applicable rules is followed to the letter, all while performing their day-to-day tasks.
A managed services provider handles the complexities of compliance and auditing, so you don't have to worry about violating data security regulations. They can also run reports and conduct audits that prove your organization is meeting all requirements. This can save your in-house team thousands of hours in the long run.
6. Reliable Relationships
The ongoing relationship with an MSP has several benefits. A managed services team can act as a partner for your in-house team and act as a bridge between you and technology vendors. They can also serve as a single point of contact for your business and become familiar with your company over time.
A trustworthy MSP should be a valuable partner in helping your business grow, not just a service you call when something breaks. They should also have a vested interest in keeping your systems healthy and delivering insights you can use to help your bottom line.
What to Look for in an Managed Services Provider
Now that you know some of the major benefits of working with an MSP, here are a few things you'll want to make sure you address before choosing your managed services partner. Do they:
Offer a flexible service model
Have a hefty team of consultants available
Offer advanced services
Support multiple time zones
Have a solid backup and disaster recovery strategy
Have a reliable, single point of contact dedicated to your business
Work with you to address compliance issues
If your MSP is able to meet all of these qualifications, you can rest assured that your systems will be in good hands.
Remember, the MSP you choose should have the expertise, support, and solutions to help your business continue to thrive. So, if you're in need of a cost-controlled flexible, yet a full-service solution to fit your exact needs in the short- or long-term, talk to Ad Victoriam's Thrive Managed Services team today.
Related Article
Moving Your Business Forward with Salesforce Managed Services
Listen to Ad Victoriam's "Salesforce Simplified" Podcast: "Thrive Managed Services for Salesforce"
Subscribe in a Reader