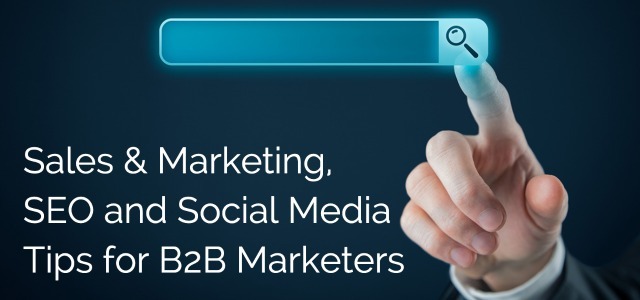 Sales & Marketing, SEO and Social Media Tips for B2B Marketers
Estimated reading time: 4 minutes
The B2B marketing landscape is continuously evolving. The last two years saw a few unprecedented changes and trends in the B2B marketing ecosystem. What trends can we expect in 2023? On a recent Ad Victoriam "Salesforce Simplified" podcast, Paul Slack, founder and CEO of Vende Digital discussed sales and marketing, SEO, and social media trends B2B marketers should watch – and possibly embrace – this year. What follows are some of the highlights of that conversation.
Video is Still King 
"Video," Paul remarked, "as a way of delivering information, is becoming more and more important. We're seeing video consumption just on the rise and short video consumption being the biggest form of that. I think we can thank our short attention spans, and maybe TikTok for that, but we all want these short videos. And so, video worked well in 2022. I think it's going to work extremely well in 2023." 
From a sales perspective, Paul added, "Video is also a really important tool. So I think the sales reps that were able to send little video messages to their customers, that's something that if you didn't try in 2022, I'd recommend that you try in 2023. Think about all the emails that you're getting, unsolicited emails and things like that. And then every now and then I'd get an email and it's a little video from a person where they've analyzed my website or they've got a specific message related to me, and that catches my attention."
Creating Personalized Content Hubs
Championing the creation of personalized content hubs, Paul shared, "I think the more that you can deliver a message, whether it's on the sales side or on the marketing side, that makes that recipient of that information think to themselves, 'Wow, that was for me. That person spent some time sending me this email, delivering me this message on social media,' whatever the case may be." 
He added, "And there's so many tools out there today that can help us really hyper-personalize. And so one thing that I like to bring up is, these personalized content hubs. And I know a lot of businesses are taking advantage of those now, but even into 2023, if you can have a landing page on your website for each of your sales reps and have that be personalized, which you can do with marketing automation and tools like that to where when that visitor… The sales rep drops a link, 'Hey, check out this content hub I've made that's got all this great information to help you, Mr. Prospect.' But when they land on it, through marketing automation and personalization, it can look like it's a customized landing page, not just for the rep, but actually for the prospect."
Your SEO Initiatives
With an eye toward shoring up SEO initiatives, Paul suggested, "If you did a good job in 2022 of making your website technically sound and loading fast, etc., in 2023 you really need to focus on establishing really awesome content that's tied to your content pillars where you're calling out your niche."
Additionally, Paul said that B2B marketers need to think about when they're building content for 2023, "We cannot write a blog or an article, or a webpage and hope that we're going to rank well, because that's a key phrase that's important for us. We've got to write content that answers the query of the user. So Google's really looking at, did that user click over to your website? Did they hit the back button and go to another page because they didn't get their answer on your page? That's going to have a big impact. So when you write content in 2023, make sure you're answering the user intent. And then the last thing for SEO is, just make sure you've got multimedia on there. So for example, audio or video or stats, things like that, that are going to really help the user along the way."
Leadership Leading the Social Media Messaging
A huge proponent of turning employees into ambassadors for your company on social media – speaking to their audiences directly – Paul suggested it start at the top. "I call it founder branding… Positioning the head of your company as the face of your company on social media, I think is going to be really helpful in 2023." 
Lastly for social media in 2023, Paul added, "If you haven't thought about advertising, you absolutely need to, but think about it as a way of getting your best content in front of your ideal customers."
Is your business in need of a B2B solution that might include migrating from a legacy eCommerce platform? No worries, because the AdVic B2B Commerce team has the skills and expertise needed to get your branded storefront up and running quickly so you can drive new revenue. Contact us today, we're ready to chat!
Related Resources:
B2B Marketing Tips You Have Not Thought Of (Podcast)
B2B Marketing Tips You Have Not Thought Of – Part 1 (Blog)
B2B Marketing Tips You Have Not Thought Of – Part 2 (Blog)
Subscribe to the AdVic Salesforce Blog on Feedly: