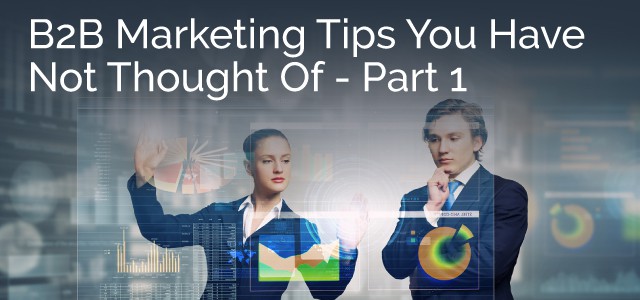 B2B Marketing Tips You Have Not Thought Of – Part 1
Estimated reading time: 4 minutes
When it comes to B2B marketing best practices, a digital marketing plan is key, because it's a comprehensive blueprint that is designed to achieve company goals and objectives. A careful and perfect execution of one provides businesses with an edge over the competition, tells a story to consumers, and provides them with an abundance of information that allows them to make educated decisions. Including detailed research, a successful digital marketing plan maps out the target markets, distribution channels, and your business' overall strategy.
In addition to planning, executing a solid digital marketing plan is another core fundamental part of business. And as the web becomes more and more intertwined in everything from shopping to research, digital marketing's impact is apparent.
During a recent AdVic "Salesforce Simplified" podcast, Paul Slack, Vende Digital founder and CEO, offered some B2B marketing tips across the topics of marketing strategies, sales and marketing, SEO, and social media. Here are a few highlights from that conversation.
Developing a Digital Marketing Plan in 2021 and Beyond
"Before you do anything online, you really need to take a step back and just think about what does winning look like for your business," Paul remarks. "Where are we trying to grow? Who's our target audience? What is that ideal customer profile that we're trying to reach? What are the problems that they're trying to solve? Because at the end of the day really, we're just going to use digital as a channel to help our buyer solve problems. Sometimes that means we're going to help them solve problems with information. Sometimes we're going to help them solve problems with our products and services. We need to understand those problems that they're trying to solve.
"And then, also," Paul adds, "what are the topics that they want to read about? Because when we think about digital marketing, it really is about consuming information to help a buyer make an informed purchase decision."
Download Your Free "Developing a Digital Marketing Plan" Template
[gravityform id=45 ajax="true"]
Generating Leads Tips
Paul's roadmap for marketers for generating leads includes these tips:
Planning: Planning allows you to spread brand awareness through a solid content strategy.
Balance: Produce content that creates awareness and make micro commitment and caters to leads throughout the sales funnel. While bottom of the funnel, sales qualified leads are important, you will fail creating content that only caters to them.
Fair Exchange: Produce a quarterly, gated downloadable where visitors exchange their information for information produced by you. Using the download as a lead magnet, content should serve as a solution to a problem your visitor is facing.
Nurture: Use your CRM and your marketing automation platforms to really stay top of mind and nurture those relationships with email marketing over time.
Sales Funnel: Paul says, "Really focus on top, middle and bottom," of the sales funnel. He adds, "Top is really content and promoting that content, middle is having a gated lead magnet and a new one every quarter and then using email marketing and digital selling and other things as a way to warm them up so that they raise their hand and say, 'I'm ready to talk to sales.' That's a great way to generate leads online today."
Website Conversions: "Do away with lengthy jargon and copy; give your audience what they need, where they need it, and allow them to be the hero."
Paul's biggest piece of advice regarding web conversions? Your web pages should answer these three basic questions:
What do you do?

How does it benefit me?

How do I take the next step?
OK, so you have a digital marketing plan ready to go that includes the elements discussed above, but you also know that you need to complement that plan with a B2B solution that includes migrating from a legacy eCommerce solution. No worries, because the AdVic B2B Commerce team has the skills and expertise needed to get your branded storefront up and running quickly so you can drive new revenue. Contact us today, we're ready to talk!
Related Resources:
B2B Marketing Tips You Have Not Thought Of – Part 2 – Blog
B2B Marketing Tips You Have Not Thought Of – Podcast
What is B2B2C?
Subscribe to the AdVic Salesforce Blog on Feedly: