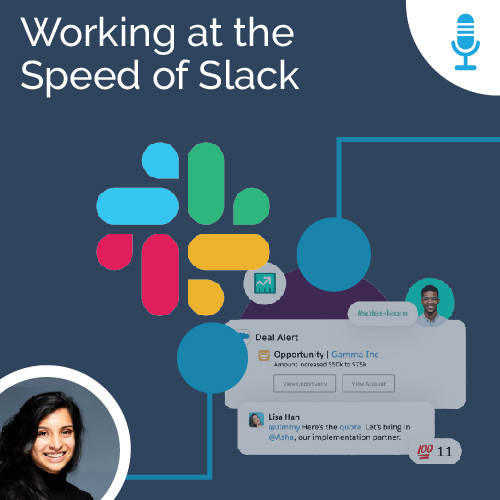 Working at the Speed of Slack
Episode Notes/Resources:
In this episode of "Salesforce Simplified" we're talking with Slack Senior Solutions Engineer Aditi Chaturvedi about the great features inside Slack, the messaging app for business.
Aditi Chaturvedi on LinkedIn: 
What You Need to Know About Slack
Transcription:
Announcer:
Thanks for stopping by. This is Salesforce Simplified, the podcast from Ad Victoriam Solutions.
Mike Boyle:
Hello everyone, I'm Mike Boyle from Ad Victoriam Solutions, and inside this episode of the Salesforce Simplified podcast we're going to be talking with Slack Senior Solutions Engineer, Aditi Chaturvedi. And we're going to talk to her about the great features that are inside Slack, which is the messaging app for business. Hello Aditi, welcome to the Salesforce Simplified podcast. How are you?
Aditi Chaturvedi:
Hi, Mike. I'm great, and I'm very happy to be here today with you.
Mike Boyle:
We're thrilled that you are here. So before we take a peek inside this amazing business tool that Slack is, why don't you tell us a little bit about Aditi, how long have you been at Slack, and what you do?
Aditi Chaturvedi:
So based in Brooklyn, New York. I'm a Solutions Engineer at Slack. Been here for a little over a year. Prior to that I was doing strategy and technology consulting. In one of my past lives, I was actually a Salesforce consultant, some familiarity back there. But yeah, at Slack, a solutions engineer is really the technical counterpart to the sales executive. So we are on the front lines helping our customers understand how to best use the product, how to realize the value that they want from their digital headquarters, and illustrate what's possible, the art of the possible.
Mike Boyle:
It just sounds like a pretty darn cool job to me, that's all. So for those who don't know, Salesforce owns Slack. And they announced on July 21st, 2021 that they had completed their 27.7 billion dollar acquisition of Slack Technologies Incorporated. And back when that happened, Brett Taylor, who is, as we record this, going to be the outgoing Salesforce co CEO, said quote, "If you're starting a company today, you start by planning your digital HQ. And that's really what we want to bring to every company in the world. We want to help them build the digital infrastructure that lets them succeed in this new normal." Aditi, how does Slack help to do that for companies?
Aditi Chaturvedi:
We'll get deeper into that throughout this conversation, but just at a high-level, Slack is that all in one digital headquarters where people, tools, and processes can live. And I think importantly, it's not just a place to replicate existing, maybe pre 2020, pre pandemic work patterns, but it's actually a place where you can fundamentally reshape how work gets done both internally and externally.
Mike Boyle:
Well, obviously, and broadly, as you've kind of touched on here lightly, Slack's core function is as a workplace communication tool. But when somebody comes up to you and says, "Hey, what do you do with Slack? And what is that?" How do you describe what Slack is?
Aditi Chaturvedi:
To me, Slack is the engagement layer where work happens. It's where, as I said, your tools are interacting through integrations with the people that you work with, where you can automate processes using no-code workflows. It's also a place to have a more direct human line to your external partners.
But then I think finally, and one of the bigger pieces for me is the way it acts as a culture carrier. And so what I mean by that is when I joined Slack a little over a year ago, I was immediately introduced by my manager in our social channels. Everyone reacted with fun emojis, all of my kind of BizTech requesting a phone, apps, things like that. All those to-dos were handled right within Slack. I had an onboarding channel set up for me with a subset of my team who were helping me onboard and get used to the company. And then we also utilize an app called Donut, which basically allows you to randomly be paired with somebody else in your team so that you can get to know them. And that really helped me quickly start reaching out to people and having kind of that human touch, especially because I did start during the pandemic and we weren't going into the office as much. So I think that last piece, that culture piece is also a really important thing about Slack.
Mike Boyle:
Yeah. And I should mention that we here at Ad Victoriam Solutions use Slack and it's just an amazing tool. And we're going to find out a little bit more about how amazing it is here as we go along.
So let's talk about what it means to be more connected in the way that you work using Slack. How does using Slack up the, being connected game, for businesses?
Aditi Chaturvedi:
We understand we're in a bit of a different work environment now post 2020. Even though people are probably going to start coming back into the office a little bit more, I think this more flexible model where some people work remotely or at least are on distributed teams is here to stay. And I think what a lot of people found in 2020 is that email is not responsive or intelligent enough to meet that challenge. And we even find with some of our most mature customers, they talk about working at the speed of Slack, and just being less reliant in general on email to get work done just because everything is so much faster to get done in Slack.
And then that last part, again, as I mentioned, culture I think is huge within Slack. One downside to everyone going remote so quickly was something that really did suffer was culture. And so we see a lot of our customers bringing that into Slack and increasing the availability of that culture across the company regardless of if you're remote, regardless of if you're not in the headquarters or things like that, so thinking about ERG channels or fun channels. My favorite fun channel that the Slack solution engineers has is called #selfie. So it's selfies. And the rule is you can only post selfies in there of all the solution engineers. So things like that, you really quickly start to get to know people and what they like to do.
Mike Boyle:
That's kind of getting into my next question. Aditi… flexibility. How does Slack improve that for companies?
Aditi Chaturvedi:
One concept you'll hear us talk about a lot is the concept of asynchronous versus synchronous work. So what can we do together in a synchronous manner, versus what kind of activities can we add more flexibility to and allow them to be asynchronous so that they work at the time that makes the most sense for that person. One thing I think we also felt coming out of 2020 is, and this is a little bit what I was talking about, how we don't want to just replicate previous business processes and put those in Slack or put them in a digital space is, a lot of people experience Zoom fatigue throughout 2020. It just felt like everything became a meeting, everything became synchronous work, and you were just sitting on a Zoom call all day.
So this emphasis on, well, what activities can be pulled into asynchronous work is seen throughout all of the features that we have at Slack. So I'm thinking about things like audio and video clips. So instead of needing to get on a call with someone, you can just post a clip of yourself talking about your thoughts about an upcoming meeting, or even post an audio clip detailing your thoughts coming out of a customer in-person customer call or things like that.
I'm thinking about Huddles, which is our audio and video calling tool within Slack. It allows you to have calls that are less formal. So sometimes I find when you just want to quickly ask somebody a question, I think previously in our previous companies I worked at, we used to default to just automatically putting 30 minutes on someone's calendar and having a Zoom meeting. And as we all know, when you have 30 minutes, you end up filling the 30 minutes, and then you're just back to back to back on meetings. Huddles is that less formal sort of trying to replicate, oh, I was walking by somebody at the office and I wanted to quickly tap their shoulders. So I find that when I need to ask a question and I can use Huddles instead of a more formal Zoom call, I actually have five minute quick calls, get my answer and move on.
Mike Boyle:
We love Huddles.
Aditi Chaturvedi:
Yeah. Yes.