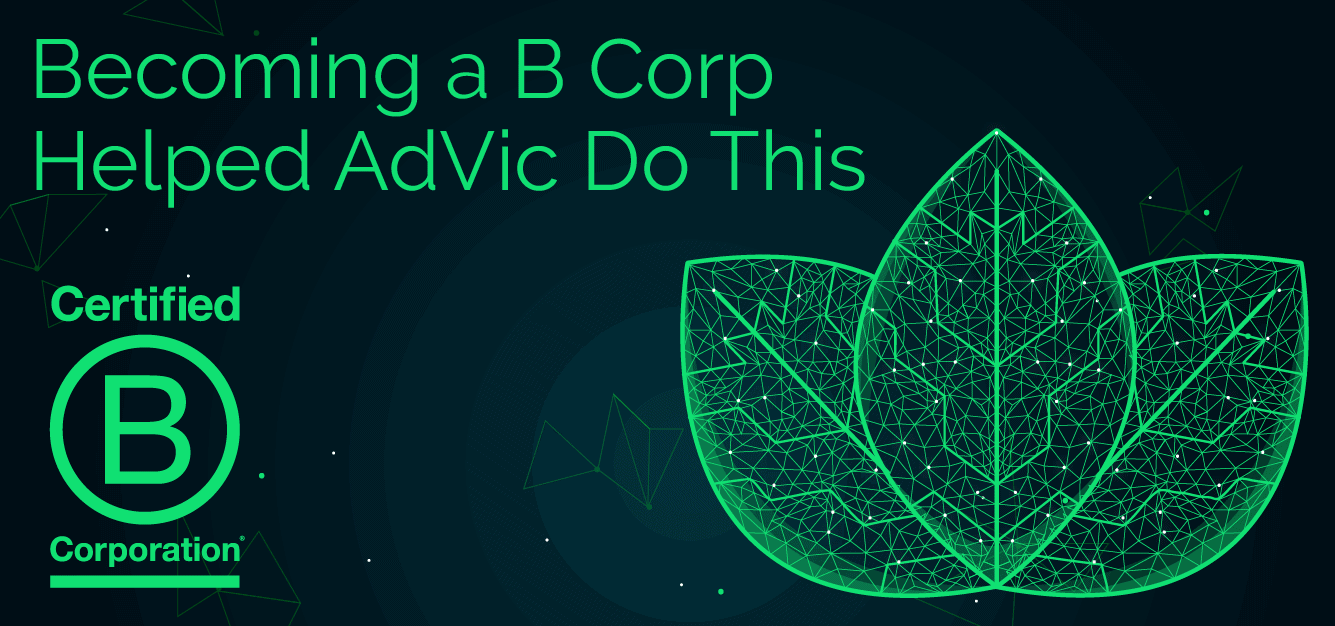 Becoming a B Corp Helped AdVic Do This
Four UGA MBA Candidates, eight employees, and a business plan in hand. This was all we had back in January 2016 when we crafted our company vision, and it was then that we started working on our B Corp certification.
A big part of our vision centered around certifying as a B Corp (a for-profit business certified by a third-party nonprofit organization) and joining the elite ranks of Patagonia, Ben & Jerry's, and Warby Parker as companies using business as a force for good.
Our hard work paid off in 2018 when we earned our B Corp certification. And now, almost three years later, we're recertifying as a B Corp, which allows us to evaluate our commitment and reflect on the big picture impact this journey has had on our business.
Becoming a B Corp Helped Us Scale
In four short years, we went from eight employees to ninety. Going through the initial process of certification did two things for us. First, it exposed gaps and the next steps. These were steps included in the handbook, which would include travel policies, a code of conduct, and other HR-related items. But it also exposed opportunities and offered us insights into what type of policies were included by the best companies. So we added benefits such as 40 annual hours of paid volunteer time off, a matched 401k, and a travel policy that prioritized virtual meetings, or when necessary, renting the most fuel-efficient vehicle rather than the cheapest.
Becoming a B Corp Gave Us Mission Lock
If you've done as much as work for a company that experienced rapid growth as we have, you're familiar with the wild swings of scaling a business. Every milestone you pass brings incredible trials and tribulations amongst the lingering questions. Should we hire more employees? Do we have the business to justify the payroll expenses? What does our pipeline look like? Succinctly put, it's easy to take the first step in forming a socially responsible company. It's another thing to remain true to that mission when you're in the middle of it. But through everything, we remembered our commitments. We remembered our annual goals for volunteer and pro bono hours. We remembered our promise to strive towards a more diverse and inclusive workforce. And every day we remember that the B on our door means that we stand for something that we wanted, and continue to want to be.
Being a B Corp Made us Better
Our founder and fearless leader is a great guy, with a great family, that truly wanted to build a better version of the companies he had worked for. But there is no denying that being a B Corp made us better. We became more transparent, we added benefits, we welcomed feedback and made improvements based on it. And we quickly became a place where employees enjoyed working, and candidates wanted to work with.
Why We're Recertifying
We became a better version of ourselves these past three years. Well, five if you include the original certification process. We've gone from 73 percent white male to 48 percent. We've expanded our community outreach efforts, and promoted an employee to serve as Director of Culture. The process and this certification have encouraged us to be more intentional in everything we do, and it has indeed made us better.
Our annual evaluation to develop our impact report has been instrumental in keeping us honest. We've developed tracking methods and built reports using Salesforce® of course, which gives us insights to set annual goals and track outcomes. Our first run at the assessment took two years. Our second run-through took us 13 hours. And the best part, our score has improved, which proves B Corp has made us better.
The bottom line on this recertification journey is, we're stoked! We believe strongly that business should serve as a force for good in the world. We also believe that capitalism, if it's to be sustainable, must work to serve all of its stakeholders and not just shareholders. And we are grateful to be at the front of this wave, building an amazing (and profitable) business, and encouraging others to dip their toes in the water to develop a better version of themselves.
B Corps are the bridge connecting 20th-century capitalism to 21st-century values, an opportunity to lift all stakeholders and prove that profit can be made in a manner beneficial to all. If your company is contemplating a path toward B Corp certification, Ad Victoriam is happy to answer any of your questions – we've been there! Reach out to us here.
Related Articles
B Corp Reflections Two Years In
AdVic's B Corp Mission Continues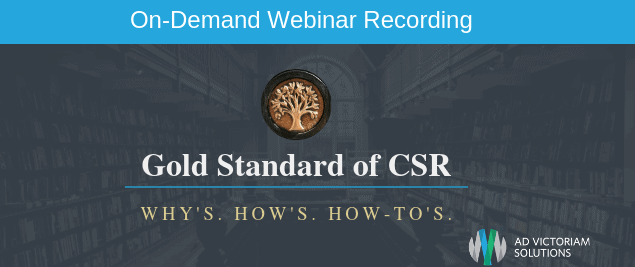 If you would like to learn more about how your company can become a Certified B Corp, AdVic's three-part blog series has all the information you need to succeed: Part 1 – Part 2 – Part 3. You may also find this recent AdVic B Corp/Corporate Social Responsibility webinar helpful, too.
Subscribe in a Reader