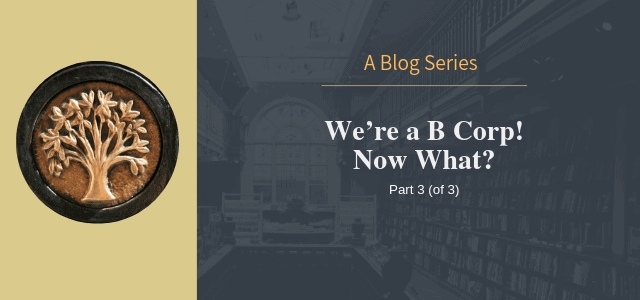 We're a B Corp! Now What?
In the first two blogs of this series, we made the case for why companies should consider becoming B Corp certified and the best practices for tackling the B Impact Assessment. This final article will help you with the next step on your journey. We will help you figure out what to do next and how to maximize your certification.
Once you've passed your audit and signed the Declaration of Interdependence, take some time to pat yourself and your team on the back. As every B Corp knows, this process isn't easy. But you are now among a committed group of almost 3,000 companies around the world who believe in using business as a force for good. That is worth celebrating and shouting from the mountaintop.
But once the champagne is empty and your victory lap complete, you'll have the same thought many of us had after we finished the certification process: Now What? That's right, it's time to figure out what to do next. Here are the easiest ways to get your employees and yourself involved:
Activate Your B Hive Account
Once certified, your company will have access to the B Hive, an online community of B corps. There, you can join channels and jump into all kinds of conversations, from B2B Networking to Community Offers, B Hive offers new B Corps a great chance to start meeting others in the community. It is here you will find out about great calls, like the B2B business development call and the B Culture call where thought leaders get together to solve commonly encountered problems. Put rather simply: Sign up, log in, and start posting.
Join Your B Local
Find your nearest B Local and get involved. Sign up for a committee, attend the networking events and get to know your fellow B Corps. These events are great for business development, idea sharing, and collaborations. B Locals also host annual Leadership Development Conferences (BLDs) that are worth the price of admission.
Read to the bottom and then sign up for our complimentary webinar that will review everything you need to know about becoming a B Corp.
Attend the Champions Retreat and/or the B Summit
At Ad Victoriam, we were so eager to get involved after our certification in January 2018 that we attended both the B Summit in Amsterdam and the Champions Retreat in New Orleans. We didn't know what to do next and there wasn't (yet) a B Local in Georgia. We left Amsterdam in awe of the companies and people we met, the convictions they felt for their purpose, and their dedication to improvement. New Orleans was more of the same. Even more companies doing great things that left us inspired to increase our mission and accomplish even more in 2019.
Whatever You Do, "Just Get Involved"
When Ad Victoriam first got certified, we asked B Corp champion, ArcBenders Founder Christina Noel, what to do next. Her response was simple, "Just get involved any way you can and you will figure it out from there." So my advice is her advice. Be active on B Hive, plug into your B Local, attend the Champions Retreat and even the B Summit. Network, volunteer and sign up for the different calls. Get involved and you will find your own answer to what's next.
Looking for some ideas on how to get involved? Check this out.
Meanwhile, watch our webinar on everything you need to know about becoming a B Corp.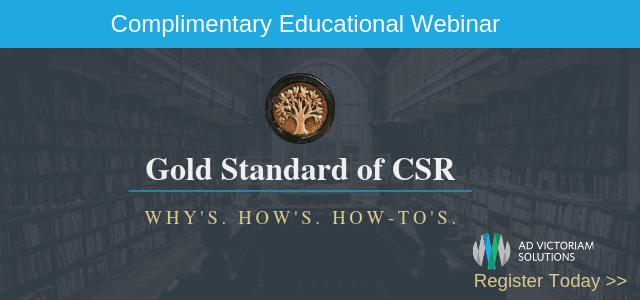 Subscribe in a reader