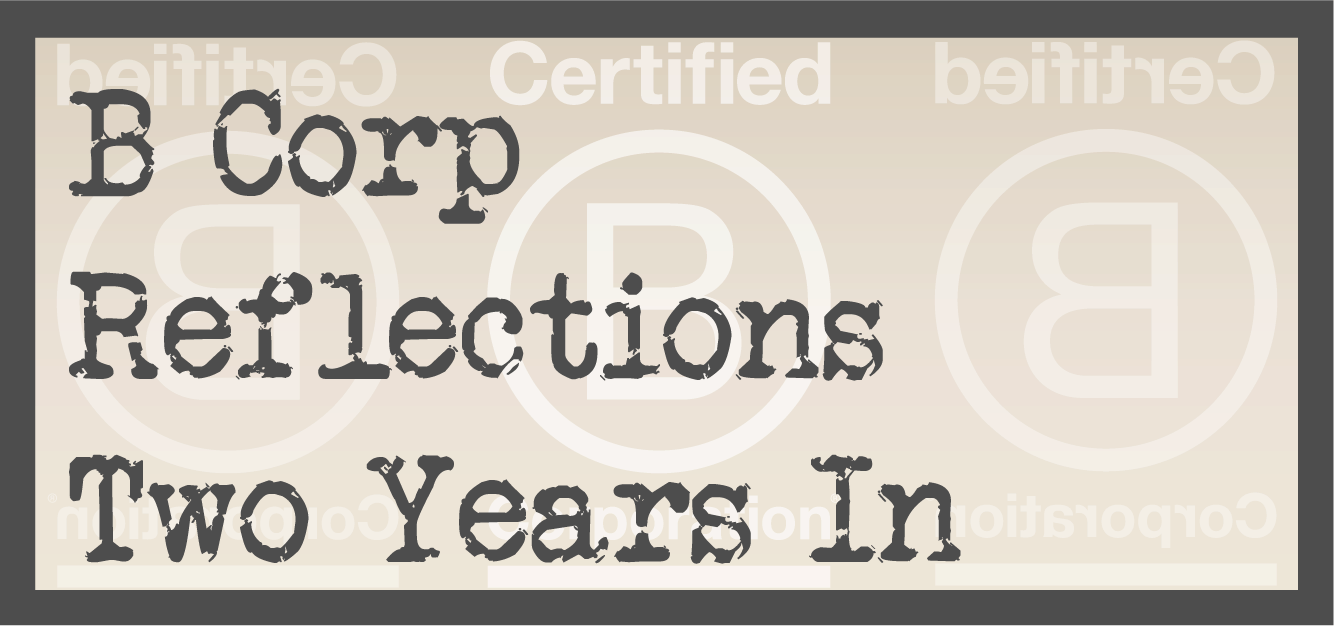 B Corp Reflections Two Years In
The release of Ad Victoriam's second annual Impact Report highlights our commitments and initiatives as a B Corp for 2019. It also marks the second anniversary of our B Corp certification and the four-year mark since we first started out along this journey. And with that, we're taking this opportunity to share some of our achievements over the past two years, things that don't necessarily fit into an annual Impact Report.
As we celebrate B Corp Month during this entire month, we're compelled to echo their call to action: "Vote Every Day." The collective action of everyone buying from, working for, and working with B Corps, our votes will be heard. And as a B Corp, we have a moral obligation to be the best company we can be: for our workers, our customers, our communities, the environment, and the movement as a whole. Here are some examples of how Ad Victoriam Voted Every Day:
We Listened to our Employees
Just about every company issues an employee survey nowadays. But how many companies truly act on the feedback they receive? Not only do we embrace a culture of open doors and proactive feedback loops, but we also take our survey very seriously. Every January at AdVic, our Director of Corporate Culture presents survey results to the executive team, with an action plan to tackle recurring concerns. We then share the survey results and strategies with the entire company.
In the 2018 survey, we received similar comments around onboarding, PTO, and communication. So, in 2019, we took action. We formalized our onboarding process and developed a curriculum to help new employees get acclimated. AdVic's principles also reduced billability targets for new hires, giving them three weeks to get onboarded to the company and the projects they are assigned to. We also launched a new paid-time-off (PTO) policy to allow employees to redeem hours when they went above and beyond the standard 40 hour work week, giving them additional time off. And lastly, we introduced "The Weekly AdVic," a company-wide video call that shares the previous week's financial performance, new projects, introduces team members, and shoutouts to those deserving of one. Three simple steps to turn negative feedback into positive action, which will, in turn, further empower our employees to speak up.
"It's not only the survey every year, but the overall open door policy around feedback that I enjoy. Everyone at AdVic knows we're young and we're growing…fast. And our management team listens to everyone. Every year, I see real improvements in the company based on the feedback we give them. If it wasn't on their radar, it is now. And they take it to heart. That's, unfortunately, incredibly rare and the main reason I love working here." – Ricardo Diaz, Team Lead, Community Practice
And we're still a work in progress. Our 2019 survey highlighted areas for us to focus on here in 2020, many of which are already being acted on. Standardization of processes and remote employee engagement were two common themes we'll be focused on this year.
We Signed the Pledge
At the 2019 Champions Retreat in Los Angeles, we signed the Pledge to Build the B Economy from Within. The B Corp Pledge focuses on seven key areas we will continue to focus on in 2020:
1. Support the B Corp Community
From our original B Corp project with the Full-Time MBA program at the University of Georgia, we've continued to stay involved with their student-led B Corp projects. In the past 18 months, we've assisted on seven B Corp projects and played an integral role in the launch of the MBA program's new Social Innovation emphasis, which requires working on a B Corp certification project.
As a result of our initial brainstorming session in the summer of 2018, B Local Georgia has grown to host quarterly networking events and provide an ecosystem of support for B Corps throughout Georgia. AdVic has sponsored several events and our own Nathan Stuck serves as Chair of the organization.
2. Speed Up the Building of An Inclusive and Sustainable Economy
3. Truly Use Business as a Force for Good
Each year, our consultants utilize their knowledge and expertise to make an impact on the nonprofit community. They assist deserving organizations with Salesforce implementations and support. In 2019, we put our skills to work with the Interfaith Hospitality Network of Athens, an organization that helps families facing homelessness, and Camp Dream, an Atlanta-based nonprofit that runs camps for children with disabilities. In total, our in-kind consulting donations totaled $189,760 in 2019, up from $85,290 in 2018. And we've already kicked off a project with VMWare to work on Project Hope, which will focus on mentoring and guiding first-generation Hispanic students from middle school all the way through college graduation.
Another area of focus in 2020 will be increased employee participation in our Volunteer Time Off program. In 2019, 21 employees took advantage of this benefit, doing everything from road cleanups to field-trip chaperoning. Our goal for 2020 is to have every employee use at least some portion of their VTO.
4. Share Knowledge with Our Fellow B Corps
Through our continued involvement with B Local Georgia and B Lab, we'll continue to assist existing B Corps and anyone else with interest in the B Corp movement.
5. Align Our Purchases with Our Values
2019 also marked the finish of our office remodel. Every dollar we spent was analyzed and on top of installing motion-activated lights, sinks, and paper towel dispensers, everything from the glass whiteboards to the carpets to the soundproofing was some version of renewable, recycled, and certified.
6. Consider B Corps First When Making Decisions
7. Promoting B Corps to Our Employees and Networks
Here at AdVic, we think it's important for us to share our B Corp journey. Our desire to be a little bit better every single day. And we hope it inspires others to take the Business Impact Assessment. But most importantly, we appreciate the sacrifices and effort by our fellow B Corps, and the inspiration they give us to be better corporate citizens. Last year, we published our Sustainable Gift Giving Guide, promoting other B Corp businesses during the holiday season. We also featured several B Corps in our blog, 13 Free Ways to Give Back.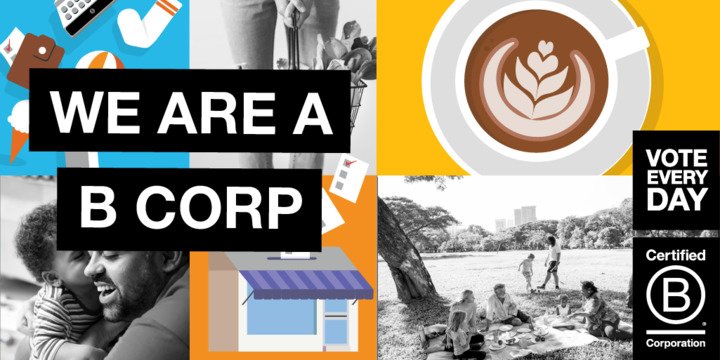 We're Committed to Being Better
Here are the areas AdVic has concentrated on to meet our goal of being better:
Comparison of Demographics Change Over the Past Two Years
AdVic understands that a diverse workforce creates better output and solutions for our clients. So, at the end of 2017, we were taken aback that, on the eve of our B Corp certification, our company was 73.5 percent caucasian males and only 28 percent female. Talk about fitting an IT stereotype, right? So we looked at ourselves in the mirror and put talk into actions. Since this time, we've not only changed how we recruit, but we've rewritten our job descriptions to encourage more women and underrepresented minorities to apply.
And as a result, we've completely transformed our company. By the end of 2019, we were 32 percent female and only 48 percent white male. Our employees were also now 27 percent underrepresented minorities, compared with 12.9 percent in 2017.
Re-Wording a Job Description
In the fall of 2018, we attended our first career fair at The University of Georgia. In total, we received 55 resumes, eight of them were from women. While our first Elevate class was still very diverse, we are appalled at the lack of female diversity. So, we did what we should have done in the first place: We asked our female employees to read our job description. To say we received a unanimous thumbs down would be an understatement. So, we rewrote it. And by our next class, we had hired our first female member of Elevate. After adding another female in our Winter Class of 2020, we are now preparing for our biggest Elevate class yet, with 10 incoming recruits. Seven of those ten? You guessed it, they're women.
We Are Baking Into Our DNA
Alerted by 2018 survey feedback, there was a glaring lack of awareness and passion around B Corps and our "why." To raise awareness, we've taken several steps (borrowed from other B Corps). For starters, we launched an internal B Corp steering committee in 2018, a diverse group of employees empowered to represent all stakeholders in the decisions we make. We also introduced an onboarding session around our B Corp status. Meant to inform our new hires about our mission, we include it with the overall benefits section to share our "why" with everyone that joins our team.
In 2020, the Ad Victoriam team will continue to build on what is now almost four years of momentum. We'll spend a good bit of the year working on our recertification, ensuring we remain a part of this amazing community. We'll also be on campus at UGA, working with student teams helping business owners achieve certification. And we'll be at B Local events, connecting like-minded business leaders and explaining how impactful it has been. Most importantly, we'll continue to be out in our community, being the change we want to see in the world. We invite you to follow us on our journey, or better yet, lead the way at your own company and commit to becoming a certified B Corporation in 2020.
Subscribe in a reader