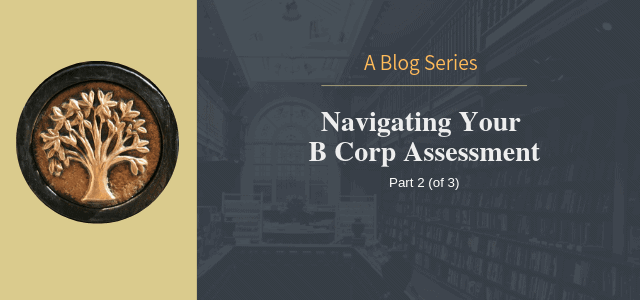 Navigating Your B Corp Impact Assessment
In the first installment of this series, we focused on the reasons why you should consider pursuing B Corp certification for your company. From raising capital to attracting new clients and employees, this gold standard of Corporate Social Responsibility accreditations offers a wealth of benefits. But now it's time for the difficult part, taking the assessment and reaching the needed 80 points. We're here to alleviate any concerns you have and provide you with a roadmap for success.
In an article written by Berrett-Koehler Publishers, the publishers of Ryan Honeyman's B Corp Handbook (and the newly released 2nd Edition) discuss the author's five-step approach. We've amended this tried and true process to include one extra (and FREE) step that can make the process much more manageable.
Establish a Baseline by Taking the B Corp Assessment
This first step is a simple one. Go here and take the assessment (BIA). Fill out some basic information about your company to get started and then complete the different sections. The BIA is broken up into five different sections: Governance, Workers, Community, Environment, and Customers. Complete each section and it will give you your score. If you have 80 points, skip the rest of these steps and move ahead to the next installment in this series. If you are like the rest of us who scored less than 80, that's OK. Keep reading and we'll help get you over the hump.
Engage Your Team
In your first go-around, you may not have had all the answers at your ready disposal. For example, you might have a facility manager or a controller that has all of your energy and water bills. Or you might need your procurement manager to investigate the diversity and locations of your major suppliers. Organize all the information you need in a central place (we recommend a Google Sheet to allow real-time collaboration) and delegate tasks to your team. Once you receive everything back, update your assessment and receive your new score.
Added Step: Recruit Free Help from a Local College or University
Running a business isn't a part-time job. And we realize there is a multitude of things that can rank higher on your priority totem pole than your B Corp certification. Lucky for you, colleges and universities across the country have created concentrations, certificates, and programs that require a B Corp project to successfully complete. In the southeast alone, NC State University, the University of Georgia, and the University of Florida facilitate B Corp projects each semester.
At Ad Victoriam, we worked with MBA students from the University of Georgia to do a lot of the heavy lifting. The students helped write our employee handbook and identify some of the low- and mid-hanging fruit to help get us closer to the needed 80 points. They were then able to identify other potential opportunities and provided us with a cost/benefit analysis for each item so we could make our own decision based on what was best for our business. We highly recommend utilizing a university-run program to help you achieve your B Corp certification.
Read to the bottom and then sign up for our complimentary webinar that will review everything you need to know about becoming a B Corp.
Create a Plan
With your team engaged and your students ready to help, it's time to create a plan. If you are working with a university, they will have a roadmap and plan they can adapt to your company. If you don't have the luxury of student help, there is a simple three-step approach we recommend:
Identify low-hanging fruit: Go through the assessment and identify items that require as little as a tweak to your employee policy handbook. For example, enacting a policy that requires employees to rent hybrid vehicles when traveling for business, or encouraging remote meetings work to reduce your carbon footprint. Start with these and then we can get out the step ladder to reach higher.
Identify mid-hanging fruit: These are the pieces that require a little more thought and effort. This would include things like implementing a volunteer time off policy or writing a supplier screening questionnaire.
Make a go/no-go decision on the most difficult pieces: Quite intuitively, a large chunk of points are available on the more difficult questions. For us, there were some major decisions that had to be made with regard to cost (time, effort, and/or money) and benefit (recruiting and/or retaining employees). Beyond the reasons already mentioned for working with a university program, this part of the process is where they can really help.
Implement Your Plan
Using your plan as an outline, start building out the documentation (e.g. handbook, policies, etc) and enacting the changes (e.g. rolling out your new policies to team members, picking a 401k provider, etc.). Once again, the students can be a big help in this part of the process as they can do a lot of the heavy lifting. But there are also a ton of other resources available to you, like those provided by B Lab or from the B Corps in your region (get connected here).
Fine-tune
You'll notice as you take the assessment that questions can be marked for later review or as a future goal. Even after you hit the 80 point threshold, continue to use the assessment as a tool to improve your company.
Summary
Following these simple steps will get you well on your way to certification. When you hit snags and roadblocks, don't be afraid to reach out for help. Whether you get assistance from university students or from a local B Corp (or both), you'll find that this community is generous with their time and eager to help.
In the conclusion of this series, we discuss the "what now, what's next" after you get certified.
Meanwhile, watch our webinar on everything you need to know about becoming a B Corp.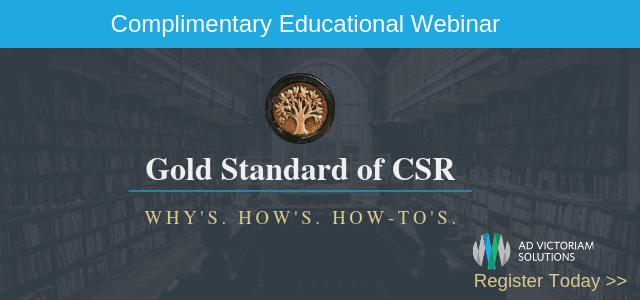 Subscribe in a reader