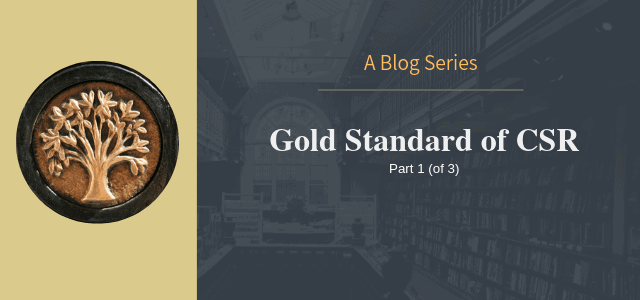 The Gold Standard of CSR
It's 2019 and times have changed in the business world. More and more every day, becoming the gold standard of Corporate Social Responsibility (CSR) is taking on a bigger role in C-Suite conversations.
No longer does the economic philosophy of Milton Friedman, to serve fiscal shareholders above all else, dominate the landscape. Customers and employees are demanding that the corporate world serve all stakeholders, including their employees, communities, and the environment. The number of companies listening is increasing. They have begun incorporating CSR initiatives into their day-to-day business operations. But with everyone doing it, how can you make your company stand out and work towards becoming a "gold standard of CSR?"
The answer is simple, join Ad Victoriam Solutions, a Georgia-based Salesforce Consultant, and have your company certified as a B Corp.
B Corps are for-profit businesses that have a proven (and certified) commitment to serving all stakeholders. They use business as a force for good, ensuring fair pay and benefits to a diverse and inclusive workforce. They also promise to be good stewards of the environment. That means they are actively serving in their communities, and believing purpose and profit can harmoniously coexist.
However, the process isn't easy, but as the saying goes, if it was then everyone would be doing it. But it is worth going after. In the first of our three-part series, we're focusing on five reasons your business should consider B Corp certification.
1. The Gold Standard of CSR: A True Differentiator
In a workforce and consumer base increasingly dominated by millennials, people are demanding more than just profit from the companies they buy from and work for. Consumers and potential employees are more likely to sniff out blatant "greenwashing." Defined by Investopedia, "greenwashing" is "an attempt to capitalize on the growing demand for products that are environmentally sound." Meaning "they are more natural, healthier, free of chemicals, recyclable, or less wasteful of natural resources."
But with B Corps, the research and investigation into the legitimacy of a company's claims have already been performed. After the company completes the B Impact Assessment (BIA), on which a company must score 80 out of a possible 200 points, B Lab, the nonprofit accreditation body that certifies B Corps, performs an audit of a company. The handbook and its policies are reviewed, numbers are verified, and many times, an on-site audit is performed. Succinctly put, B Corp certification is to for-profit business as Fair-Trade is to coffee or certified organic is to milk. The B logo is seen as a stamp of legitimacy on your CSR efforts.
2. Raising Capital
An often overlooked feature of B Corp certification is the ability to seek out investments in your business. According to Forbes, "The Global Impact Investing Network's most recent estimate for the minimum size of the impact investment market doubled to $228 billion in assets under management, up from $114 billion in 2017." More and more investors are looking to diversify their portfolios beyond industry. They want to include companies with environmental and social goals, following global standards like the United Nations' Sustainable Development Goals.
As investors scramble to find investment opportunities that align with their personal values, "B Corps may attract capital better than non-b-businesses," according to an article in Fast Company. In the article, Abi Barnes, the author of "An Entrepreneur's Guide to Going B," published by the Yale Center for Business and the Environment, alluded to the B Corps' ability to differentiate themselves to attract these investments. He stated that "in an era of 'greenwashing' and misleading labels, certified B Corporations and benefit corporations help consumers identify trustworthy companies."
Read to the bottom and then sign up for our complimentary webinar that will review everything you need to know about becoming a B Corp.
3. Mission Lock
One of the biggest benefits of B Corp certification for a growing company is the ability to lock in your mission. When Ad Victoriam Solutions went through the assessment, we only had eight employees. We had to implement a lot of new policies and practices. More importantly, we had to envision what we wanted our company to look like as it grew. Fast forward three years and we have almost 70 employees and our vision is our reality. The mission and purpose are now baked into the DNA of our organization.
When we make strategic decisions, our status as a B Corp influences our direction. Whether it is how we recruit employees to ensure a diverse candidate pool or deciding on whether we want to take on a new client based on their mission and values, our certification weighs heavily on everything we do. And knowing that B Lab requires member companies to re-certify every three years ensures we are always thinking of a decision's impact on everyone.
The truth is, not just focusing on the bottom line has been good for business. Since Ad Victoriam started the process three years ago, we have doubled our revenue every year.
4. Best Practices, Industry Standards, and Benchmarks for Improvement
An unexpected byproduct of B Corp certification is the inspiration from the B Community to always strive for more. There will always be another B Corp doing more than you for their employees, the environment, and their community. Allowing these companies to inspire you to deepen your commitment opens the door to becoming an even better corporate citizen. Being open to measuring your company's performance to that of others allows you to identify areas for improvement.
In an interview with Forbes, Barnana CEO Nik Ingersöll stated, "Being a B Corp has solidified our commitment to the way we run our business. They also have an amazing framework that has given us more ideas on how to become even more sustainable. It has given me a path to constant and continued improvement."
And in an article from the Harvard Business Review, "It Pays to Become a B Corporation," Richard Stammer, VP of B Corp Cabot Creamery, highlights the use of benchmarking to achieve operational cost savings as well as to recruit and retain employees. Stammer also points to Patagonia, who "report[ed] that certification helps promote and validate its employee-centric culture, which attracts great candidates because of the company's reputation as a great place to work. Since becoming a B Corp, Patagonia expanded the medical, military, and paid maternity and paternity leave for regular full- and part-time U.S. employees."
5. Walk the Walk
On top of everything, you are signaling to the marketplace that your mission is sincere and genuine. It helps potential customers and employees more easily sift through the noise and find companies that truly believe in CSR.
B Corp Certification isn't a pledge or a commitment to simply do better. It is the etching of your mission and your beliefs in stone. As such, it requires time and commitment to achieving. But in the end, it is worth it.

In Part 2 of this series, we focus on tackling the BIA and getting your company B Corp certified. We'll share common hurdles, best practices, and aids to get help get you there!
Meanwhile, watch our webinar on everything you need to know about becoming a B Corp.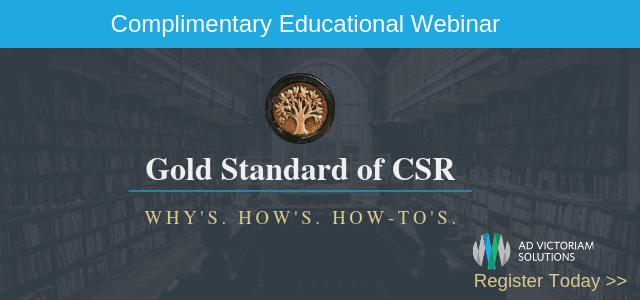 Subscribe in a reader