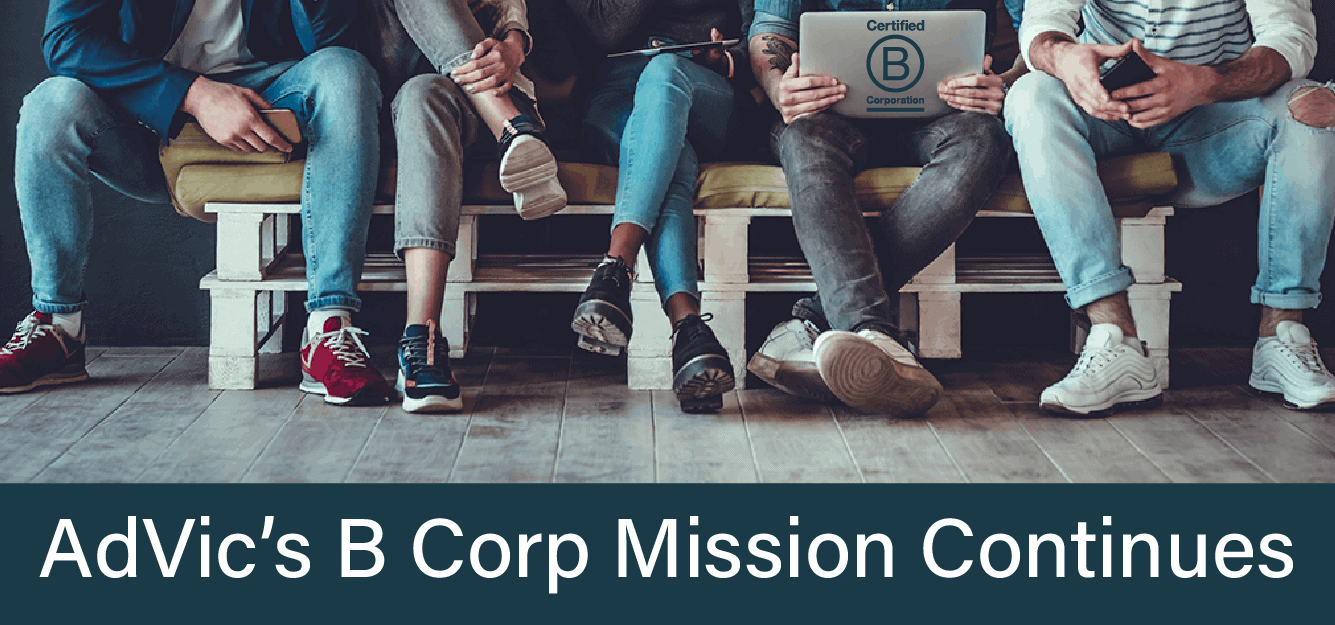 AdVic's B Corp Mission Continues
Ad Victoriam loves being a B Corp. It is an integral part of our DNA and is a part of every decision we make as a business, but our mission continues.
From the customers we do business with to the suppliers we purchase from, and the benefits we offer, our status as a Certified B Corp serves as a mission lock for ensuring our purpose continues to guide us as we grow.
Measuring Our Mission's Impact
At the end of 2018, we published our first Annual Impact Report (download it here). This was an end of year recap of the internal B Corp-driven KPIs we had set for ourselves. Fun things were included, too. Things like new female and/or underrepresented minority-owned vendors, and our volunteers of the year. The report also included our performance on everything from volunteer and pro bono hours to our diversity efforts in our workforce and hiring initiatives.
Our Inclusive Economy Challenge
As we were preparing to publish that first Impact Report, we were also completing our first year as a B Corp. We were now eligible to participate in B Lab's (the non-profit that certifies B Corps) Inclusive Economy Challenge.
The IEC, as it is known, is designed to motivate companies to make further improvements in their pursuit of EDI (equality, diversity, and inclusion). Participating B Corps must set and accomplish at least three improvement goals in the EDI portion of the assessment. And our focus was clear, improve on our inclusive recruitment and hiring process, specifically by addressing two pressing needs we recognized in the challenge:
The company actively recruits through organizations or services that are designed for individuals from underrepresented populations.
The company conducts an analysis of job description language and job requirements to confirm or improve diversity, equity, and inclusion
AdVic Debuts the 'Elevate' Program
At the beginning of 2019, AdVic launched our new Elevate program. The first class of our new program was designed to teach all things Salesforce and consulting skills. It was comprised of three freshly minted graduates from the University of Georgia. After this experience, however, one thing was obvious, we didn't attract any females. Of the resumes we collected, 47 of 55 were male. Of our first round interviews, 14 of 16 were male. We knew we could do better than that.
When we performed the post-mortem of our first undergraduate recruitment program, we knew we could do better. The IEC gave us the perfect opportunity to pilot solutions for recruiting a more diverse candidate pool. Using the two goals mentioned above, we honed in. AdVic reached out to Women in Technology's UGA chapter to speak to them about careers in technology as a female, wife, and mom. We also rewrote our job posting to be more female-friendly. Research shows that "men apply for a job when they meet only 60 percent of the qualifications." However, "women apply only if they meet 100 percent of them."
'Elevate' Produces Positive Results
So far, the results of our Elevate program have been astounding. Our final round two interviews were made up of seven males and seven females. We extended offers to two females and three males and hired our first female member of Elevate. Since then, we have extended offers to our third and fourth Elevate class, made up of four females and three males.
It makes us proud to announce that we have successfully completed our first Inclusive Economy Challenge. We didn't just check a box, we walked the walk. 2019 saw two females promoted to AdVic VP's, and two females promoted to management positions. That represented 40 percent of internal promotions this year.
The Mission Continues
While we're pleased with our progress, we know we can still have a lot to do – our mission continues. We have an ambitious goal to have a workforce that is 50 percent female and 30 percent URM (Unrepresented Minority) by 2025 and we have work to do. If we have learned one thing since becoming a B Corp, it is that the work is never done. There are always improvements to be made and areas to improve on, but it doesn't stop us from taking a minute to celebrate our successful 2019 and completion of our first Inclusive Economy Challenge.
If you would like to learn more about how your company can become a Certified B Corp, AdVic's recent three-part blog series has all the information you need to succeed: Part 1 – Part 2 – Part 3. You may also find this recent AdVic B Corp/Corporate Social Responsibility webinar helpful, too.
If you have any questions, we invite you to contact us here.
Subscribe in a reader