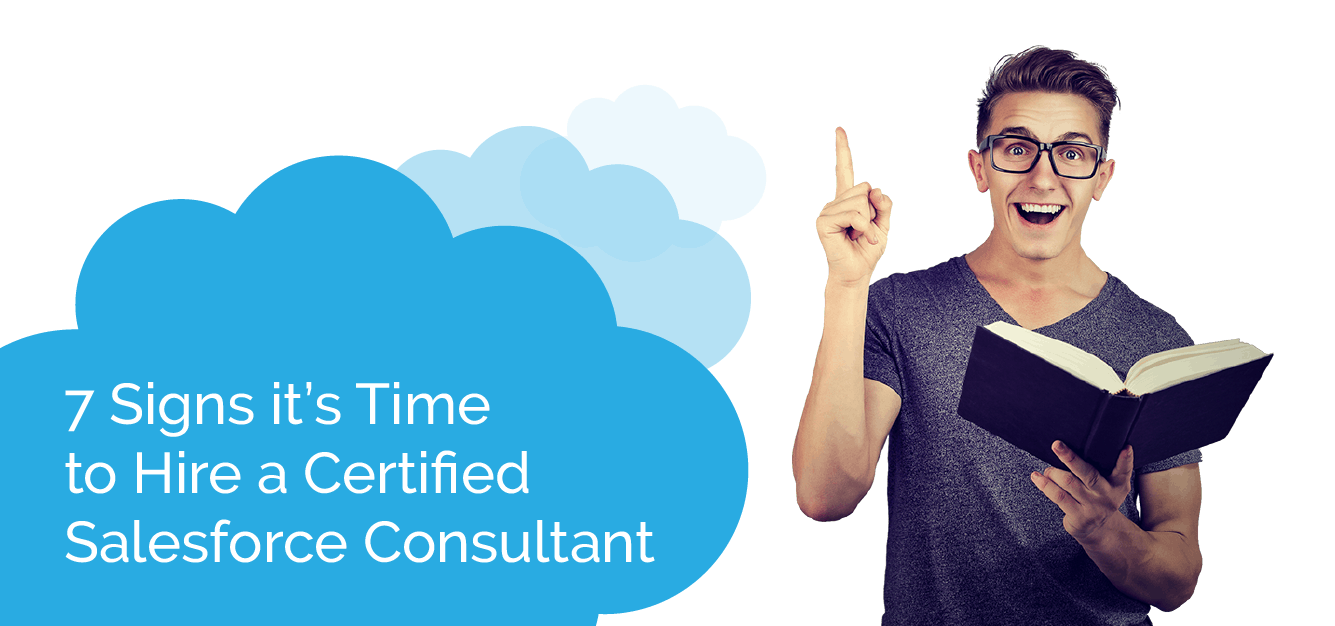 7 Signs it's Time to Hire a Certified Salesforce Consultant
Raise your hand if you've tried to tackle a Salesforce® implementation in-house with little or no knowledge of how to do it and thus – unfortunately – failed to get what you need? 
Ok, you tried… but during your frustrating journey you learned how challenging of a task it is to understand all the features and capabilities a Salesforce solution offers. You also most likely wasted a lot of time, effort and other company resources, and maybe even delayed your original ROI expectations and missed sales opportunities in the process. You may even have started to question whether Salesforce was the right decision. 
This is the point – after your DIY implementation – enlisting a Certified Salesforce Consultant can add value to your post-implementation. Without help from an experienced Salesforce partner, you could waste even more time and resources. 
Know When it's Time to Hire a Salesforce Consultant
If the above scenario is something you want to avoid at all cost – any one or all of these seven signs below should be enough of a reason for you to enlist the help of a Certified Salesforce Consultant.
1. Stagnant or Declining Sales: Let's start with the BIG one! If your sales have stalled, you have to revamp your strategy and that's where a Certified Salesforce Consultant can help by showing you and your team the full potential of a Salesforce solution.
2. Customer Satisfaction Issues: Has it become painfully obvious that your customers are having less than a delightful experience with your business? A fully optimized Salesforce system will improve your customer experience ten-fold.
3. You Need a 360-Degree Customer View: If you have desperate systems that contain customer or prospect information, your sales, service, and marketing teams are working at a major disadvantage. A 360-degree view of your customers and prospects – within one unified system – can help your teams drive sales and recapture market share.
4. Poor User Adoption: End-user adoption of Salesforce is not just about people being engaged with the system; it's much more than that. It's about what end-users are doing when engaging with the system and the quality of work they are doing in the system. An experienced Salesforce Consultant will easily highlight the problems and the challenges before your organization. Moreover, a certified Salesforce Consultant will even help you cope and come out strongly against all possible obstacles. This will help you stay ahead of the competition, find productive and innovative ways to streamline operations and sales, maximize profits, and stay profitable and relevant now and well into the future.
5. Proof of ROI: If you're not sure that your DIY Salesforce implementation has helped your business, or the C-Suite is looking for the hard numbers to prove it, you need a Certified Salesforce Consultant to help you identify and prove that you are making progress toward your company's goals and  predefined objectives.
6. Are You Getting the Full Capabilities of Your Salesforce System?: With numerous Salesforce solutions to choose from, and literally thousands of apps in the AppExchange, it can be daunting to understand what products will add value to your new system. A Certified Salesforce Consultant will help you leverage the full capabilities and features of your system, ensuring you get the full ROI of your investment.
7. Salesforce Projects Aren't Getting Accomplished: Let's face it, these days more companies are stretching their employees thin, challenging the time that in-house Salesforce "admins" can spend on your system's much-needed projects, thus keeping your company off its path to success. This is where a Certified Salesforce Consultant – with expertise in data governance, analytics, reporting, system automation, custom development, and integrations – will accelerate your path to a successful project completion and your over-taxed teams can concentrate on the important things your business needs to flourish.
If you've come to the conclusion that you need help with your Salesforce system, we invite you to contact an Ad Victoriam Certified Salesforce Consultant today to see how we can help address your challenges to increase the value of your system. If you are not ready to chat, check out these resources for additional guidance. 
Related Articles
Salesforce Managed Services Advantages That Control Costs
Winning Strategies to Increase Salesforce Adoption
Subscribe in a Reader