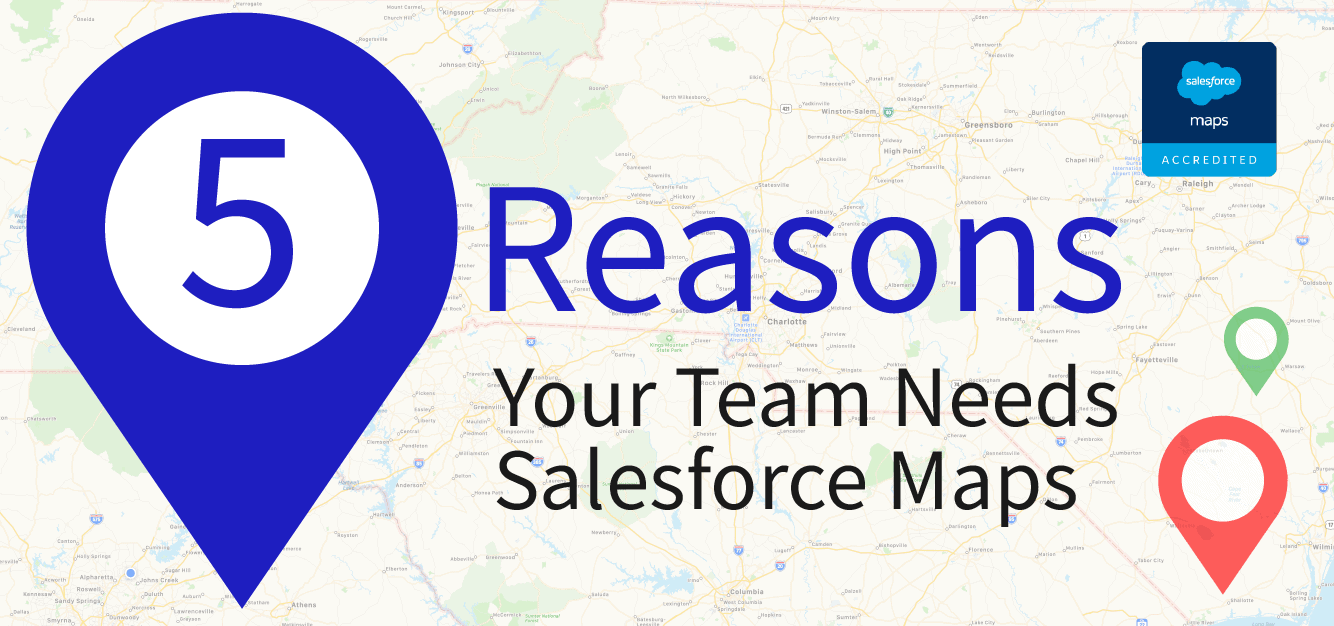 5 Reasons Your Team Needs Salesforce Maps
Not aware of Salesforce Maps? In a nutshell, using Salesforce Maps allows sales reps to make more money at their desks or in the field. They can free up more time to sell by decreasing time spent planning, driving, and tracking field activities. Utilizing Salesforce Maps (formerly MapAnything) turns the Salesforce experience interactive by displaying all of your Salesforce data on a map. Your teams can easily visualize all of your accounts, log calls, send emails, and create new events/tasks directly from the map.
The Big Five
So if an all-encompassing data visualization, routing and scheduling, and optimized lead generation system is collectively missing from your sales process, here are five reasons that make Salesforce Maps integration – which Ad Victoriam is accredited for – a no-brainer for your team's success.
1. Map-Based Visualization
Better understand hard-to-find data on a map-based interface and make location-driven decisions that drive productivity. Also, uncover new opportunities to produce revenue by seeing which accounts are nearby anchor accounts while planning a sales route.
2. Optimized Routing
When you have the ability to optimize routing, you can build and launch routes that cut down on windshield time, cross-town driving, and lower mileage or gas costs. In addition, you will ensure timely arrival to high-value prospects and customers, thus building robust pipelines using accurate prospect data and territory visualization.
3. Prioritized Scheduling
A seven-day schedule can be optimized with visits prioritized based on Einstein or Pardot scores, or potential revenue to spend the most time with the most valuable customers and prospects. From there, easily view the schedule via exchange-based calendars on mobile or desktop.
4. Lead Generation
With a Salesforce Maps integration, you have the ability to access necessary data to turbocharge your prospecting efforts and marketing campaigns. You also have the ability to fill schedule gaps with nearby opportunities and more.
5. Mobile Compatibility
While on the road, you can easily automate the admin processes, like check-in and check-out, via a mobile device. Additionally, your team can utilize voice command turn-by-turn directions and turn on real-time traffic alerts to safely maintain productivity.
Is extending the power of your sales and service professionals your challenge? Ad Victoriam's certified consultants can integrate a Salesforce Maps intelligence solution for you starting today! Just click here and we'll connect with you quickly!
Subscribe in a reader