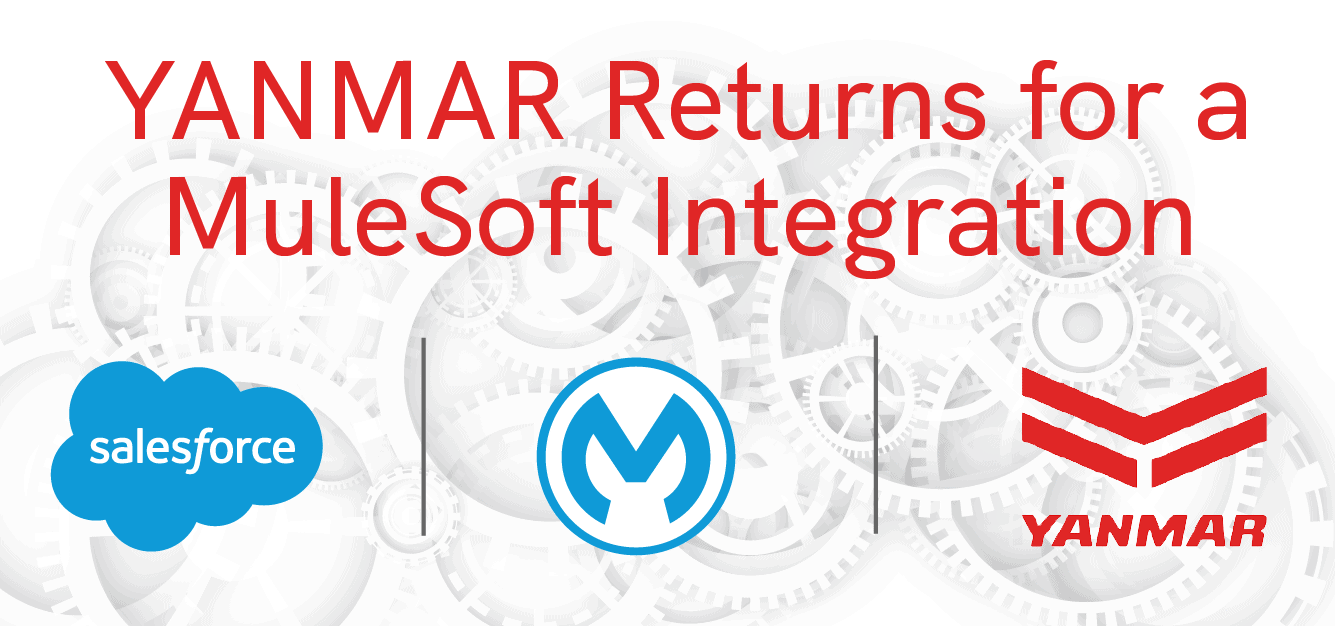 YANMAR Returns for a MuleSoft Integration
The YANMAR America and Ad Victoriam partnership dates back to May 2017. YANMAR is a recognized leader in the design and manufacturing of diesel engines and diesel-powered equipment. They were referred to AdVic for their solution directly by Salesforce®.
At the time, YANMAR Business Systems Manager, Brian Williams explained, "We were very guarded against repeating our previous Salesforce failures. We shared these past developments and adoption challenges with Salesforce, and asked that they provide us a partner with a strong skill-set, reputation, and experience in our industry – which is why we were referred to AdVic."
Most Recent Project
For YANMAR's most recent project with the AdVic team, the focus was a MuleSoft® API integration that helped pass Salesforce information to their internal systems. It was centered around creating a Salesforce Community, whereby YANMAR's distributors and dealers would have the ability to log in to the Community and perform some of their most important processes that were previously done manually. Those new processing abilities include:
The ability to create various types of orders online catering to all of YANMAR's divisions. This introduced convenience to the customer, visibility on status, and improved processing speed.
The ability to submit a RePower quote request. Both the process itself and research needed along the way was extremely tedious and time-consuming. AdVic used systems to automate both the process and most areas of "research." Once a dealer submits a request through the new community, they have already completed many of the steps that were once manually handled internally.
The ability for their dealers to more easily process/submit/track rebate requests and issued payments on products. This was previously a labor-intensive, manual process. The rebate solution was one of the most important elements of this project for YANMAR Being able to effectively manage and process earned rebates is vital to servicing their dealers and keeping them satisfied.
Implementing a marketing budgeting solution for Marketing Co-Op, where YANMAR dealers can submit pre-approvals and claims on their allocated marketing budgets for better management, as well as payment reporting.
Enhanced YANMAR's Case submission process by giving their dealers the ability to log in to the Community and submit different types of cases based on their needs with case deflection via the company's shared Knowledge database. Dealers then receive quick resolutions and answers to keep their business moving forward.
The Benefits
Previously, YANMAR's distributors would have to handle their processes through emails, faxes, spreadsheets, and phone calls. But now, YANMAR's new Salesforce Partner Community, YANMAR/One, provides its distributors and dealers with self-service capabilities. This has reduced paperwork and streamlined communications expediting case resolution.
There are even areas within the Community where dealers can actively comment on Cases and receive notifications from their YANMAR rep. This allowed the internal rep and dealer to have a conversation directly in the Community. That is helpful when there is a need for specific questions, as opposed to utilizing a phone or an email. It also makes it easier to find historic tracking of conversations.
"This project has been 18 months in the making," YANMAR's Business Process Improvement Manager and project lead Delaney Langston comments. "It would not have been possible without the help of my colleagues at YANMAR America and our consultant, Ad Victoriam Solutions."
Are you looking for a Salesforce consultant? One who is not just interested in building your next project but wants to build your business for future success? The Ad Victoriam team is ready to start your project today. Reach us here.
Related Articles
AdVic Partnership: Not Just a One-Off Project
Subscribe in a reader