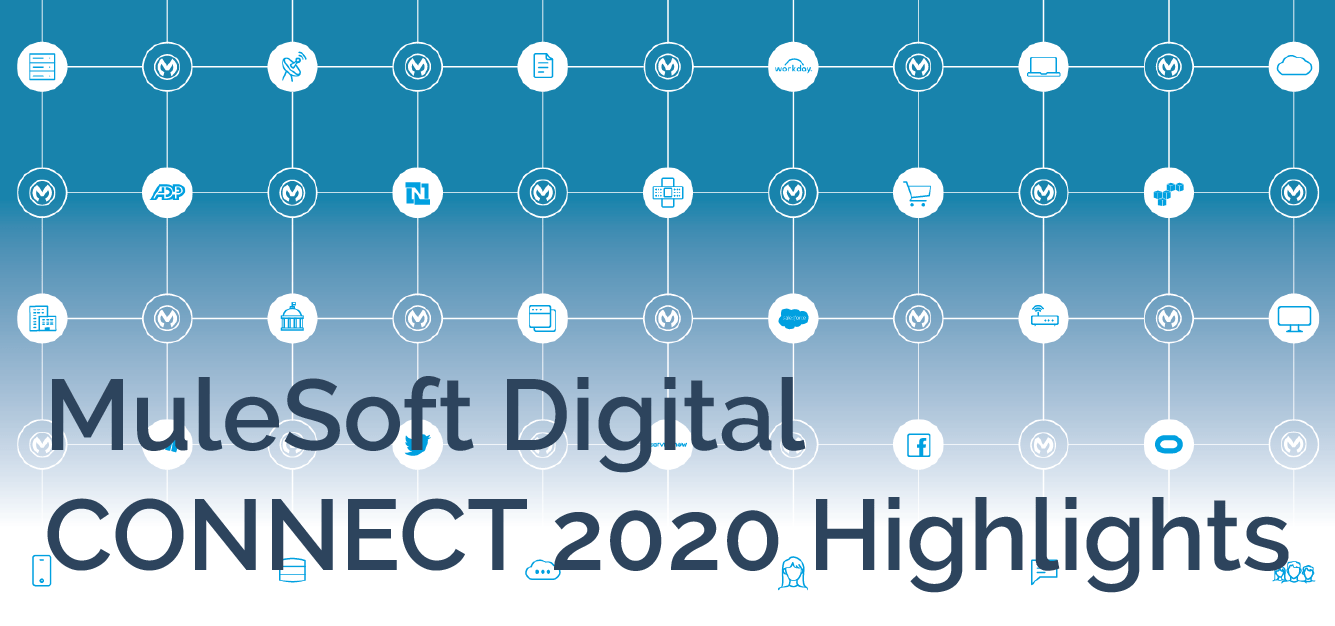 MuleSoft Digital CONNECT 2020 Highlights – Part 1
Whether you're new to MuleSoft® or a long-time customer, they delivered a packed agenda of inspiring and educational content for its MuleSoft Digital CONNECT conference. From learning how others in IT are leading through change, hearing insights from CIOs, architects, and developers across industries, and learning the latest on new product releases and upcoming innovation, there was something for everybody.
And in case you missed the sessions, the Ad Victoriam team captured some of the highlights and we're thrilled to present them to you in our Part 1 below. You can read Part 2 here.
Keynote Highlights
With a theme centered around "Creating Connected Experiences Faster," the MuleSoft Digital CONNECT for 2020 keynote had CMO Lindsey Irvine kick things off by talking about the global response to the COVID-19 pandemic, the focus on empowering your workforce, and she announced that MuleSoft was making a donation to the WHO (World Health Organization) COVID-19 Response Fund for every CONNECT attendee – up to $15,000.
Next, MuleSoft Founder Ross Mason (pictured, below) talked about innovating for the new normal by proclaiming, "All at once, here comes everybody (sales, marketing, customer service, support) – anyone who needs access to information needs access to it now and your organization – especially IT – needs to figure out how to unlock those digital assets and enable your people."
He added a quote he's recently taken a liking to: "When we go back to normal, normal isn't going to be what it was like before." He then outlined three challenges for companies in the "new normal":
1. IT needs to become more "self-service."
2. Remote workers need to get access to digital capabilities without help from IT.
3. Companies need a new model for innovation.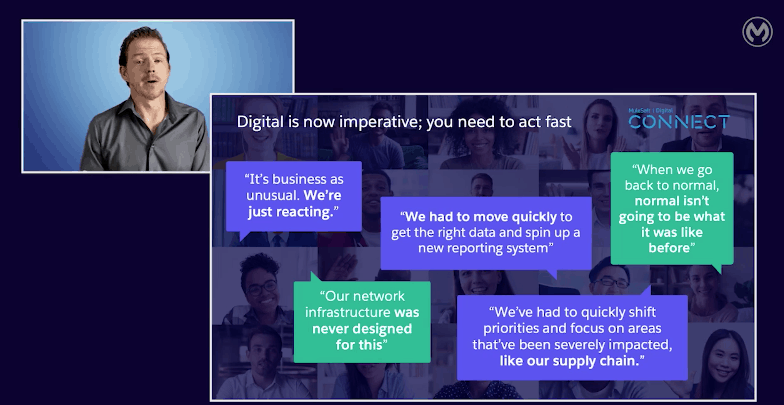 In addition, SVP of Product, Shaun Clowes, among other things, showcased how their Anypoint Platform makes application networks possible and also talked about three areas of key product investment for MuleSoft in the past year to help customers become more responsive, efficient, and resilient right now:
1. Global Marketplace for APIs and integrations partnerships
2. Developer Productivity (Accelerators, tutorials & docs, Knowledge Hub)
3. Expert Community (60 countries, 126 groups, 30,000 members)
The keynote wrapped with singer/songwriter John Legend performing solo on a piano from his home.
The Sessions
Session: Delivering Innovation Online and In-Stores with AnyPoint Platform
Highlights: Enabling Omni-Channel experiences with MuleSoft and Salesforce improves shopper engagement in several ways:
1. Connect Commerce Anywhere: Easily integrate eCommerce systems to core systems such as ERP, OMS, and POS with out-of-the-box connectors and integration templates.
2. Establish Omni-channel Connectivity: Deliver a consistent experience across all channels by enabling teams to self-serve from a repository of reusable APIs.
3. Scale Your Operations Resiliently: Operate on a secure and stable platform with 99.99 percent uptime that adapts to unpredictable traffic spikes.
Benefits to MuleSoft Users: Retailers can leverage an API-led porch to rapidly connect their front- and back-end applications that underpin their Omni-Channel initiatives. In addition, MuleSoft's new Accelerator for Salesforce Commerce Cloud jumpstarts commerce projects three-times faster.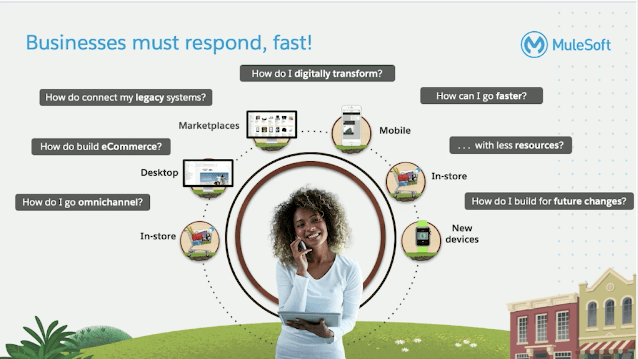 ---
Session: Anypoint Platform 101: Building APIs and Integrations on Anypoint Platform
Highlights: With Anypoint Platform you can:
1. Real-time view of orders
2. Unlock order data using system APIs that integrate data into Salesforce
3. Accelerate API development (fast to start, faster over time)
Benefits to MuleSoft Users: Anypoint Platform offers users the ability to build integrations faster with its easy-to-use drag and drop builder. You can also re-use existing APIs without coding, take advantage of simplified re-usable connections, and transform data with ease.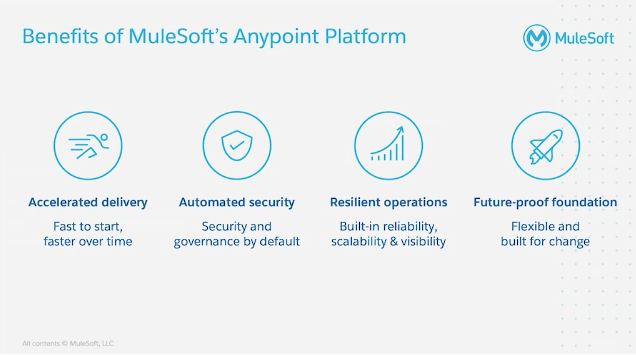 ---
Session: How to Measure the Value of Integration
Highlights: The Value of Integration
1. The only question that matters: Are we delivering value? Example: Using Anypoint Platform, API-led, and C4E your company saved XX hours of project and maintenance work over X years, saving $X in cost.
2. In today's digital world it's critical that you get integration right.
3. Organizations need to meet the demand for digital experiences to solve three fundamentals: Ensure business continuity; Empower their digital workforce with new ways of working; Use technology to power your transformation.
Benefits to MuleSoft Users: 1. Reducing costs (helping customers use fewer resources). 2. Improving productivity (doing more with the same people). 3. Increase revenue (bringing projects to market faster).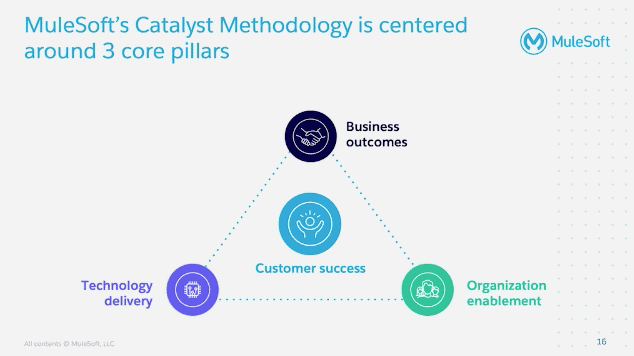 ---
Session: A Prescriptive Approach to Leading Organizations Through Change
Highlights:
1. Achieving outcomes – a three-pronged approach for success (overcome challenges IT Face) – Outcome Driven, Timely Delivery, and Stakeholder Alignment.
2. Their approach to this: align with business outcomes, enabling org to achieve those outcomes, and delivering technology to begin building while also investing in a platform to drive longer-term value.
3. How to Achieve the Three Outcomes:
Business Outcomes. Making sure to have clear business objectives with KPIs, and key stakeholders onboard who are aligned around those KPIs.
Organizational Enablement. Effectively use the Anypoint Platform to achieve the defined business outcomes.
Technology Delivery. Being able to build right away, address that initial use case while investing in a platform to achieve longer-term value. This is referred to as balanced deployment – do this all at once.
Benefits to MuleSoft Users: Most tech companies don't focus on all of this at once and they may fail. MuleSoft Catalyst helps projects be successful by supplying outcome-driven methodology, assets, and implementation. Their technical assets and implementation assistants – including API templates and industry accelerators – are all downloadable to make the project go faster. From planning for success to establishing a foundation to measuring impact. MuleSoft Catalyst Knowledge Hub also offers design guides, playbooks, and more – all based on best practices in the self-service portal.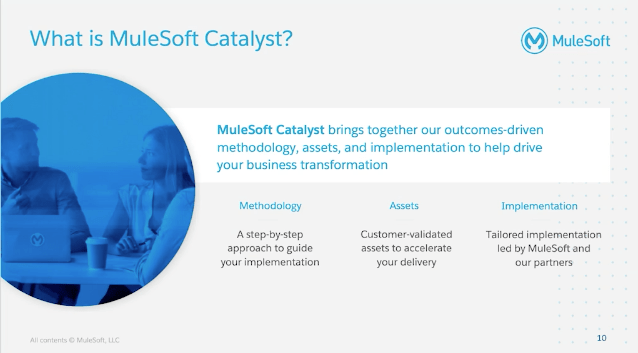 ---
Session: Choosing the Right Business Model
Highlights:
Choosing the right business model begins with
1. Design an effective product for the client – the best way is to identify the business model. 2020 connectivity benchmark report- lots of info – SEE API BENEFITS – great stats.
2. How APIs and bus models interact
API business models, how APIs and Business Models interact, focuses on the business value.
Recipe for a business model – create, deliver, and capture value. APIs are the value exchange in the digital economy. The value exchange process is the real power of API. The business creates and delivers solutions that solve customers' problems. It's the product that solves problems which is the essence of the value exchange – from the business to the customer. Then the customer exchanges value (pays the business).
Benefits to MuleSoft Users: APIs are the value exchange in the digital economy – they get the data in the hands of those who need it affecting all areas of business and helps get people up and running faster.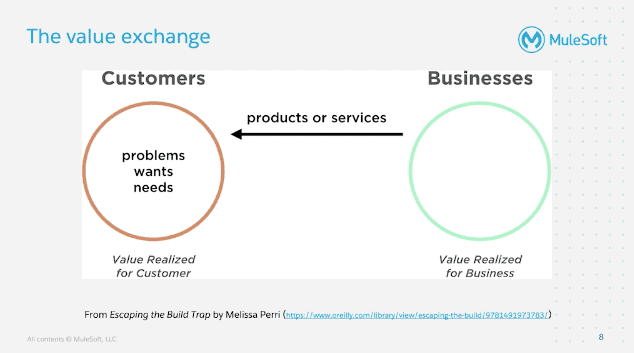 ---
Session: Unlock the Back Office with MuleSoft and Salesforce
Highlights:
1. Integrated data impacts the entire org – not just sales.
2. There are 900+ connected applications, with only 29% of those applications connected. As a result, many orgs turn to custom code which works quickly, but it's hard to scale, difficult to maintain and strains IT.
3. Pains of disconnected systems – synchronization, lower productivity, incomplete reporting, and poor user experience. In addition to a primary pain point, ERPs connectivity as they are the backbone of businesses.
Benefits to MuleSoft Users: Solving this issue with front and back-office data sync to Salesforce so processes are then automated across systems. MuleSoft provides more than 200 integration templates for 5x faster integration. And also supports integration outside of Salesforce.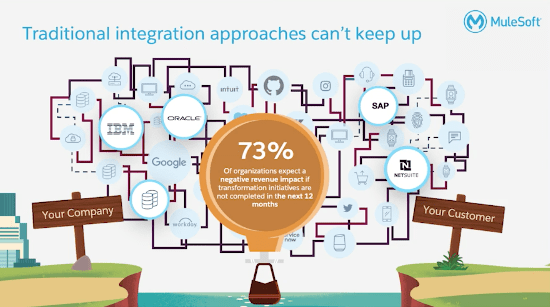 As a certified MuleSoft Anypoint and Salesforce consulting partner, Ad Victoriam's integration experts understand the complexities of enterprise integrations, both on-premise and in the cloud. We simplify complex integration scenarios, integrate disparate systems, and provide a scalable architecture that your business can grow with – whether or not you are using Salesforce. So, if you are ready to connect your systems, we're ready to talk to you today.
Related Articles
MuleSoft Digital CONNECT 2020 Highlights – Part 2
YANMAR Returns for a MuleSoft Integration
Subscribe in a reader