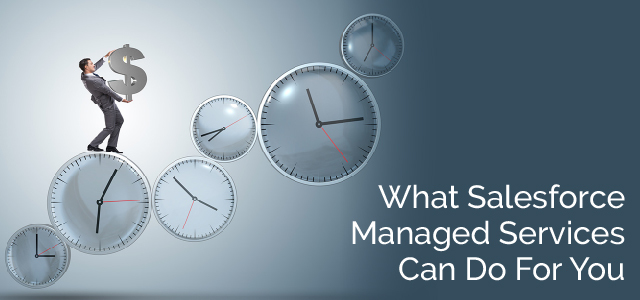 What Salesforce Managed Services Can Do For You
Estimated reading time: 4 minutes
On a recent episode of AdVic's "Salesforce Simplified" podcast, our guest was our Director of Managed Services, Joel Cajigas, who gave us an overview of what a Managed Services Provider (MSP) is, how they can keep a company's cloud-based software in alignment with their processes and goals so their teams can focus on the bigger picture, and he also talked about our own Thrive Managed Services for Salesforce program. Here are some highlights from that conversation…
What is Managed Services?
In the world of IT consulting," Cajigas explains, "I think most people are familiar with the professional services side, which is, 'I have a defined scope, budget and timeline and we set out to do these things under these conditions and the project starts and ends, and we move on.' Managed Services is more of a type of service where the consulting experts come in and proactively engage with the customer over a period of time to continue to enhance and add value. It's just a little bit different in terms of the scope. We have breathing space. The delivery side of professional services is usually working under constraints."
MSP Misconceptions
"I think we find that a lot of people believe Managed Services to be a support bucket or a support type of experience," Cajigas remarks. "And it really isn't. I think that's misconception number one and the biggest of them. I think the other part is that you get some version of a B team in Managed Services where they're not quite as expert level as you get on the delivery side. And that is actually not the case, since we are not a help desk type of service. We actually have very experienced team members who are in the business of proactively looking for how we make things better, how we add value.
He continued, "I think the other part is that you can't tackle complex or complicated items on the Managed Services side. And that's obviously also not the case. Our teams are built to untangle a lot of the webs that exist, because oftentimes on the delivery side, you'll get a project that serves the purpose, but it doesn't have a long-term viability."
How MSP's Reduce Workload
Cajigas pointed to an MSP focusing on organization as a way of reducing a client's workload. He added, "We put a lot of effort into thinking about the day-to-day processes. So we take things that can be time-consuming on a regular basis and we look for ways to reduce that, whether it's having automation or reworking a process, so that we've reduced some of those manual tasks and by taking care of that and empowering our customers, we've seen great reduction in workload and then we can focus on what's the next big thing."
Thrive's Three Driving Concepts
According to Cajigas, AdVic's in-house MSP program, Thrive Managed Services for Salesforce, is built on three driving concepts.
"They are traceability, predictability and do no harm," he explains. Traceability is making sure that all the activities we do can be mapped back to some form of a value strain. So if I'm doing something it should be adding or contributing to value. And if it's not, then we should all stop and ask why we're doing this. The second one, predictability, is where those release cycles and calendars come into play. It's a lot easier for all of us to be prepared and move things forward when we all know what to expect and when to expect it. And that creates the right cadence and allows the work to continue, almost like a production line. You don't want those disruptions. And then do no harm – we firmly believe – if we are making changes, we need to leave things better than they were before we got in there."
There is much more to our conversation about Managed Services Provider programs, which you can listen to here, or wherever you listen to podcasts.
---
AdVic's Thrive Managed Services for Salesforce® & MuleSoft® offers the expertise, support, and solutions to help your business continue to thrive. So, if you're in need of a cost-controlled flexible, yet a full-service solution to fit your exact needs in the short- or long-term, talk to Ad Victoriam's Thrive Managed Services team today.
Related Resources:
Building and Maintaining Relationships Through Managed Services
Salesforce Managed Services Advantages That Control Costs
AdVic's Thrive Managed Services for Salesforce Program
Moving Your Business Forward with Salesforce Managed Services
AdVic Provides a Managed Services Solution
Subscribe to the AdVic Salesforce Blog in Feedly