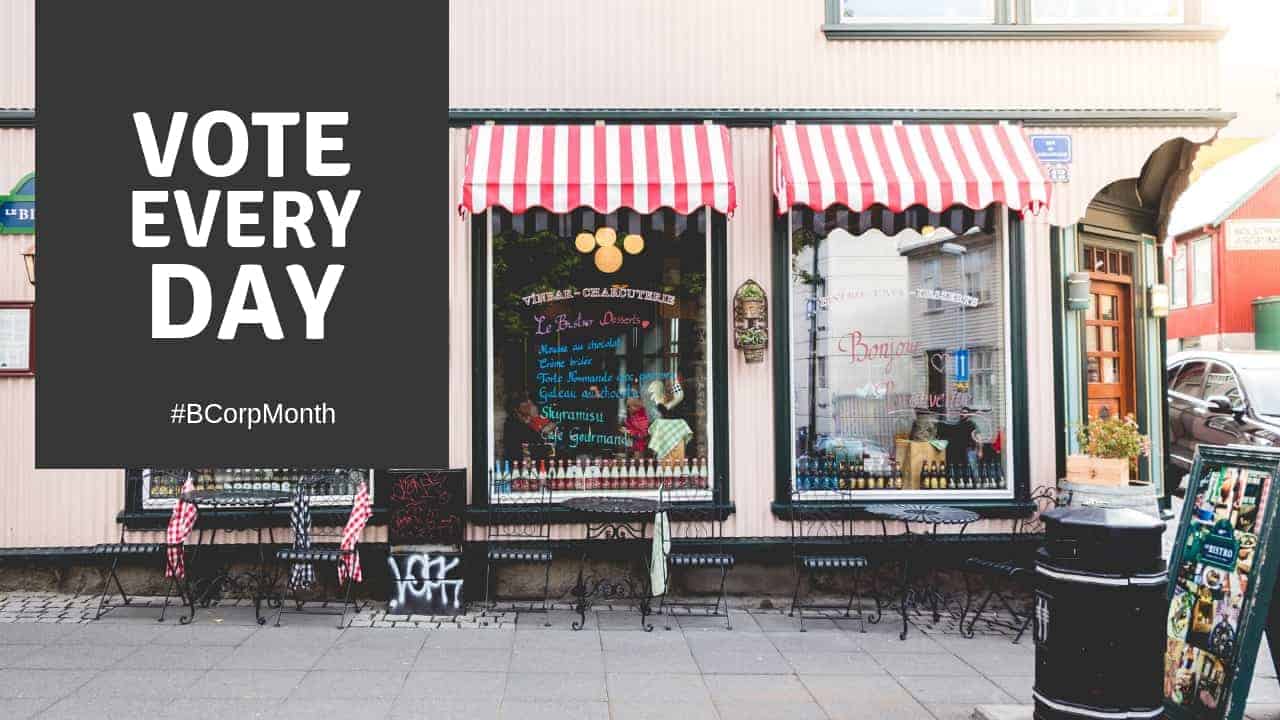 Vote Every Day with Each Dollar
Have you heard of the Vote Every Day campaign? It doesn't mean to actually cast a vote for a politician. B Corp created the campaign to encourage people, like you and me, to treat every dollar we spend on purchases like a vote, and every cash register like a ballot box. As a result, Ad Victoriam Solutions (AdVic) now strives to cast votes when engaging with a new vendor. This year, we spent more dollars with companies that use their business as a force for good.
Companies who have a stated commitment to serve their employees, their communities, and their customers are considered when we need a service or a product. We give preference to diverse and inclusive companies, especially female and minority owned businesses. In 2018, these easy steps transformed our supply chain to include more sustainable and inclusive vendors.
AdVic "Voted" with these Vendors
Atalassian. A founding member of the Pledge 1% movement, Atalassian makes the Jira project management software we use to manage our consulting engagements.
Bottlecloth. Between 4 and 5 times a year, our Atlanta-based team prepares lunches for the Smart Lunch, Smart Kids program. Previously, we used plastic, single-use tablecloths. We now use multi-use tablecloths from Bottlecloth, a female-owned business, which are made from recycled plastic bottles.
Blu Interiors. The genius behind the beauty of our newly remodeled (and environmentally friendly) office are the women at Blu Interiors. They worked with us on both phases of the remodel, which was vital to the success of this project.
Givily. A fellow B Corp out of New York, Givily is a female owned company that provides a technology solution to help companies manage charitable requests for in-kind donations, grants, and sponsorships.
The Lancaster Stroopie Company. In honor or World Kindness Day, we surprised our employees with a sweet treat from this outstanding B Corp. This female owned company out of Pennsylvania employs female refugees so they can establish a new life in America.
AdVic is proud to #VoteEveryDay by working with companies that give back and believe that profit can coexist with purpose. Voting with your dollars is an impactful way you can support the good in this world. Join us by making every purchase count!
In addition to doing good for the world, our Ad Victoriam Solutions Salesforce Consultants work as a dedicated, innovative team of problem solvers, taking on your technology challenges. We are Salesforce cloud and data consultants who customize our approach to suit your processes for increased efficiency, accelerated productivity and scalability. Contact us to learn how we can help your business flourish.