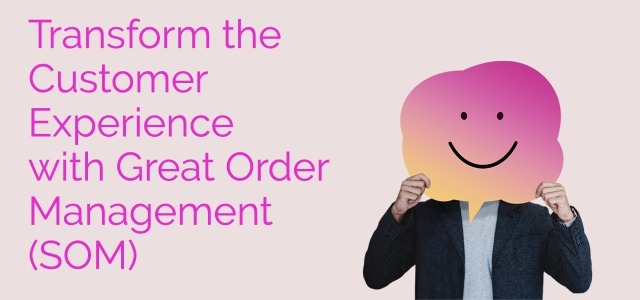 Transform the Customer Experience with Great Order Management
Estimated reading time: 3 minutes
As you may already be aware, an order management system (OMS) – such as Salesforce Order Management (SOM) – is a platform or tool that allows sellers to track sales, process orders, manage inventory, and streamline fulfillment with the goal of making sure products end up in the hands of the customers who ordered them. It ensures that orders are delivered as expected, with full order transparency, quick shipping, and timely delivery.
Problems OMS Solves
A truly great OMS demands a multifaceted system, one where every step of the ordering, tracking, and fulfillment process is taken into consideration. However, for many businesses, the act of processing, tracking, and fulfilling orders is a daunting process that is time-consuming and expensive.
In addition, the process between shopping to shipping presents a host of challenges, but these are some of the main things an OMS will immediately fix at your company… you'll be able to:
Coordinate orders and inventory across multiple channels.

Align sales agents and online tools to work cohesively.

Manage shipping schedules and complex orders.

Streamline order fulfillment.

Track success using reports and analytics.
And remember, without a unified OMS such as Salesforce Order Management, sellers are likely to experience issues along the way — from shipping delays to lost orders, which in turn leads to unhappy customers.
Here's How an OMS Puts You on a Productive Track
So, it's obvious that the main objective of an OMS is to streamline and simplify the order process to ensure transparency through the entire order lifecycle. But what does that seamless process look like?
An OMS will:
Accept orders and payments online.

Provide timely invoicing and payment processing.

Track orders from purchase to delivery.

Provide sellers with access to important analytics regarding orders.

Route orders to the closest fulfillment center or warehouse.

Reduce the cost compared to using multiple, disconnected systems.

Forecast stock levels to prevent out-of-stock issues.

Give buyers a way to track their orders online.
Summary
If you run a commerce business that involves processing orders and sending products to customers, then there's no doubt you'll need an OMS that will help you to streamline the process from purchase to delivery. Sure, manual order management will always be an option for your company, but why go down the tedious, time-consuming, and expensive road? An order management system – SOM – helps prevent delays and creates an overall more positive customer experience, exactly what you and your teams are working so hard for day in-day out.
If you're ready to get started with a customized order management system, the AdVic SOM Team is just a click away. As a Salesforce Partner, we have the expert knowledge and experience to have you up and running quickly with our Salesforce Order Management Accelerator (click for informative no-form download).
Related Resources:
Getting to Know the Power of Salesforce Order Management
Subscribe to the AdVic Salesforce Blog on Feedly: