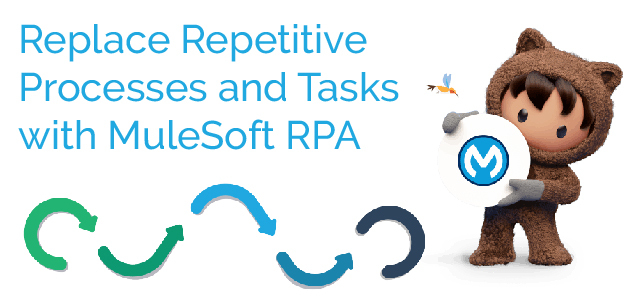 Replace Repetitive Processes and Tasks with MuleSoft RPA
Estimated reading time: 4 minutes
MuleSoft Account Executive Wes Disher was a recent guest on Ad Victoriam's "Salesforce Simplified" podcast, where he detailed how with Robotic Process Automation (RPA), companies can capture and automate their teams workflows instantly – whether through a UI, document or image – and do it with point-and-click tools.
So, what specifically is Robotic Process Automation?
MuleSoft's Disher explained, "Robotic process automation is a software technology that combines robotics and automation to perform repetitive tasks. RPA is a method for business process automation that uses an application or bot that replicates an employee's desktop actions by interacting with an interface in the same way that a human traditionally would."
According to a Deloitte Global RPA survey, 53% of respondents have already started their RPA journey. This is expected to increase to 72% in the next two years. If this continues at its current level, RPA will have achieved near-universal adoption within the next five years.
The Benefits of Implementing RPA
"I think there's really four main benefits that we've identified here at MuleSoft," Disher explained. "The first one is essentially reducing the overall cost and improving that customer and employee experience. And so, how can we automate the processes for the customer? Shorten their time manually entering a claims process or a loan process. And then, also, taking that task and not putting that on as the responsibility of those agents or those customer success reps and streamlining it."
Conversely, MuleSoft will tell you that challenges to RPA include:
– Displace human workers: One of the biggest criticisms of RPA and other automation technology is its potential to eliminate the need for data entry and clerical-style roles.
– Lacks intelligent capabilities: RPA as a standalone technology can only perform tasks that it can copy from a script — lacking the ability to learn and improve the script it's performing. The next generation of AI and intelligent automation tools are now being introduced to address this pitfall of RPA.
– Project complexity: Transformative RPA projects tend to be complex and require a time commitment to see the return on investment — as a result, some RPA projects fail before the value is realized.
Seamless Integration with Anypoint Platform and Composer
And if you were wondering, yes, RPA seamlessly integrates with MuleSoft's Anypoint Platform and Composer.
According to Disher, "The way we've actually built our RPA solution was through an acquisition of Servicetrace just about two years ago. Our product team has really put a massive emphasis on bringing these three technologies together. The best news and the best part about it is it's all built on the Anypoint Platform. What you're building and what you're creating in RPA or Composer allows you to be able to reuse that going forward."
Building a Successful Automation Strategy
AdVic also asked Disher to give us his thoughts on how companies should go about constructing a successful automation strategy.
"I truly believe as companies continue to adopt digital platforms," Disher remarked. "It's extremely important to have top-down alignment on these strategic initiatives that you're looking to enable for not only the company, but also deliver to your customers, and putting the customers at the center of everything that you do. That's truly where MuleSoft is allowing these organizations and empowering them to really automate everything and empower everyone on a single platform."
There is much more to our conversation with MuleSoft's Wes Disher, including a discussion of how RPA creates better customer and employee experiences, the training that MuleSoft offers around RPA, and much more. Listen here, or wherever you listen to podcasts.
Ad Victoriam's certified, experienced and passionate MuleSoft® consultants team up with businesses to integrate Robotic Process Automation (RPA) into a scalable architecture that can help your business grow. Let's start talking about it today!
Related Resources:
What is Robotic Process Automation (RPA)?
Replace Repetitive Processes and Tasks with MuleSoft RPA (Podcast)
Subscribe to the AdVic Salesforce Blog on Feedly: