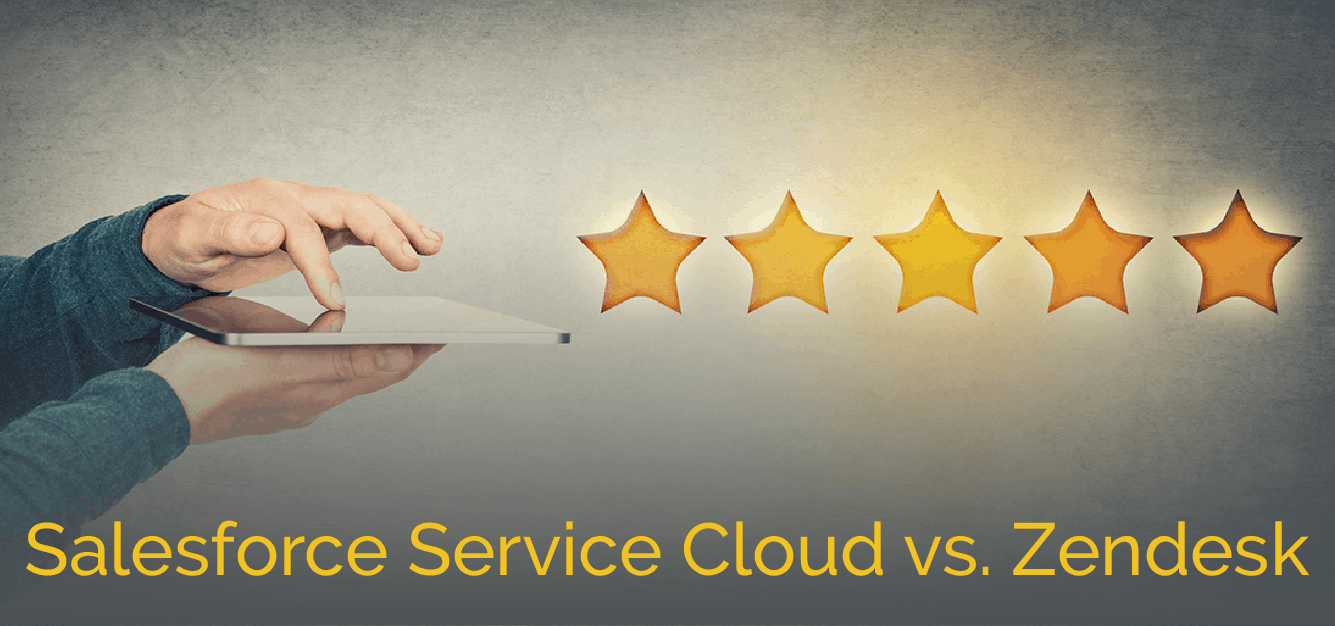 Salesforce Service Cloud vs. Zendesk
Estimated reading time: 3 minutes
As your business expands and opportunities increase, you're most likely seeking solutions that enable your business to grow. A common barrier to growth is the utilization of technology that fails to scale with emerging needs. Eliminating technology limitations accelerates progress – especially when it relates to servicing customers, everyone's number one priority.
For some start-ups, Zendesk may be an initial option due to it's a quick fix, low-cost help desk ticketing system approach. But as business and the need for smarter, faster, and more personalized service delivery grows, organizations commonly migrate from a "help desk" approach to a full-service relationship management system such as Salesforce Service Cloud™.
Salesforce Service Cloud vs. Zendesk
When you are weighing the decision of whether or not to make the migration leap from Zendesk to a Salesforce Service Cloud solution, you are most likely doing it because you see the need to take your customer service to the next level. Sure, with Zendesk you have a competent self-service support system with multi-channel support (email, chat, phone, social media), as does Salesforce Service Cloud. But the boost you get from implementing Service Cloud – helping users engage across all channels, boosting loyalty, and increasing retention – cannot be matched. And don't forget that while Zendesk boasts around 800 apps to extend its features and functionality, Salesforce has more than 5,000 enhancing apps.
But overall with Salesforce Service Cloud, your team will be able to incorporate vital CRM data and connect to your entire workforce, allowing them to put their focus where it matters most — on the customer.
Meet AdVic's Service Solution Accelerator
Whether you are currently using Zendesk, another platform, or are new to service technology, Ad Victoriam's out-of-the-box Salesforce Service Cloud Accelerator solution (with or without a Zendesk migration) will improve customer service delivery and propel satisfaction within weeks.
Salesforce Service Cloud transforms how your team goes about servicing your customers:
An AI-powered system that routes cases to the "best fit" agent, speeding resolution.

Nearly limitless report building capabilities resulting in your ability to monitor, manage and track KPIs by agent, teams, or the business – reports that suit your specific needs.

Schedule reports run to hit your inbox as often as you need.

Access to a 360-degree view of your customers including a case history timeline enabling agents to provide individualized service to each customer.

Automation of simple repetitive tasks – so agents can focus on resolving the issue, not updating fields.

Connects with all Salesforce products and as previously mentioned, more than 5,000 feature enhancing apps to tailor the system to your unique process and goals.
Customer satisfaction shouldn't be an afterthought. When you're ready to increase your customers' level of satisfaction through the delivery of smart, fast, and personalized care, reach out to AdVic's Salesforce Service Cloud experts to see if it's time to switch from Zendesk to Salesforce Service Cloud. Simply fill out the form below, or contact us here today.
Related Articles
Got Sales Cloud? Meet Service Cloud
Salesforce Service Cloud Enriches Experiences
Subscribe in a Reader