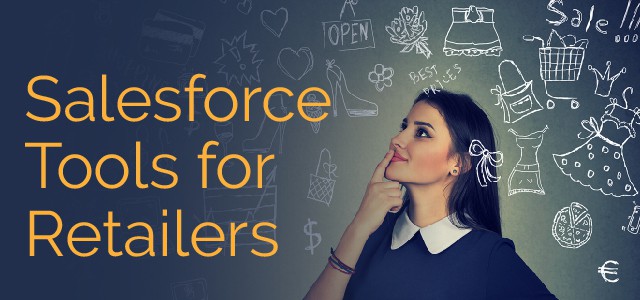 Salesforce Tools for Retailers
Estimated reading time: 3 minutes
With Salesforce®, retailers can offer consistent and smarter shopping solutions for customers. Salesforce Clouds matched with readily available apps make a powerful combination. There are a variety of clouds and apps to perfect your CRM system. The Salesforce  AppExchange features a diverse market of apps that upload directly into your Salesforce platform, making it simple to enhance the user experience of your team. 
Of the many tools on the market, documentation generation apps are top-ranked for adding to Salesforce Clouds. Conga allows you to create presentations, PDFs, Word, and Excel documents by pulling data directly from Salesforce. You can create simple or complex documents based on preference. This saves an abundance of time, money, and manual work. 
Best Clouds & App for Retailers 
With Salesforce Service Cloud™, retailers empower their agents with the ability to provide exceptional customer service on any channel that the customer prefers: SMS, social, email, phone, or web from a single dashboard. 
Salesforce Commerce Cloud allows retailers the ability to offer customers a consistent shopping experience across every channel, automate manual tasks, and make smart suggestions on products.
Salesforce Marketing Cloud allows retailers to connect with current customers and prospects in a personalized way. The marketing platform assists businesses in building loyalty, trust, and credibility among their customers, keeping them coming back.  
And with just a few clicks, Conga generates selling guides, contracts, and other relevant documents in a few seconds. It not only creates ease-of-use for users, but sets up an unforgettable buying experience for customers.
Automating and personalized shopping experiences are no longer optional for retailers, but a requirement. Together, Commerce Cloud, Service Cloud, Marketing Cloud and Conga provide custom touch points throughout the selling process ensuring maximum efficiency for shopping experiences. With a unified shopping experience, accurate recommendations, and personalized touch points, customers are met with an unforgettable shopping experience that will keep them coming back. All of which can be collected, stored and displayed in Salesforce.
Multi-Cloud Benefits for Retailers
Guided Selling: Once sales representatives have an understanding of the customer wants and needs and data is captured in Salesforce, recommendations can be made. For example, guided selling template allows sales to ask a set of questions, and based on answers populates product recommendations that are essential for customers.
Automation: Automation helps to eliminate tedious tasks, and presents sales associates as a resource to customers during the sales process. With an array of tools from Salesforce, sales is equipped with personalized information to assist customers based on their needs, preferences, and behaviors. 
Integration: All Salesforce Clouds integrate seamlessly to achieve a 360-degree data view of customers. When Conga is also integrated, users are able to extract prime data that allows them to create tailored client documentation in a preferred format. 
And if you still have questions about the right tools for your organization, take this quick Cloud Finder quiz for the best match.
Tools like Service Cloud, Commerce Cloud, Marketing Cloud, and Conga streamline internal processes by connecting sales associates, partners, and employees with the information they need to provide the right products, right messages, and the kind of service that builds loyalty and revenue. Let's talk about how AdVic can help you drive shoppers down the path to purchase.
Related Resources:
Building and Maintaining Relationships Through Managed Services
Manufacturer Digitally Transforms Customer Rewards Program
Sales Quote Automation: Faster & Accurate Quotes
Follow in a Reader