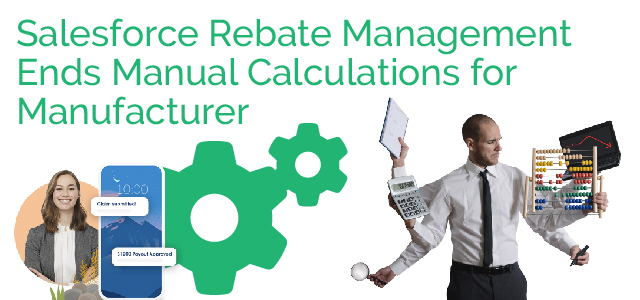 Salesforce Rebate Management Ends Manual Calculations for Manufacturer
Estimated reading time: 3 minutes
Not familiar with Salesforce Rebate Management? It was designed for organizations with complex sales channels and incentive programs. Rebate programs drive profitability and optimize channel sales – that is, when they work the way they are meant to work.
And in the manufacturing industry, Rebate Management empowers companies to reduce manual processes, drive top-line growth and scale incentive programs. They can gain an accurate view of business performance, demand forecasts and channel sales, in addition to securely sharing incentive information with channel partners to build trust.
However, programs only succeed if organizations provide the intelligent visibility to sales teams and channel partners that enables them to upsell, identify cross-sell opportunities, and drive the right behaviors. And to that end, here's a Salesforce Rebate Management success story.
AdVic's Challenge
RAB Lighting – a company that manufactures and distributes affordable, energy efficient LED lighting and controls to retailers to sell, electricians to install, and end-users to save energy – was utilizing various spreadsheets and emails to manage and calculate rebates. However, spreadsheets created data collection challenges, which impacted their ability to facilitate their program efficiently. They wanted an automated Rebate Management Program to handle each of their various rebate offerings. To ensure that the Salesforce® Rebate Management platform could meet their needs, they contacted AdVic® and we immediately began with a deep-dive discovery to bring a company-wide solution to RAB.
What AdVic Did
To ensure that RAB would have the efficient Rebate Management Program they desired, AdVic's consultants designed this solution:
Implemented Rebate Management eliminating manual calculations, spreadsheet maintenance, incomplete data, and rebate management inefficiencies while fostering cross-departmental data visibility.

Integrated Rebate Management with

Sales Cloud

™,

Service Cloud

™,

Marketing Cloud

™ Account Engagement (formerly Pardot) and enabled data exposure for the national sales team.

Cleaned, formatted and migrated two years of historical invoice data into two tailored rebate use cases: Base Payouts and Growth Payouts.

Developed a scalable data processing engine, which runs through flows and calculates rebates based on each use case requirements.
"AdVic® felt like an extension of the RAB team, as they quickly got up-to-speed with requirements and integrated them with the Rebate Management tool. I appreciated the efficient use of meetings to move the project forward and ensure alignment without wasting time. Happy to partner with them for future projects." – Dave Ramo, Director of Business Analysis, RAB Lighting

---
As part of the Salesforce Rebate Management pilot team, AdVic was building and testing business use cases, providing feedback on the functionality, and also implementing the program as a launching pad to implement Rebate Management for all of RAB's rebate programs. Salesforce relied on our feedback during the pilot, which gives us the ground-floor knowledge and more expertise to create effective Rebate solutions. And now, Salesforce highlights AdVic as a top trusted Rebate Management Partner, so why shouldn't you, too?
Let's start the conversation about your Rebate Management Program today!
Related Resources:
More Customer Success Stories from AdVic
Subscribe to the AdVic Salesforce Blog on Feedly: