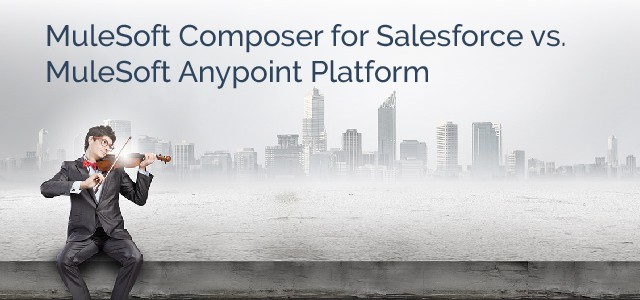 MuleSoft Composer for Salesforce vs. MuleSoft Anypoint Platform
Estimated reading time: 4 minutes
Thousands of Salesforce® customers utilize MuleSoft® to create a 360-degree view of their customer data, or to boost productivity with automation, or for other purposes related to enhancing their CRM. You may be wondering why?
In a recent AdVic "Salesforce Simplified" podcast about such a CRM enhancement, our MuleSoft Practice Director, Tom Minton, explained the many benefits of MuleSoft Composer™.
"The main advantage to MuleSoft Composer for Salesforce, Minton says, "is that it allows Salesforce admins the ability to create inner integrations with external systems using no code."
He added, "Without having to concern IT departments, Salesforce admins can connect an assortment of connectors with just clicks. Even without having a vast knowledge of MuleSoft coding ability, they can achieve the results they need and the information they need in a much more efficient way."
MuleSoft Composer or MuleSoft Anypoint?
MuleSoft Composer and MuleSoft's API/integrations flagship tool, Anypoint, share some of the same features.
Minton explains, "Anypoint comes with a bigger financial investment and may not be ideal for medium or rising businesses. MuleSoft Composer, however, is a lighter version of Anypoint that packs the same power, is user-friendly to Salesforce admins, and it's efficient."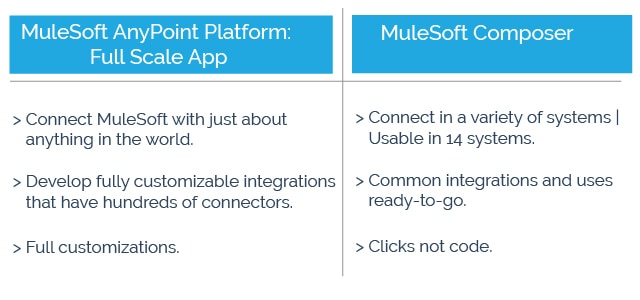 Integrate, Streamline, and Automate with MuleSoft Composer
MuleSoft Composer integrates with products such as Workday, ServiceNow and Slack, and enables the use of Salesforce directly from an app. With these integrations, sales and procurement receive automated messages that notifies them of inventory when they are selling to customers.
Mitigating Sales Forecasting Risk
Whether it is Tableau™, or those infamous Excel/Google Sheets, data can be pulled from these sources to forecast for the following months using historical data and past performance. Integrating Google sheets into Tableau or Salesforce can actually map out data in a more usable and visually appealing way.
Another one of the many benefits of MuleSoft Composer is the ability to synchronize orgs. As your business grows and you decide to collaborate with competitors or acquire brands with their own org, MuleSoft allows you to come together as one. Thus allowing orgs to pass information without having to swivel back and forth between systems.
Streamlining Operations with MuleSoft Composer
MuleSoft Composer streamlines everything. That means less keyboard time and more time making sales.
Here's some additional streamlining Composer helps with:
You could have inventory information.

You can view the throughput.

You're able to send information out about a new opportunity via a Slack message. In that Slack message, it could have a link back to the Salesforce opportunity for whether your salespeople are in house or on the road.

There's a connector for a service called Stripe, which is a cash reconciliation ecommerce tool.

You can get the information into the system that it needs without having to type it.
The Future of MuleSoft Connectors
All-in-all, MuleSoft enables its users to have multiple sources of customer information at their fingertips.
"They come out with a new set of features every three to six months," Minton says, "with plenty more to come."
As a certified MuleSoft Anypoint and Composer, and Salesforce multi-cloud consulting partner, Ad Victoriam's integration experts understand the complexities of enterprise integrations, both on-premise and in the cloud. We simplify complex integration scenarios, integrate disparate systems, and provide a scalable architecture that your business can grow with – whether or not you are using Salesforce. So, if you are ready to connect your systems, we're ready to talk to you today.
Related Resources:
How Salesforce and MuleSoft Create a Seamless Customer Experience
What Can MuleSoft Do for Your Salesforce Org?
MuleSoft Composer's Ease of Use Reduces the Need for IT
MuleSoft Integration Creates Customer 360-Degree View
Follow in a Reader